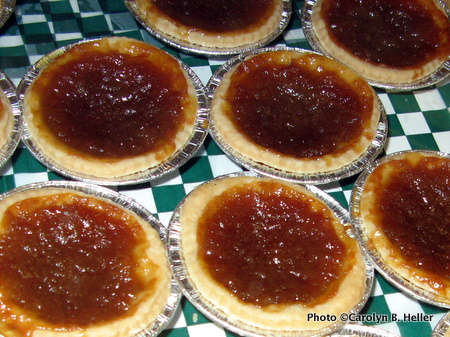 I've always been a pecan pie girl.
But I've been traveling around Ontario recently, and on my travels, I've discovered a new contender for my pie affections.
The butter tart.
In case you are — like me until recently — a butter tart virgin, the butter tart is a single-serving pastry filled with a gooey mix of brown sugar, butter, and egg. Sometimes the filling is fairly firm, while sometimes it's so runny it almost pours out of the tart shell.
The other ingredients seem to be a matter of personal preference, or "this is how my mother/grandmother/favorite aunt always made it."
There are vocal pro- and anti-raisin contingents, and most people seem to feel strongly about whether nuts (generally pecans or walnuts) or coconut or any other flavor additions (peanut butter, anyone?) belong in a butter tart.
I haven't tasted enough butter tarts yet to have a definitive favorite — do you? — but I did learn a valuable butter tart lesson:
If you buy a butter tart "for later," it will sit seductively in a little box on the front seat of your car.
Before long, it will begin to call out to you, so later becomes sooner, and even if you're driving, you will eat that ooey, gooey little tart.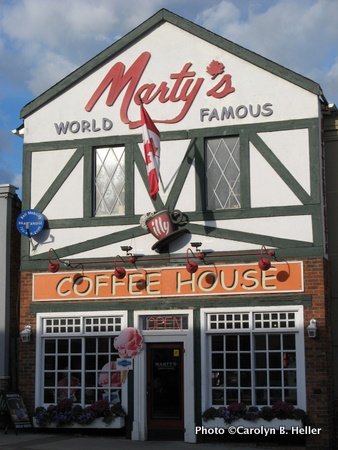 And no matter how hard you try to stop the sweet tart filling from oozing out of its shell or how futilely you attempt to cover yourself with napkins, only too late will you remember the warning they issue at Marty's World Famous Cafe (where the owner, Marty Curtis, bills himself as "The Michelangelo of butter tarts"):
"Do not eat butter tarts in your car, or you'll end up wearing them!"
**********
Where to eat butter tarts in Ontario:
Marty's World Famous Cafe in Bracebridge
St. Jacobs Farmers Market (You can find them at many other Ontario Farmers' Markets, too.)
Little Tub Bakery in Tobermory, on the beautiful Bruce Peninsula
Sweet Oven Bakery in Barrie
On the "Butter Tart Trail" in the Township of Wellington North
Butter tart recipes:
Best Butter Tarts, from Canadian Living
Old-fashioned Butter Tarts, from Style at Home
Revisionist Butter Tarts, from the VinegarTart
Do you have a favorite place to buy butter tarts?
Or a favorite butter tart recipe? Please leave a comment and let us know.
And if you're a food blogger, join the fun! Here's all you have to do to link your post to WanderFood Wednesday.
[mrlinky owner=wanderfood postid=03Aug2011 meme=2888]