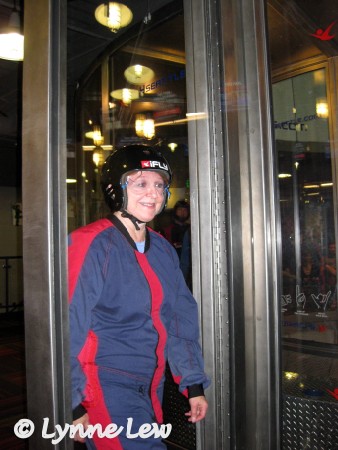 Suited up, ready for my first iFLY Indoor Skydiving moment, I approach the doorway with apprehension. Despite the brief training and pep talk from our iFLY instructor, despite watching others soar before me, despite my outward bravado, there's no way to know the feeling of skydiving until taking the plunge. I step forward.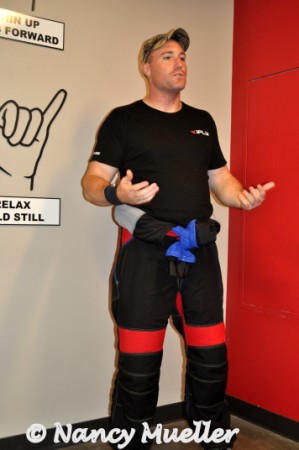 Arms across my chest, I lean into the chamber. Whoa! The vortex pulls my face into a maniacal grin. My heart somersaults. Instructor Mike stays by my side, helping position my arms and feet just so to achieve optimal in-flight form. A small tweaking (not twerking) here and there . . .
Voila! I'm flying!!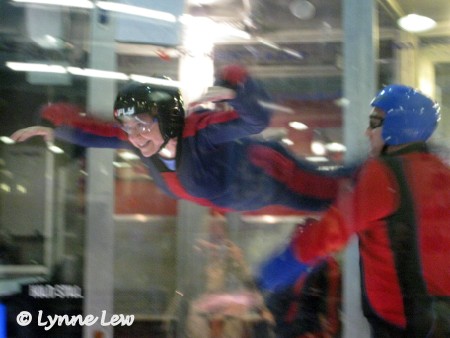 Wowie zowie.
How cool is this? iFLY Seattle customers can experience the thrill of skydiving without need of a parachute and without jumping out of a plane at an altitude of 10,000 feet. All you need is the world's first all glass vertical wind tunnel – which also just happens to be the fastest and largest recirculating wind tunnel west of the Mississippi. Watching the training video and learning a few important hand signals takes all of 15-20 minutes. Next, don your flight suit, goggles, helmet, well-secured tennis shoes – don't forget the earplugs – and head into the second airlock tunnel to wait your turn to lean in.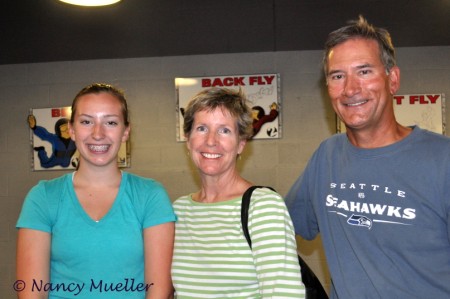 I watch as a family of three goes first, one by one. Jeff Green leads off. Obviously, this man boasts skydiving genes, requiring little assistance from Instructor Mike. Next up, teen daughter Jane mimics the same movements with complete ease. Now it's mom's turn. Mary Green, too, flies easily, flying even higher than she expected. Easy peasy. With hope in my heart and a lump in my throat, I'm up.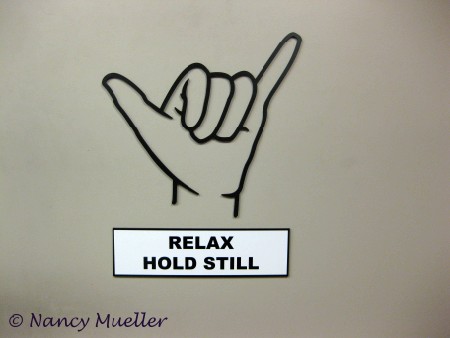 After my initial entry, Instructor Mike signals for me to keep my chin up, arms out in front of me, legs slightly bent at the knee, spread apart a couple of feet. Seems easy enough. But remember, you're working against tremendous wind velocity, up to 160 mph. Still, I hold my own with just one minor flip. Oops. Instructor Mike flips me back, belly down before twirling me around in the air. Wheee! The nice thing about the flight suits is that they come with love handles on the hips and back to make it easy for the instructor to grab onto you when needed.
Each person in the group has the chance to take two one-minute flights. Each of us improves our skydiving performance the second time around. One minute doesn't sound like a long time, but it's long enough to feel the effects of flying high. Well, not too high. For that you need more skydiving time – which you will want to sign up for anyway once you give this a try.
Who can fly here? Incredibly, customers at iFLY Seattle have ranged in age from 3 to 103! Ready to join in the fun? For pricing and packages, check out the company's comprehensive website.
Up in the sky, look! It's a bird. It's a plane. It's YOU flying high!
Thanks to host iFLY Seattle for the opportunity to earn my wings.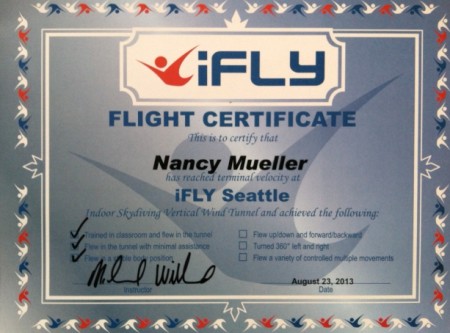 What are you doing to play today, wanderboomers? Have you ever been skydiving, indoors or out?