One of my favorite reasons for planning an escape to Oregon's Willamette Valley is to sample the region's flavorful Pinot Noirs. Apart from their taste, these light to medium-bodied wines are popular with wine enthusiasts for their versatility in food pairings.
A latecomer to the Pinot Noir party, I was first smitten by the younger, fruity varieties with hints of cherries and strawberries. But my love affair with the earthy, layered tones of aged varieties soon followed. It's easy to see how the range of flavors in the dry, red wines complement everything from shellfish to wild game, pork to poultry, and beef to lamb. Versatile indeed.
Traditional Pinot Noir hails from Burgundy in central France where the fragile dark purple-blue grapes grow well in the climate of warm days and cool nights. But wine connoisseurs also single out Oregon's Willamette Valley between Oregon's Cascade Mountains and the Coastal Range as their second home – a lucky break for those of us who live in the Pacific Northwest.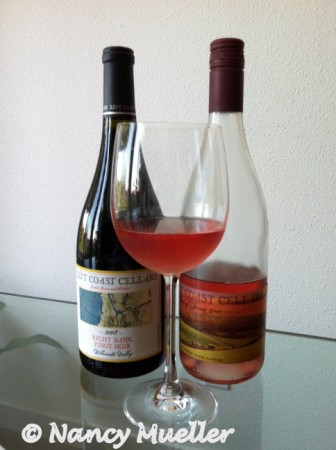 Thanks to a raffle win from Left Coast Cellars at the Travel & Words Spring '13 Conference, I learned that Pinot Noir is not always red. Still made from the dark grapes, white Pinot Noir is produced when the skin is removed in the pressing process so that the pigment doesn't affect the wine color. I found the white variety to be full-bodied but light enough to compare favorably to a chardonnay, my fallback white wine of choice.
Pinot Noirs of any variety are challenging to make well. The thin skin of the grapes and temperature fluctuations make the grapes susceptible to disease and rot. Because less is produced compared with other reds like Merlot and zinfandel, the demand is high. Consequently, so's the price.
For those who don't live in the Pacific Northwest, 66 of Oregon's premier Willamette Valley winemakers are partnering with EMA (Environmental Media Association) to take their show on the road to LA on September 11th. Event-goers at "Pinot in the City" will have the opportunity to learn everything you wanted to know about Pinot Noirs from winemakers, hear stories of the region and, of course, sample selected wines.
What about you, wanderboomers? Tried a good Pinot Noir lately? What's your favorite?