As we near the end of our Galapagos cruise odyssey, we stop at North Seymour Island and Santa Cruz before heading back to San Cristobal.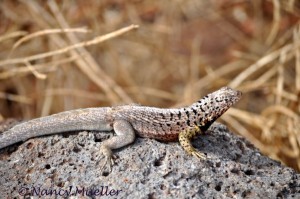 We cross paths with a colorful land iguana and a lovely little lava lizard before discovering the magnificent frigate birds.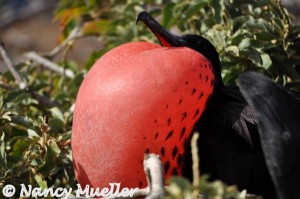 These large, long-winged, fork-tailed flying creatures aren't called "magnificent" for nothing. On average, the birds are 76 cm (30″ long) with a wingspan between 150 – 250 cm (59″ – 98″). In other words, they're hard to miss, either soaring overhead or in their not-so-hiding nesting areas. And the male's red-throated pouches have a way of standing out in the palo santo trees and brown brush.
But it's the spectacular courtship rituals of the magnificent frigates that keep me spellbound on our last full day in the Galapagos Islands. I watch as the the male throws back his head, inflates its red-throated pouch almost to the bursting point, and calls out in a machine gun rat-a-tat-tat refrain – "Choose me, choose me!"
Inevitably, a female swoops down and thinks about it, before giving him her final answer. After surveying the field of  at least half a dozen puffed up magnificent male frigates, Marilyn, a fellow passenger, whispers: "There's a lot of competition, but I like that guy back there."
There's a frigate for everyone . . .
Not to be outdone by the frigates, the blue-footed booby gets into the act with his own courtship ritual, a two-step, whistle shuffle. The male lifts one blue foot, then the other, again and again, occasionally circling so his potential mate can check him out from all angles. In a dramatic display of  "skypointing," he bends forward, lifts his wings, and whistles a high- piping tune.
Geez – what's a Galapagos frigate or blue-footed booby have to do to get a female's attention? Apparently, a lot – an experience that my male friends would recognize as all-too-familiar.
But wait – there's more . . . a whale sighting ahead!