There's nothing like the crew's call of "Whale sighting!" to wrap up our small-ship cruise adventure of the Galapagos Islands. We drop everything and run to two waiting pangas that will carry us into the heart of the action.
"Hurry! Hop on!" We waste no time in following the lead of our naturalist guides, Alex and Jorge. Once aboard, we scan the horizon looking for any signs of whales. Moments of stillness and calm are interrupted by cries of "Look! Over there!" We see the unmistakable humpback of a whale and zoom ahead.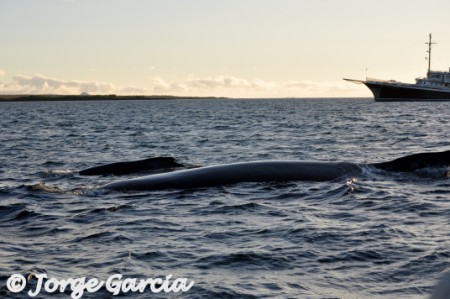 But this humpback is not alone.  Looks like mama is being shadowed by her baby as they ride the waves in tandem. If only they would breach so we could capture the moment in a photo.
"Ohhh! There!"
Mama does exactly that, leaping out of the water in one gigantic thrust. The good news is, we got the photo. The bad news is, it's completely out of focus so you're going to have to take my word for it: "You should have seen it! You won't believe how huge it was!" Really. Honest!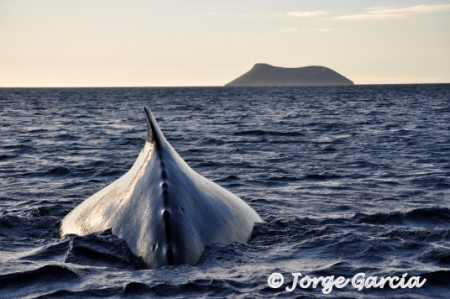 As I continue scanning the horizon for any more whale sightings, I notice some kind of flying object heading straight for our panga. I can't quite get my head around what it is I'm seeing. Whatever it is, it's flying very low and very fast. Before I can even formulate the question, "What is that?" to the crew, I duck, and the flying object slams into the side of our panga and falls, flailing on the bottom of our dinghy.
After we digest what had just happened, one of the crew gently picks up our intruder and tosses him back in the water.
Between the humpback whales and flying fish, what a thrilling end to a fabulous adventure in Ecuador and the Galapagos Islands!
Thanks to my host, Quasar Galapagos Expeditions, and the crew of the MV Evolution for the trip of a lifetime.