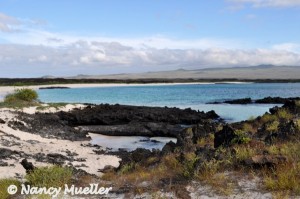 8 Islands, 4 Equator Crossings, 1 Night of Choppy Seas . . .
"There are no good hair days on the Galápagos Islands," claims Roni, a fellow passenger aboard the MV Evolution.
After several futile attempts to keep my own in place, I nod, letting mine whip across my face.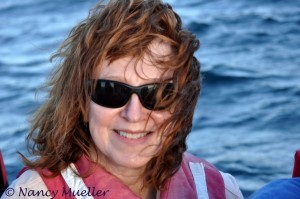 But then we're not here for a fashion shoot of wet suits and snorkeling gear. Right now we have more important things to think about, like learning how to prevent or survive an unlikely water emergency:
For hypothermia, "Wrap arms around each other. Hug and huddle in a group; if alone, curl up into a ball to stay warm."
Got sharks? "Get back-to-back with another passenger (assuming your swimming buddy hasn't already high-tailed it back to shore), lock arms, put legs out in front" to reduce the shark's angles of attack.
To board and disembark from pangas, the inflatable boats that zip us among the islands and back to the mother ship, "Grab the forearm, not the hand, of the crew member."
Almost as scary to me is the warning we receive not to flush toilet paper down the toilet because it could plug the plumbing and then we'd be in a . . . well, a heap load of trouble. Instead, we're told to dispose of the paper in the nearby basket, a common practice throughout the country.
If only old habits weren't so hard to break.
Our Ship – the MV Evolution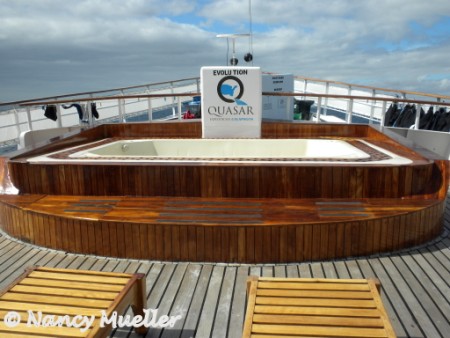 We're a diverse party of 22 passengers with an all-Ecuadorian crew of 18 aboard Quasar Expedition's MV Evolution, a 32- passenger classic yacht, the base camp for our islands adventure.
Following the crew's comprehensive, anything-but-standard safety briefing, our focus turns to the "Enchanted Isles" of Ecuador, our cruise destination for the next 7 days.
The Galápagos at a Glance
This is the Galápagos Islands, an active volcanic archipelago of 13 large islands, 6 smaller ones, and over 40 islets, 600 miles off the western coast of South America, atop the equator.
Here are the islands the Bishop of Panama declared to be  "hell on earth" upon his unintended visit in 1535. But one man's "hell on earth" is another man's source of endless fascination. Over 200 years later a young Charles Darwin would arrive aboard the H.M.S. Beagle, approaching this forlorn and desolate landscape with a scientist's curiosity and questioning, resulting in his landmark work, Origin of the Species.
What would we find? I wondered.
San Cristobal Island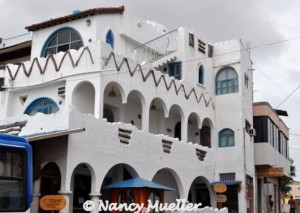 After a short flight from Quito, Ecuador's capital, and a brief stop in Guayaquil, the country's most populous city, we have arrived on San Cristobal Island to a warm welcome by our crew for the start of our cruise journey. Our naturalist guides waste no time in prepping us for the "wet" and "dry" landings that will define the days ahead.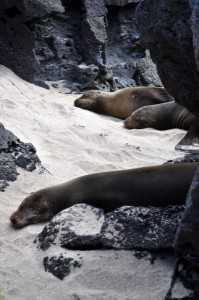 Today we're headed to Cerro Brujo (Wizard Hill) and a white, sandy beach for the first of our "wet" landings, which means we're wearing water shoes, as we come to the front of the panga, and swing our legs over the side into the cool, shallow water.
Once ashore, we step around dozens of sleeping sea lions. Between these slumbering beach guardians and the Leon Dormido (Sleeping Lion), aka Kicker Rock, offshore, I'm ready to take a snooze myself.
But, for now, I simply enjoy a meditative moment where all is right with what feels like the beginning of the world.