What is it about a man in uniform? Or the sighting of a famous actor that turns otherwise sensible movie-lovers into mush?
"Did you see him?" asks my guide, Giovanna.
"See who?" I wonder.
"Well, you know, I was having breakfast in the dining room. At first I wasn't sure it was him. So I asked my friend who it was. He told me the man was supposed to be a famous actor but he didn't know who. But when he told me his first name, I knew it must be him."
"And you didn't come to get me!?" Hmm . . . Maybe that explains the strange dreams I had last night.
I'm staying at Hacienda Cusin, a beautifully restored country estate in the northern Andes. Just the name hacienda stirs up romantic fantasies. Am I the only one who remembers (sing along with me here): "Out of the night, when the full moon is bright . . . ?" But I'm pretty sure there have been no reported sightings of Don Diego de la Vega, aka Zorro, in this country. Spain, Mexico and California, yes. In Ecuador? Not likely.
But an unmasked actor? You never know.
My visit to Hacienda Cusin comes at the recommendation of friends who dream of returning here for a week without the kids (not that they didn't have a wonderful time here with the kids). With one panoramic glance, I can understand why.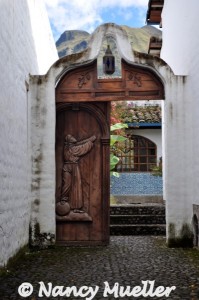 After clattering across cobblestones, our car comes to rest in an intimate, lushly landscaped courtyard. Inside nearby scattered cottages, the first evening lights begin to flicker, creating a warm and welcoming way station for any wandering travelers off the beaten path.
Historically, these large estates were working ranches deeded to well-connected families during Spain's colonization. The properties have long since been divided and sold off, leaving the main house and smaller buildings as lodging for travelers. Walking into my cottage room is like stepping into a time capsule. With its beamed ceilings, antique furnishings and kiva fireplace, the setting is stunning. A vase of ever-present Ecuadorian roses, colorful paintings and bed coverings complete the tableau.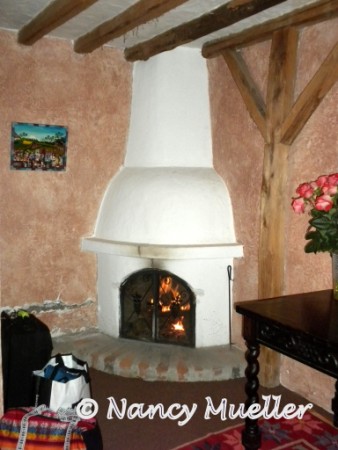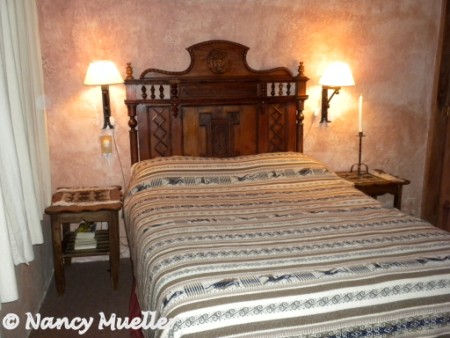 The dining room is cozy and equally lovely. I overhear guests planning their next day activities, including horseback riding, Spanish classes and tour of a craft village nearby. While I love the traditional Ecuadorian meal of pork, potato cake, fried bananas and corn, my favorite meal is breakfast for its abundant fruit juices, jams and breads.
In the morning I stroll through the gardens on my way to the Establos (stables) and Monasterio (monastery) before our departure. The area is so peaceful and lovely, so restorative, that I leave with much less baggage than I had brought with me. It's hard to ask more of my hosts than that, except maybe an introduction to that famous actor.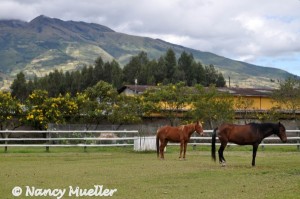 So who was that unmasked man? Well, even famous actors need somewhere to unwind without worrying about being recognized. And I never really saw him myself. Perhaps it's best to leave our story with a bit of mystery and a place where our imaginations can play.
* Zorro photo courtesy of Flickr – PopCultureGeek.com
* Z photo courtesy of Flickr – LosAnheles
Next Up: The Galapagos Islands!