Our eyes meet.
We don't speak each other's language, but that doesn't prevent us from connecting.
Her glance moves from my face to the camera hanging around my neck. "Go ahead," she seems to say. "Go ahead." "Can I take your picture? You want me to to take your picture?" I ask. "Yes, go ahead." So I do. I wait for the pitch to purchase one of her creations, but it never comes. She simply smiles and goes back to her handicraft.
If you think Rumpelstiltskin was special for his ability to spin straw into gold, just wait until you meet the artisans of Otavalo Market.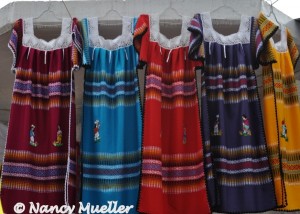 The market merchants spin and weave their dreams into woven shawls, scarves and bags saturated in the most brilliant blues, riveting reds, deep forest greens and harvest moon yellows imaginable. For a Seattlelite like me used to living in a landscape painted in a palate of grays, the intensity of colors here is almost blinding.
As I turn the corner, I come across artisans selling stone tortoises, wood carvings, embroidered dresses, silver jewelry, tapestries
and colorful hammocks – the quintessential symbol for rest and relaxation. The only thing missing in this photo is me rocking in one, which come to think of it, would be a smart marketing strategy for the merchants. Who could resist the urge to bring one home after watching someone napping in one?
Otavalo, about a two-hour drive north of Quito, is well worth a visit, just to admire the color and craftsmanship of the merchandise alone. But I intend to do more than that. It's time to do some serious damage – shopping!
While it's possible to find the merchandise at other locations throughout Ecuador, you will find the best bargains at Otavalo, plus have the fun of talking with the artisans about their trade.
Before arriving, Giovanna explained that merchants expect buyers to bargain. Common practice is to offer just above half of the price, and ultimately try for seventy percent of the asking price. I decide to give it a try.
A merchant calls out to me in much better English than my Spanish as I walk by: "Look. Only $20. for this scarf. Good color for you." When I smile and start to move on, the game begins. "How much you want to pay for this?" We bargain in a spirit of fun, and I leave with several treasures to take home.
Happy siestas, Wanderboomers!