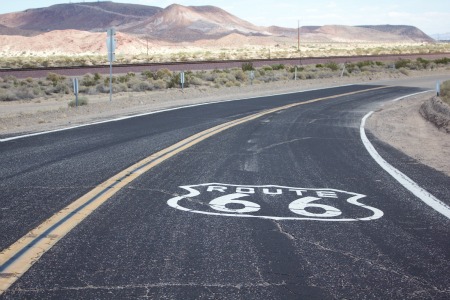 About a month ago, one of my best friends and I took the ultimate road trip. We drove across the country from Chicago to LA on the classic Route 66. It's something I've always wanted to do and the opportunity came up where we both had some time off work so we took it. Let me tell you, it is a trip that everyone must take at some point in their lives. Even if you can't make it to America, just taking a road trip with the windows rolled down, the radio cranked up, and nothing but the open road before you is completely worth it.
Route 66 is the "Mother Road" to America. If you decide to take this trip, you will get lost. Trust me. The roads are not very well marked and you are on a dinky two-lane dirt road most of the time. Getting lost is inevitable. But that is the beauty of Route 66. It is about the journey, not the destination. You will meet incredible people, who are excited to talk with you and share their story. You will eat at cute little mom-and-pop diners that have been passed down through the generations. I rounded up some of my favorite Route 66 diners from the trip. There are way too many to choose from and can be overwhelming at first, but these are all vegetarian friendly and definitely worth a stop!
Lou Mitchell's, Chicago IL
Start the trip off right with a stop at Lou Mitchell's in Chicago. Lou Mitchell's is located on Jackson St. and just about marks the start of Route 66. When you enter the restaurant you are handed either a doughnut hole (for the guys) or milk duds (for the ladies). The story behind the doughnut holes and milk duds is that in a Greek home, it is traditional to greet their guests with something sweet. They carry on the tradition today. They serve breakfast all day and while they don't have too many veggie lunch options, they have amazing floats and milkshakes!
Ted Drewes Frozen Custard, St. Louis MO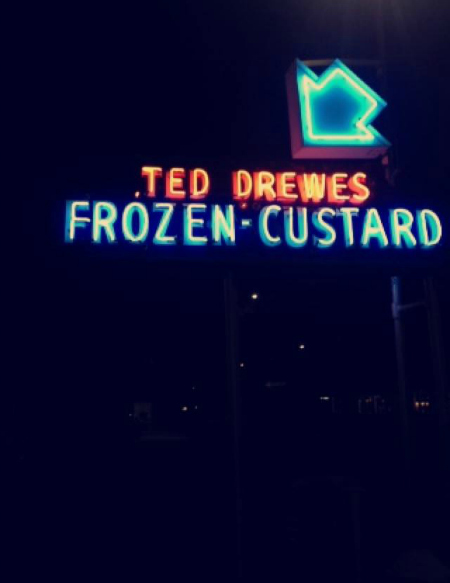 This isn't technically a diner, but man is it worth a stop! I couldn't believe how busy it was! Apparently it is insanely busy year-round. It is an outdoor ice cream stand with a whopping 12 windows! It can be overwhelming at first because there are so many options and flavors to choose from. I recommend the Lemon Crumb, S'More, or Pumpkin Pie Concrete (during the fall).
66 Diner, Albuquerque NM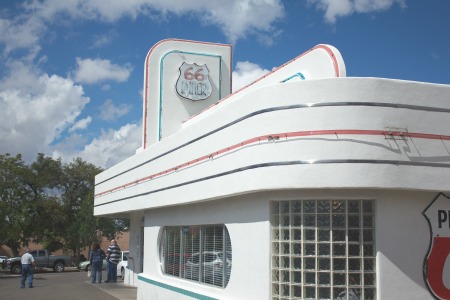 This was one of my favorite diners that we stopped at. Not only was it absolutely adorable with the 50's style diner theme, but the food was amazing! It had the classic diner food, but with a hint of southwestern style thrown in. This was my first time eating in the southwest so I was a bit surprised when my grilled cheese turned out to be spicy. But once I got over the shock, it was delicious! They serve classic NM green chile, which happens to be vegetarian and very, VERY spicy. Some other veggie options included: fried okra, meatless Tuesday sandwich, French Onion Dip sandwich, and fried zucchini. Oh, and we can't forget about the milkshakes! They are huge, so you can order a half shake if you don't want to fill up too much.
Miz Zip's, Flagstaff AZ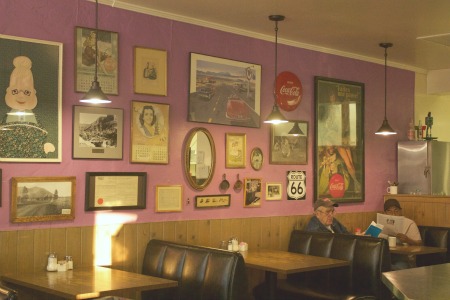 We stopped here for coffee and breakfast, but they also serve lunch and dinner. When you step inside, it feels as if you are transported back into the Route 66 era. It held all the charm and class from that time period. There were old men drinking their cup of coffee and reading the newspaper. The waitresses knew their names by heart. If you go, you must try their cherry pie…I've never had it, but I've heard it's amazing!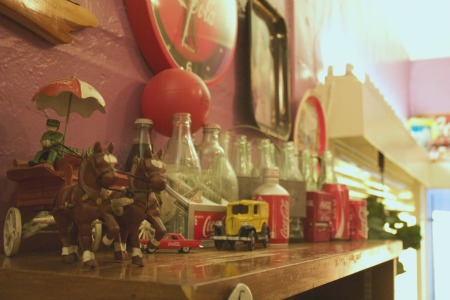 Sno-Cap Drive-In, Seligman AZ
Started by Juan Delgadillo, this quirky roadside attraction is more of an ice cream stand than a restaurant, but you can enjoy food here on the picnic benches right outside. Juan had an interesting sense of humor and the stand carries on his legacy with quirky jokes. Don't be surprised when the staff asks you if you would like napkins clean or "slightly used". They also might ask you if you want a fork or chopsticks for your ice cream. They are full of jokes and it is certainly an entertaining place to stop. Even if you're not hungry, this is definitely worth a look around. Juan built this in 1953 out of scrap metals and old railroad pieces. There are plenty of old Route 66 relics and Juan's silly humor is found throughout the restaurant.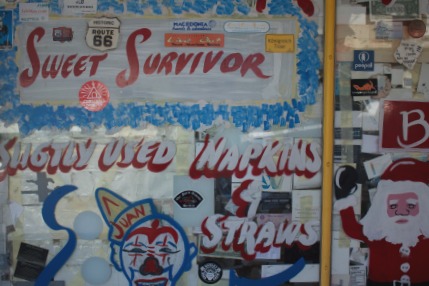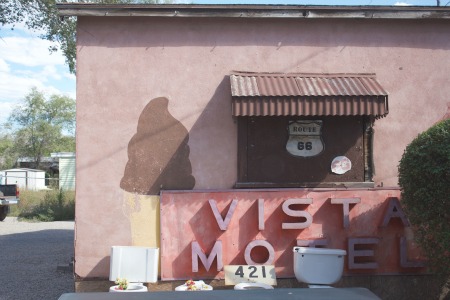 Mr. D'z Route 66 Diner, Kingman AZ
Mr. D'z has a classic 50's atmosphere, complete with a jukebox and waitresses on roller-skates. There are plenty of vegetarian options, as they sell a wide variety of food. They sell everything from sandwiches to spaghetti to pizza. I ended up going with the vegetarian sandwich that was served on a toasted bagel with a pickle and fries. To top it off? Their famous old fashioned carmel root beer float. Please go here. It will be worth it.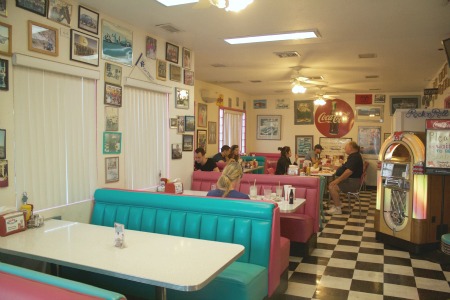 Bagdad Cafe, Newberry Springs CA
The Bagdad Cafe is the filming location of the movie "Bagdad Cafe". At first glance, it looks like an old abandoned building. It is on one of the longest stretches of Route 66 through the Mojave desert. You will travel for miles and miles through the desolate desert and then stumble upon this ghost town of a place. Stop in to the Bagdad Cafe for a warm welcome and encouragement to keep you going towards the end of 66. The food won't be a 5 star meal, but they do have delicious breakfast and fries, which will be just what you need after driving through endless desert.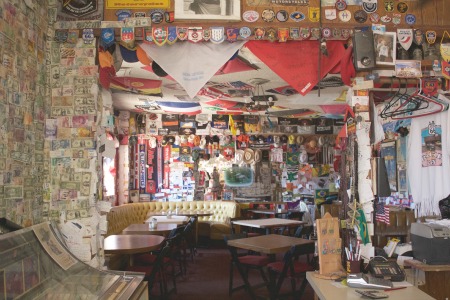 Have you ever driven Route 66? What was your favorite place to stop?