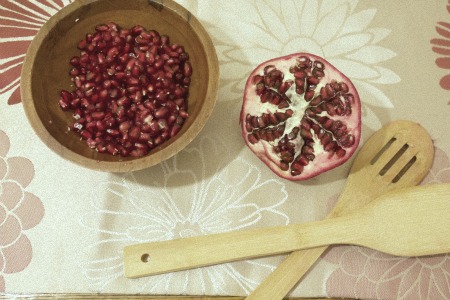 One of my goals for this fall was to experiment with seasonal fruits and vegetables that I've never used before. When my boyfriend and I decided to have a celebratory dinner after getting settled into our new apartment, I knew it was the perfect occasion.
The pomegranate is a tree native to Iran and Northern India that produces a red fruit. The skin of the fruit is tough and inedible, but the seeds (or "arils") inside are the good stuff. The arils are loaded with antioxidants and nutrients, such as fiber, protein, and vitamin C.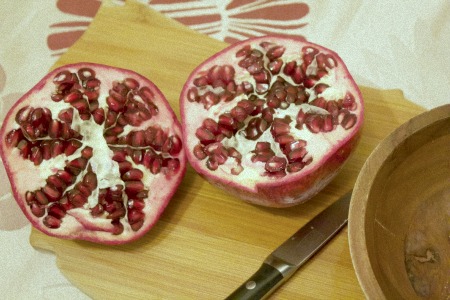 If you're like me, the thought of cutting a pomegranate is pretty intimidating. I didn't know where to start or how to de-seed it. It's honestly not that bad once you know how…I promise! You want to start by cutting about an inch into the fruit all the way around horizontally. Similar to how you would cut an avocado. You might want to do this next step over a sink so that your kitchen doesn't look like a murder scene. Pull apart the two pomegranate halves and you will see tiny, juicy seeds. Turn one of the halves over so that it is facing down in a bowl. Use a wooden spoon to hit the pomegranate until all of the seeds are out. Remove any skin that got into the bowl and you're done! You can either use the seeds in recipes or use a mortar and pestle to juice them.
If you need ideas on how to use this wonderful fruit, try out these quick and easy ways to incorporate it into your diet.
Oatmeal
I love making overnight oats for breakfast. I thought a fun, fall twist to this would be to add a handful of pomegranates to my usual recipe (which is usually just rolled oats, almond milk, maple syrup, and cinnamon).
Quinoa
Toss some kale with lemon juice, add it to cooked quinoa, and throw in some pomegranate seeds and pine nuts for an added crunch. Finish with feta cheese and you have yourself a delicious quinoa-pomegranate salad!
Vegetables
Add them to roasted vegetables, such as carrots or squash for a sweeter fall dinner. Try Wanderfood's recipe for Roasted Carrots with Pomegranate.
Smoothies
I have yet to try pomegranates in a smoothie, but I cannot wait to! The easiest way would be to use pomegranate juice in place of the liquid you would normally use. Combine it with kale, blueberries, an apple, and your other favorite fruits. Yum!
Holiday drinks
This is another one I can't wait to try out come Christmas and New Years. Combine fresh pomegranate juice to sparkling water and add in a fresh sprig of rosemary for some added flavor.
Salads (and dressing)
Probably the easiest way to combine pomegranate into your diet is to put it in a salad. You can just add it to any salad you would typically make or you can follow the directions below for a delicious fall-inspired salad!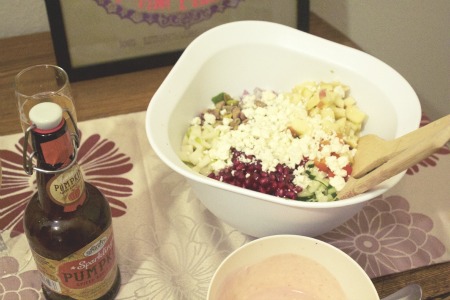 Fall Fruits Salad
1 head of romaine lettuce, chopped
1 pear
1 apple
1 red bell pepper
1/4 of a red onion
1 small cucumber
1/4 cup pistachios
1/2 cup pomegranate
Feta cheese (optional)
Wash and dice all fruit and vegetables. Combine all ingredients and top with feta crumbles, if desired. Serve with dressing (below).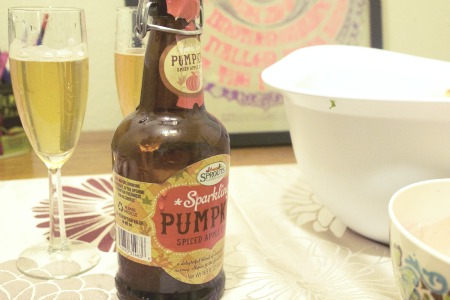 P.S. we topped the meal off with this sparkling pumpkin cider. It was amazing. Go get some now. You won't regret it.
Pomegranate salad dressing
1 5.3 oz plain greek yogurt
2 T pomegranate juice
2 teaspoons honey
2 teaspoons mayonnaise
1 T apple cider vinegar
1 T lemon juice
salt and pepper, to taste
Combine all ingredients and pour on salad when ready to serve.
Recipe adapted from Carl's Bad Cravings.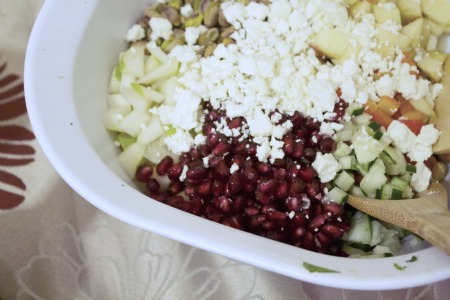 More pomegranate recipes to come soon!
Make sure to follow me on Twitter and Instagram and to subscribe via my RSS feed!