Nothing makes me think of summer more than family gatherings, fireworks on the lake, and bonfires. The Fourth of July has always consisted of at least one (if not all) of those three things. It was weird this year to be spending it in Denver so far from home. A friend and I took a mini roadtrip to Denver for the Fourth of July weekend. I say mini because we drove 15 hours from Chicago to Colorado to spend a day and a half in Denver only to book it back to Chicago on Sunday. Yes, that was 15 straight hours in the car with 4 ten minute breaks. Needless to say, the lack of sleep caught up with me the next day and the following week. On the way there, I found myself questioning if this trip would be worth it. That was…until we went to see Blues Traveler w/ Hanson and Guster on Saturday night at Red Rocks amphitheater. Holy cow! That was hands down the best concert I have ever been to. If you have never been to this venue, you must add it to your bucket list now. Just the sight of it is enough to wow you. It is "the only naturally-occurring, acoustically perfect amphitheatre in the world."  Blues Traveler has played at Red Rocks 23 times and 17 of those times has been on the Fourth of July. The Beatles, John Denver, Fleetwood Mac, Neil Young, and many others have graced the stage. Whileyou are enjoying the concert, you also get a clear view of the Denver skyline as well as the Rocky Mountains. How perfect is that?! If you arrive to the venue early, there is plenty of hiking and scenery to keep you entertained. Just make sure to wear lots of sunscreen and drink PLENTY of water. Being over 6,000 feet in the air, the sun is that much more relentless. While being in the car for that long was torture at the time, the concert blew me away. So the short answer is yes, the long drive was definitely worth it.
Since I didn't get to make this strawberry icebox cake over the Fourth of July weekend, I made it ahead of time to get my summer dessert fix. It is cool, light, and refreshing. The best part? Only four ingredients! I could probably eat this entire cake myself…no joke. I might try to make a healthier version, by substituting a few ingredients, but we shall save that for another time. Enjoy!
Ingredients
3 1/2 cups heavy cream
2 Tablespoons honey or maple syrup
Strawberries, sliced
Graham crackers
Coconut flakes (optional)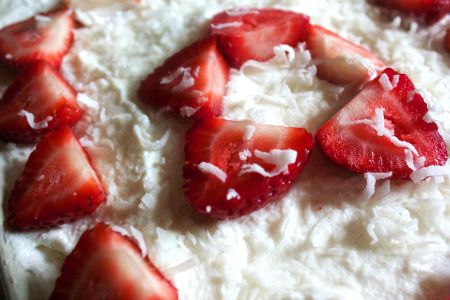 Directions
With an electric mixer, mix the heavy cream until it becomes thick and peaks are formed (about 20-30 minutes). Add in sweetener of choice. I used honey and it was dee-licious! Now it's time to layer your cake. In an 8 in. x 8 in. baking dish, spread a thin layer of whipped cream on the bottom. Place graham crackers down on top. You may need to break them in order for them to fit all the way across. Cover with a layer of whipped cream. Next, add your strawberries. Repeat with graham crackers, whipped cream, and strawberries until the dish is filled. End with a layer of whipped cream and garnish with sliced strawberries and coconut flakes. Refrigerate overnight for the layers to mesh together. You will not be able to eat just one slice. I promise you.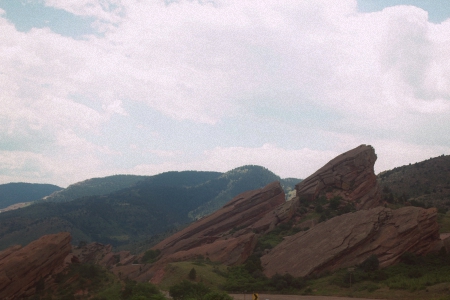 What are your must have summer desserts? Let me know in the comments!