Most travelers to Southeast Asia are well-prepared for the delights of Thai cuisine. They know their Tom Yum soup from their Som Tam salad, and some are even ready for the "pet, pet" (spicy) factor. But anticipation of Lao food? Not so much.
Even though it's just a hop over the Mekong River from Thailand, Laos is still a lesser-known, and in some ways humbler, destination. The food focuses more on simplicity and sustenance, and the bling and fire of showy Thai curries is understated here. That said, after several months exploring Laos north to south, I found much to love putting in my mouth.
Here's 6 of my favorite noshes in Laos:
Roasted Eggplant Dip & Sticky Rice – Jaew Mak Khua & Khiaw Niaw
(say "jae-ow mock koo-uh" and "cow knee-ow")
Jaew is easily my favorite culinary discovery in Laos. Roasted eggplant are mashed with coriander and other spices (including lots of chili) with a mortar and pestle. This amazing fresh and kicky dip is scooped up with the ubiquitous Lao sticky rice, which you pull out of the communal rice basket and ball up in your hand.
Noodle Soup – Foe
(say "fuh")
Everyone knows Vietnamese pho, and the Lao take on this staple soup is perhaps not as bold but certainly just as sustaining. A bowl of simple broth, noodles and vegetables arrives at your table with the accompanying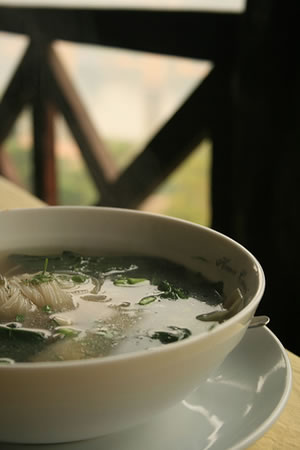 plate of goodies to throw in – basil, bean sprouts, mint and chilis. I have a great memory of a stomach-and-heart-warming bowl of foe at a lunchtime bus stop during a long haul through chilly Northern Laos.
Ground Meat Salad – Larb or Laap
(say "lahp")
Okay, as a pescavore this sounds a little gross to me. But it's not just ground meat (or in my case, fish or tofu) – there's some serious alchemy in this dish. Beloved Asian flavors like chili, mint and lime into an inexplicably light and lovely salad. Like most things in Lao, it is beast eaten by scooping up with sticky rice.
Fresh Rolls – Yaw Dip
(say "yaw deep", although for some reason I learned to say the Thai "bo biet ta chey")
Fresh rolls can be found all over Asia, and each version is a little bit different. My favorites, hands down, are the ones I got from a woman just outside of Luang Prabang's night market. She sat there with a tray on her lap and hand-rolled them right there. Hers were stuffed with lots of fresh greens, mint and coriander, small rice noodles, and sometimes scrambled egg. I loved that her rolls were fat and a bit lumpy, not like the perfect cylinders you pay 8 bucks for in a restaurant.
Baguette Sandwich – Khao Jii Pate
(say "cow gee pah-teh")
Part of the lasting legacy of the French colonization of Laos, along with some pretty crumbling European-style buildings, is the baguette. Many a noodle-weary traveler from neighboring Thailand has delighted to find plentiful fresh baguettes steaming in markets and shops throughout Laos. I loved grabbing a baguette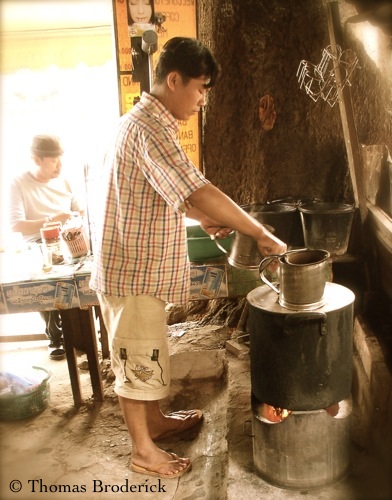 sandwich for long bus days to nibble on at intervals. My standby was an egg sandwich and included shredded carrot, cucumber, coriander and a sort of spicy mayo spread.
Laos Coffee – Kafe Tom
(say "Kah-fey thom")
Just watching the preparation of a cup of traditional Lao coffee is fascinating. Boiling water is poured through a sort of sock-like cloth filter and into a tiny class, obsidian black and strong as a water buffalo. Order "kah-fey dahm" if you just want strong, black coffee, or my favorite "kah-fey nome" which means with sweetened condensed milk. Served with a chaser of "nam saa" (mild tea), this caffeinated confection is simply transcendent.
Here's a post about my very favorite spot to have a slow morning over a Lao coffee in Luang Prabang.

Photo credit: Laos noodle soup by mattjkelley