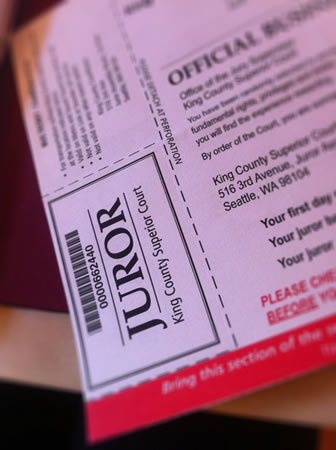 The day after elections last week, I reported to the King County Court House for jury duty. It was my first time and I didn't know exactly what to expect. I felt a bit of annoyance/frustration that I had to put the rest of my life on hold, mixed with a small flutter of excitement to be stepping into the legal system in action and experiencing something new.
The jury selection process amounted to a lot of waiting, but it was in spurts rather than long time blocks. I had brought my laptop with me in order to take advantage of the WiFi promised us in the jury waiting room, but found I could only hop online for 15 minutes here, 30 there. There was the explaining of the process by a judge and then a guy I'll call the jury MC. There was a school-grade film to watch that talked about what to expect in the process, with stirring orchestral music when it waxed poetic about our civil liberties. Then the familiar parade of being called for selection, assembling by numbers and marching into a court room, which repeated several times.
Patience, I quickly learned, was going to be my biggest alibi in this process. I thought about my travels, and how often my patience is called upon then. How many countless hours have been devoted to waiting on transportation – buses, trains, planes, subways – while moving about in the world? I've learned to breathe deeply, smile at those who are helping me, and not be in a big hurry to get somewhere because the journey is the experience.
So, I decided to treat the jury duty experience as a sort of mini-trip. It most certainly was a strange, new world to me. The language was unfamiliar ("we now will start the voir dire process"), the locals did not look like me (not, at least, in their professional lawyer-ly attire) and often my fellow travelers/jurors were as confused as I was ("which floor were we supposed to go to?") Jury duty took on the sheen of a fascinating exploration of an unknown place.
At the beginning of each jury selection, we were sworn in and the presiding judge would give a brief talk. He or she would explain some of the basic elements of the trial, sometimes reading off a list of names of people involved to see if we knew any of them. They'd discuss the expected time frame and duration of the trial.  And then each judge offered a few words on the duty, and the right of serving.
Though each judge worded it in their own way, the gist was basically this: As citizens of the United States, we are very privileged to have a functioning judicial system that offers fair trial by a jury of your peers. Only the U.S. and Canada offer this right to its citizens routinely in non-criminal cases.  We aren't required to serve in our military, we're not even required to vote, but this one requirement ensures that our judicial procedures remain intact. Jury duty, each judge told us, is a gravely important service to our country.
I was impressed by the level of passion and commitment each judge portrayed to the system, one that I admittedly haven't thought too much about since high school government class. Thinking again of my travels, I knew that it may not be a perfect system, but it was far more than so many people around the world are privileged to have.
So many times in so many places around the world I've met people who shine with admiration when I tell
them I'm American. At first I thought the lure of the States was the somewhat-misguided idea that everyone can become a millionaire there. (True, perhaps, but not that simple.) It took me longer to appreciate the admiration for our freedom and our civil liberties.
Travel has exposed me to life in wonderful places run by extremely corrupt governments, where things like a fair trial do not exist. It's helped me to appreciate the fact that while our system has plenty of its own flaws, we are empowered as citizens in my country to take action to change them. It's allowed me to truly appreciate my freedoms; including the fact that I can assemble with whatever group I wish to, I have a political voice as a voter, I can worship as I please, and I can express myself however I want to on this blog.
Our systems may have flaws and our leadership may be all over the boards, but our freedoms are true and hard-won by generations before. Talk to people in other nations when you travel and you will hear this time and again. The double-whammy of a rousing election day followed by my first trip to the Land of Justice may have me waxing poetic (queue the orchestral swell!), but I do believe it is true:
Our freedoms afford us the opportunity to go out and experience the world, and return to apply the lessons of travel to our own community at home.
Photo credits:
Lady Justice by Manu_H
Bill of Rights by myrestlesslife