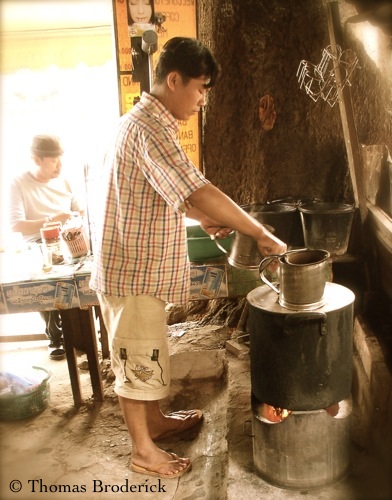 Luang Prabang, Laos is the kind of place the seeps under your skin, slows down your heart rate and tells you not to go. At least, that's what happened to me and my partner; our first visit found us digging in and staying a spell, and return visits stretched over weeks and into months.
Among the many delights of our simple daily life in Luang Prabang was morning coffee at the local stand down by the Mekong. The stand was simply a wooden table fashioned off of the hub of a big shady tree trunk, and the coffee was brewed on a typical Lao wood-fired brazier stove. Locals stopped in to chat, watch the passersby, read the paper or contemplate the boat traffic on the Mekong. Some pulled up on motorbikes and took their java to go, driving away one-handed with a fistful of dangling coffee-filled baggies.
If you have never had the distinct pleasure of tasting Lao coffee, you are in for a treat. It's almost intimidatingly dark and thick, but tempered by the high note of sticky sweetened condensed milk. It is usually served with a chaser of nam sa (mild tea) and at our coffee spot of choice we were always offered a couple of plates of baguette and sweet breads to munch on. All for the price of 4,000 kip, or 40 cents. Often a woman selling warm silken tofu in rice milk with ginger would stop by, and for a few cents more she'd serve us up a bowlful, completing the perfect breakfast.
Join us and share your travel-food memories at WanderFood Wednesday!