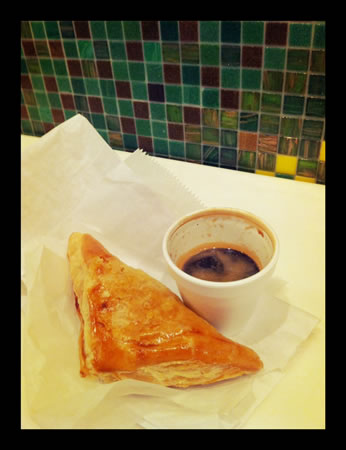 On my way to Nicaragua in November, I connected via Miami International Airport. While I did manage to get out for a quick jaunt to South Beach, I didn't have enough time to visit Little Havana, which I've been dying to check out. Lucky for me, I was able to get a taste of Cuba right in MIA's Terminal D.
Versailles Restaurant, known as "The World's Most Famous Cuban Restaurant ", has multiple outposts in the Miami Airport. Cafe Versailles, as these pared-down dispensaries of Cuban goodness are known, focuses on quintessential Cuban quick bites.
After my red-eye flight from Seattle, I ordered a Cuban coffee and a guava pastry to put a bit of pep back in my step before hopping the bus to the beach. Cuban coffee, if you've never had it before, is an intensely wonderful caffeinated experience – a super sweet, high-octane marimba in your mouth. It was born when the first espresso machines immigrated to Cuba from Italy, and is punctuated by the syrupy sweetness of demerara sugar added during the brewing process.
The accompanying Cuban pastry I had was a buttery, flaky triangle with a delectable guava and cream cheese filling. So good! I remember the first time I had one of these – a Miami transplant I had met in Seattle shared one with me, to taste his home. They had been made fresh by his Cuban mama that morning and he had flown across the country that day with the box of them on his lap. (Precious cargo.) Nothing will beat mama's recipe and homemade touch, but Cafe Versailles ' offering came in at a close second.