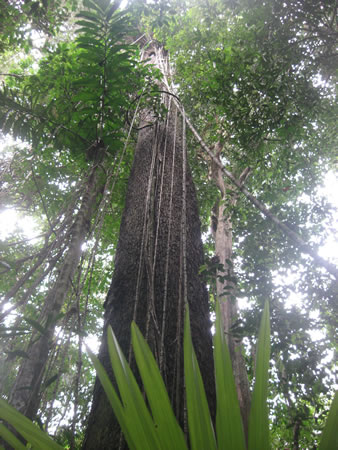 I heard that Sally Ride passed away yesterday, and immediately I thought of her namesake, Sally, who I encountered in the jungles of Peru.
Sally was assigned to be my guide during my stay in the Amazon with Rainforest Expeditions. As a solo traveler representing partner organization Crooked Trails, I was her sole charge – our daily expeditions into the jungle were but the two of us.
We clicked right away and even bonded over our days exploring this vast, amazing jungle together. Sally's knowledge was astounding, and as a fellow naturalist, we took joy together in creeping up slowly on animals, stopping and listening to cries of the Screaming Piha and trampling of Peccary on the move. She never tired of my incessant questions, gracias a Dios. We took meals together at the bamboo jungle lodge too, in between our forays down the jungle paths that sprawled off the hub of the lodge like bike spokes, up the waving stairs to the canopy towers to look out over the expanse of green and brown dotted with the paint color dabs of macaws and toucans in flight, and paddling quietly on the oxbow lake. At those meals she'd always see to the vegetarian options the lodge had kindly arranged for me, and over our fresh fruit juice we'd re-cap the day's adventures.
During these meals I began to learn about her life. Sally was born in a remote and impoverished Andean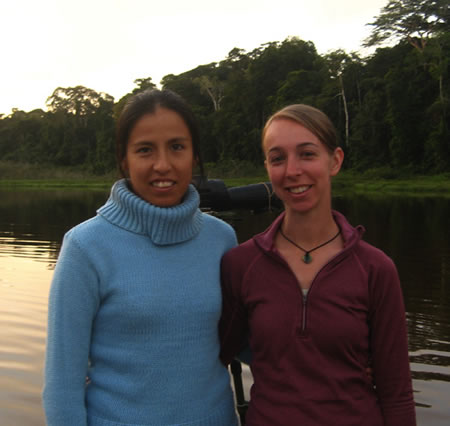 village. She told me sad tales of the days of the Shining Path, the terrorist uprising which rocked the country in the  1980's during her childhood, and how it devastated her community and even forced her family to flee to Lima for safety. She greatly admired her parents and they obviously fed her intellect and curiosity at a young age, giving her not a traditional Quechua name, but Sally after the first American woman who gone to space. Obviously, they wanted young Sally to know that, despite her humble background, she was capable of anything, and destined for some kind of greatness.
Sally was fortunate to attend college in Lima, staying with an aunt and uncle based in the city when her parents returned to Andes after the Shining Path fell, and it was apparent she applied herself fully to her studies. Her knowledge, and her lust for discovery, were apparent everyday with the way she unwrapped the layers of the jungle for me. Having been a guide myself, we shared the pure enjoyment of nature geekery, and I think she appreciated that she wasn't just spieling to a blank face preoccupied with thoughts of happy hour back at the jungle bar.
Pulling on a pair of the lodge's loaner rubber boots early each morning and running around the jungle with her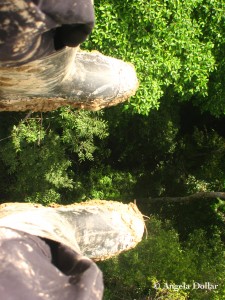 everyday felt like living some great childhood dream. We got to a point where we could communicate without words by exchanging looks and nods behind a blind, watching macaws at the salt lick or the fascinating Capybara coming down to the river's edge to drink. Sally told me that among her dreams for the future was to return to her tiny Andean village and develop a better livliehood for them. The wildflowers that bloomed there were known throughout the Andes as some of the most spectacular displays, and based on this she believed she could help draw visitors to enjoy its beauty and bolster the local economy.
Sally had a way of speaking that was both strong and tender when she shared her stories with me, and she had obviously taken much strength and wisdom from her experiences at the young age of 24. Sally was focused, intelligent and driven — she was not married and was working to support her parents as well as build up savings to start her own family someday — a departure from the traditional role of women in her culture.
One of our jungle adventures was a trip down-river to visit the local shaman. He brought us through his garden and showed us the Amazonian plants he curated from the jungle's treasures for medicinal use. I marveled at a leaf numbed my mouth when I chewed it as if at the dentist (indeed, jungle dentists use it for just that!). There was a plant from which love potions were concocted. Among his charges in the garden was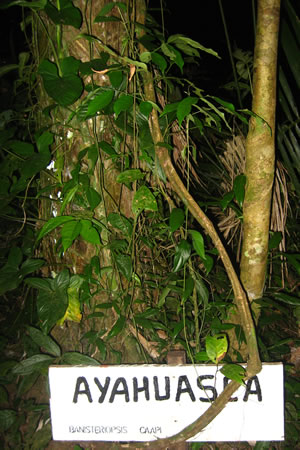 the mysterious Ayahuasca plant. I lingered to approach the sacred Ayahuasca and marvel at it for awhile. Knowing a bit about its deep psychoactive powers, it felt a bit like being in the presence of a rock star, but at an intimate dinner party where it would be uncool to fawn and ask for an autograph.
The day I had to leave the lodge and return to civilization, Sally accompanied me on the 3-hour boat ride back down the river to Puerto Maldonado. We talked about the Ayahuasca plant and she told me, "I think you should come back to the Amazon for your own Ayahuasca journey. I feel you are ready and open to it." I told her I was intrigued but also a bit intimidated. She responded that, if the time presented itself, it would unfold naturally and she believed that some day I would find myself back in the jungle, seeking out the services of the shaman.
Truthfully, it was bittersweet to say goodbye to Sally. Disembarking the boat, she stayed with me for the bumpy bus ride one hour into town, back to Rainforest Expedition's headquarters to collect my stored bag, and even onwards to the small jungle airport. We chattered on together until I had to board my flight back to Lima. It felt like the most natural thing in the world to be brushing away a tear when parting with a tour guide I had met less than a week previous.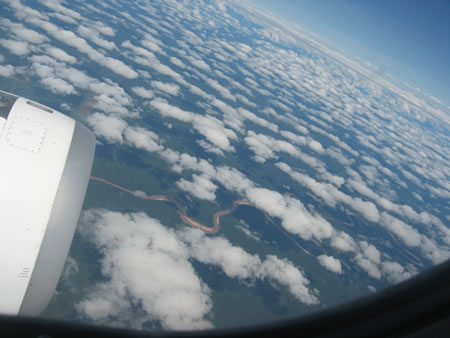 Sally and I fell out of contact after I returned home, and I wonder if I will find her again and if I could ever explain how she elevated my rainforest experience into something so unique and special. I imagine she's reaching great heights on her own now, maybe among the constellations of wildflowers in her Andean home.