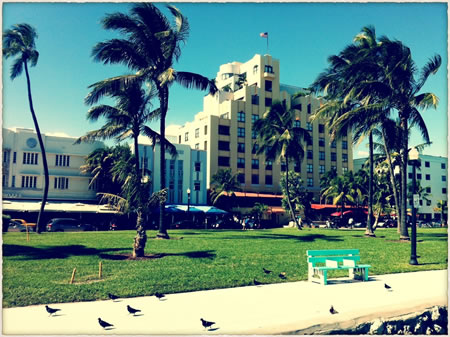 I had a long-ish layover in Miami so I took the local bus down to South Beach to check things out. What a wacky and wonderful corner of the world! The first thing that struck me was the cool rounded edges and pastel colors of the many art-deco era buildings. It gives the whole place this sort of Gotham-meets-CareBear Land sort of feeling.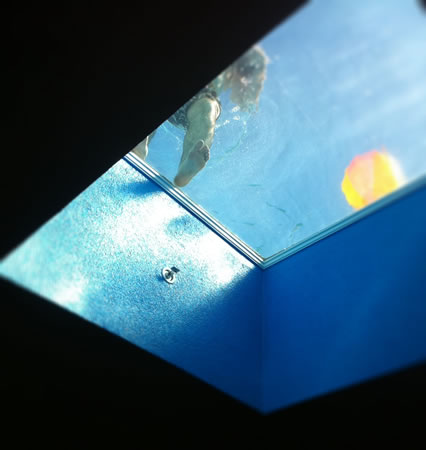 Strolling down Collins Ave., I heard snatches of conversation in at least half a dozen languages. The air carried the smell of Cuban cigars, expensive perfume and suntan lotion. Passing iconic hotels such as The Raleigh and The Carlyle, I caught glimpses of poolside cabanas that surely shielded Esther Williams in another time. Stopping for lunch and award-winning people watching at the Front Porch Cafe, I found the rooftop pool hovering above me en route to the restroom.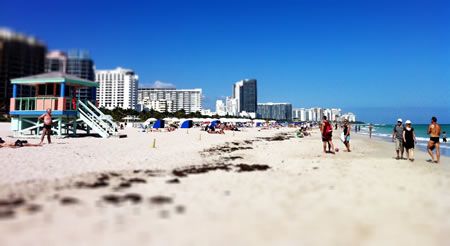 Just across the way from the retro splendor of Collins, I find another great Miami prize – a prime stretch of beach! This well-used strand was dotted in hotties sunning themselves and bronzed and man-scaped dudes jogging by in hot pink shorts. I was happy to see numerous lifeguards, but not a lot of litter, on my urban seaside stroll.
I exited the beach just behind a woman who had wrapped a towel around her itsy bitsy bikini and thrown on some pink stilettos as she stepped off the sand. In her hand was a dubious cocktail in a plastic cup. She reminded me a bit of South Beach itself – brash, colorful, unapologetic and always ready to party. Seattle, my neutral-hued and mild-mannered home, could take a cue.
National Geographic has a great Miami walking tour for your spin down Collins. Be sure to hit up Delicious Baby for more Photo Friday fun!