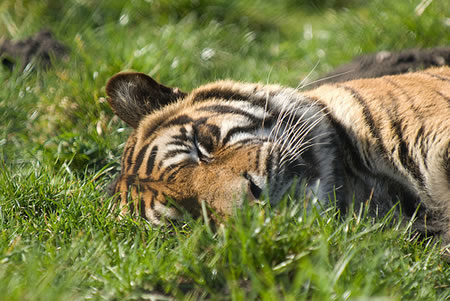 India's Supreme Court imposed a blanket ban on all tourism in the core areas of 40 tiger reserves across the country in July, prompted by a petition brought forth by animal-rights activist Ajay Dubey, head of a small NGO called Prayatna. The petition called on the Wildlife Act to protect critical tiger habitats from the growing impacts of India's tiger tourism, an $18 million industry whose growth has spiked recently.
According to the last census by the World Wildlife Fund, just 1,706 tigers remain in India, which has the world's largest tiger population. Yikes. Meanwhile, India's control over development in tiger reserve areas goes mainly unchecked. Conservationists assert that these important habitats are being choked with resorts and crawling with tourist vehicles with a lack of controls on responsible viewing practices.
The tigers may be getting a break, but the ban has caused an uproar among tourism professionals, who say it has imperiled the livelihoods of more than a million people who rely on this tourism income. Those who oppose the ban point out that some lodges employ local indigenous people, providing not only local jobs but an impetus to stop hunting the tigers. They also argue that experiencing these creatures in the wild creates a better sense of the need to care for the animals and protect their habitats. Tourist activity also deters poachers, who remain a looming threat to many of the world's endangered species.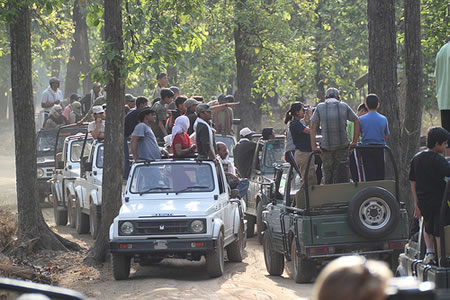 The issue has proven to be polarizing. Toby Sinclair of the Ecotourism Society of India told CNN he believes the government is allowing too many visitors into the parks, saying "The eco in ecotourism has changed to economy." Yet operators such as Global Basecamps do feel that there is an existing framework for sustainable tourism there, and they offer tours which include game driving through India's most tiger-populous reserves.
Currently the court is consulting with a wide range of stakeholders, both for tourism and wildlife conservation, to form a plan for reforming tourism guidelines in the area. Meanwhile the tiger tourism ban remains until the September 27th deadline.
This step will be crucial for striking a balance between the needs of both the animal and human populations. When implemented  properly, sustainable ecotourism plans have proven to do just that – provide stable economic benefit to local communities while protecting and raising awareness for exotic animals and the fragile habitats they live in. As Belinda Wright, head of the Wildlife Protection Society of India, told The Globe and Mail, "The industry will have to get itself in shape and maybe this will light the fire."
What do you think – is temporarily shutting down all regional tourism in these tiger areas to extreme of a move, given the immediate impacts on those whose livelihoods depend on it? Or is it the push that's needed to create crucial reforms to protect the tigers' future?
Photo credits:
Sleeping tiger by Bladeflyer
Tiger tourists in India by brian.gratwicke