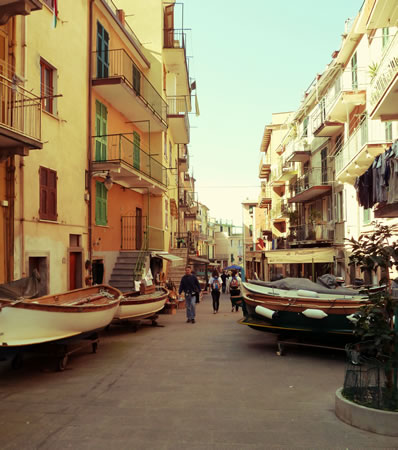 Though it's akin to picking among your children, everyone who visits Italy's Cinque Terre region holds a secret favorite among its five villages. It could be argued that Vernazza is the sexiest; that Corniglia offers the most amazing views. My favorite? The simple, steep-sided hamlet of Manarola, because an amazing stay there let me sink in and feel the local pride of my adopted temporary hometown.
Rather than book at local hotel, my sister and I opted to rent a small vacation rental during our time in the Cinque Terre through the fantastic A Casa Cinque Terre. This local, family-run business not only has a great roster of local vacation rentals, but they can also arrange cooking classes, olive oil and wine tastings, boat excursions and more. Rentals are available in each of the 5 villages that make up the Cinque Terre, as well as the outlying towns of Levanto, Porto Venere, Volastra and La Spezia. Supporters of the Slow Food Movement, the family behind A Casa Cinque Terre collaborates with local families and artisans to create some wonderful locally-based opportunities for visitors.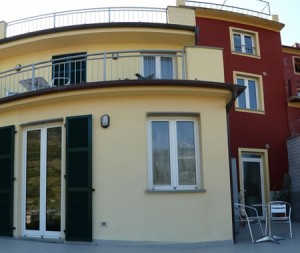 Through a few emails with Claudio at A Casa, we were able to select the perfect rental – a studio flat in Manarola called "Giorgio 1". It was a superb deal at only 85 Euros a night for the 2 of us, and Claudio was very helpful via email pre-departure, answering my questions and even advising me about the local train schedule.
We arrived in Manarola a bit after dark, but Claudio was waiting cheerfully for us when we got off the train. He walked us up the hill to our little home, showed us in and gave us a fantastic recommendation for dinner in town. It was spotlessly clean, and while sparsely decorated inside, boasted incredible views from the patio which ran the length of the apartment and could be directly accessed via french doors off the bedroom.

ACTUAL VIEW!
These are the sort of memories that now color my stay in this sweet little town: we heard church bells in the morning, watched locals farm their garden plots on terraces across the narrow valley, drank in the sight of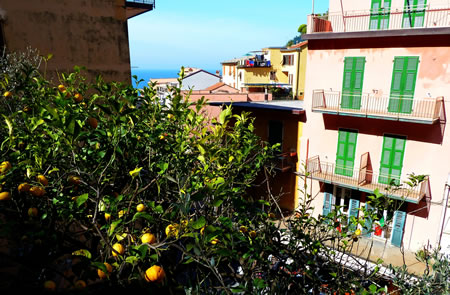 vibrant orange trees in bloom in the neighborhood, saw laundry fluttering like Italian prayer flags in the breeze, and we greeted locals on the cobbled footpaths as we set our each day to explore. We enjoyed tea in the morning and wine in the evening on our little patio with its unforgettable view. To me, these are the makings of a "local" stay, immersed in the rhythms of daily life.
The benefits of a local vacation rental like this are easy to see:
– Often these rental flats are located in the neighborhoods, off the main streets which are noisiest
– Having a kitchen to cook in makes it more cost effective and homey, with the added bonus of shopping at local markets for provisions!
– Much more of a local feel in a local neighborhood
– Support locals! This rental service helps them hold on to their family properties in an area where property values have skyrocketed
– Allows for a much more relaxed, self-catered pace and greater independence
– Many rentals will fit more than 2 people (great for families)
– Actually a better value than hotels in many cases!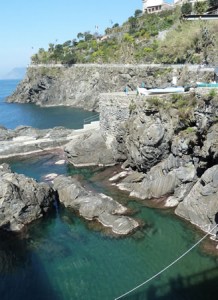 On our final day, Claudio encouraged us to wander down to Manarola's waterfront and find him at his home to drop off the key. When we met up, he invited us to the cafe down the block where he bought us an espresso and stayed to chat. We learned about his home and family here in this beautiful corner of the world, and he too wanted to know about us and what drew us to the Cinque Terre. Parting ways, it felt like we were leaving a friend and a familiar place. We made plans to return before we were back on the train.
STAYING IN THE CINQUE TERRE
My recommendation? Get your home base through A Casa Cinque Terre and stay as long as you can. There are days worth of simple exploration to be had, either via the village-connecting trail or by hopping the local train. This is defintiely the kind of place you want to sink into and pace yourself, savoring the slow and simple traditional way of living (which is in danger of disappearing!). The Cinque Terre becomes a hive of tourist activity in the summertime. I found that March was a great time to be there – beautiful days and no crowds. In all cases, book as early as possible.
Also visiting Venice on your Italian odyssey? Here's my recommendation for the best local accommodations there.