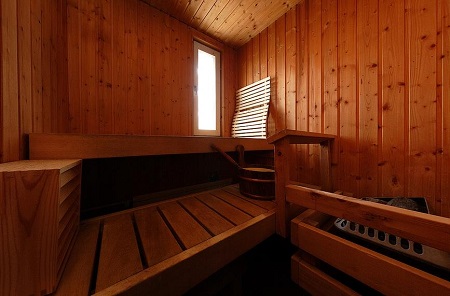 When cold and flu season is in full swing, it makes sufferers miserable and eager to stay home in bed. However, you may find it beneficial to try a relaxing soak in a hot tub, either at home or at a spa. A nice, long soak can help relieve some of your symptoms and is certainly a relaxing and soothing experience. Can it really help? Here are some things to try to fight the cold and flu off. Judge for yourself!
You might also enjoy: 5 Reasons to Take a Spa Getaway | Couples Massage Treatments
1. Feel the Heat
Raising your body temperature can help your body fight those multiplying cold germs. Keep the temperature of your hot tub at or near 104 degrees, the hottest setting. Or, if you have a regular bath, use the hottest water you can stand. Ease into the water slowly. The hotter the water, the more you'll sweat, and sweat is what will help your body rid itself of cold and flu toxins.
2. Soak as Often as You Want
It's recommended that you stay in a hot tub for no longer than 20 minutes. You can hop in and out of the tub as often as you want throughout the day. Keep soaking until you start to feel a bit of relief. The idea is to keep your body temperature elevated, so try to spend as much time in the hot tub as you can. Hot tubs are also very relaxing, so multiple soaks may help you get some much-needed sleep.
3. Be Sure to Drink Lots of Fluids
This is always a good idea when you're sick anyway, but especially if you're spending time in a hot tub. You can quickly become dehydrated in very high temperatures. Be sure to have plenty of water on hand and drink it before, during and after your soaks. You can even enjoy a cup of hot herbal tea or even that well-known common cold cure, chicken soup, while in your tub. Avoid booze, such as a hot toddy, which will weaken your immune system.
 4. Use Some Salve
Try dabbing some mentholated salve such as Vicks under your nose before getting in the hot tub. It will help open breathing passages and soothe your irritated skin. The salve plus the heat from the hot tub can really do wonders on your irritated nose.
In addition to raising your body temperature to get your immune system in full swing, soaking has many more benefits. It can ease muscle aches and pains that can accompany the flu by relaxing muscles and increasing circulation. If the hot tub you're using is jetted, you get the added benefits of a massage.
Another benefit is the hot tub's steam and heat, which help shrink swollen nasal passages and mucus membranes. This can induce drainage and make breathing easier.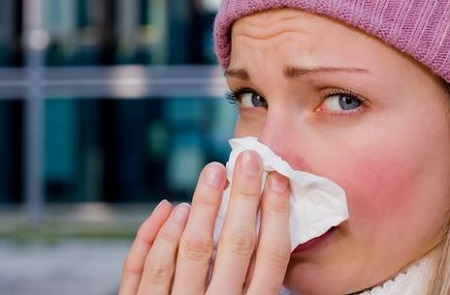 5. Steam Away Your Cold in a Sauna
Another thing to try to combat your cold is a sauna or steam room. The super-hot steam in a sauna is a good way to combat the cold virus, which can't survive in high temperatures. You are increasing your body temperature, just like in a hot tub, to induce a fever that fights the cold virus. It can also improve nasal drainage.
The great thing about using a hot tub or sauna to relieve your cold symptoms is that these are all-natural cures. If you're interested in a holistic approach to conquering your cold, it's certainly worth giving either option a try.
6. The Salt Room
The Salt Room in Orlando, Fla., is a facility that uses salt therapy for a number of ailments, including the common cold. Halotherapy is used to treat upper and lower respiratory conditions through nature. It feels more like going to a spa than to a high-tech treatment facility!
Salt therapy will help by opening nasal passages, killing bacteria and helping to drain the sinuses. It also helps to clean mucus from your lungs and reduces stress, which weakens your immune system. During the treatment, you relax in a halochamber with salt-coated walls and floor while dry sodium chloride aerosol is pushed into the room through a halogenerator.
The only side effects noted are occasional skin irritation or throat tickles. It's certainly worth a try to fight off that perky cold virus!
7. Home Remedy
Another option to tackle that cold is with various bath soaks. Epsom salts are especially effective at helping with cold symptoms. This homemade detox soak is easy to make and effective.
All you'll need are I cup of Epsom salt, ½ cup of baking soda, 4 tablespoons of ground ginger and any favorite essential oils you have on hand. Lavender is especially relaxing.
Fill your tub halfway with water as hot as you can stand it, and then add ingredients. Stir with your hand to combine. Once your tub is full, submerge, lay back and relax for at least 20 minutes. During this time the salt will draw out toxins, while the ginger will promote sweating. It is a natural decongestant and will open pores. You can stay in for as long as 40 minutes.
Afterwards, towel off and then shower after about 30 minutes. This is not something you'll want to do every day; once or twice a week is fine. It will leave you feeling refreshed and with glowing skin, as well as easing your cold symptoms.
Although having a cold is not a pleasant situation, at least the cure is nice! Now go take two hot tub dips and call me in the morning.
Photos by The Salt Room in Orlando and Miika Silfverberg.