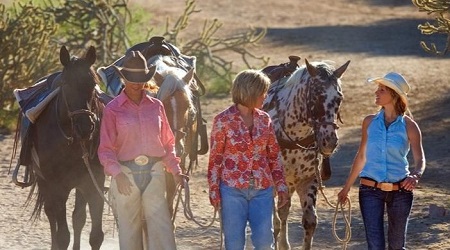 You may not think that dude ranches and spas go together, but these are two opposites that really do attract. Think about it: sunny and warm western weather, stunning scenery, gorgeous horses and a luxury spa all in one. Seems like the perfect winter escape to me!
Out in Arizona, Ranchos de los Caballeros, a historic dude ranch resort in the Sonoran Desert, offers it all. It's perfect for families, couples or even weddings. Established in 1948, this family owned and operated resort is situated on 20,000 acres of desert land known for its natural beauty. It's named after Spanish caballeros, or gentlemen on horseback, who explored this region of the southwest. It offers a bit of refinement in the heart of the desert.
A Great Place to Stay
Choose from a variety of rooms and packages. All rooms offer stunning desert and mountain views, and you can have three meals included each day if you want. There are many packages available, including The Getaway, which includes accommodations, three meals per day, either one round of golf or one horseback ride per night's stay, and access to all other ranch activities. What a great way to get away from it all!
If you want to have an experience like a real cowgirl, try the Giddy-Up Gals package. You get a desert cookout under the stars, riding lessons and trail rides, an afternoon of team penning, nightly entertainment and lots of free time.
Oh, Those Horses!
This is the perfect place for horse lovers! There are 100 horses on the ranch, all with unique temperaments. The ranch hands will pick the perfect horse for you based upon your riding experience, for anyone from absolute beginners to very experienced riders. There are 20,000 acres to explore and many, many trails to travel through the stunning desert. Nature rides are available for those interested in learning more about the desert. If you book your trip in the spring, you can even enjoy a breakfast or lunch cookout ride.
What's this team penning all about? Simply group together in a corral and try to herd a certain number of cows into pens! It may sound difficult, but it's great for team building or for families. An experienced ranch hand will be there to help you. Not only is it fun, it's funny as well!
A One-of-a-Kind Spa Experience
All that horseback riding can leave you with sore muscles, especially if you're not used to it. The Spa at los Caballeros in Arizona is there to help, with everything from desert scrubs, baths and wraps; to a variety of facials and massages; to hand and foot therapies. Here's just a sampling!
The Back Country Milk Soak is a creamy milk bath that includes chicory root to soothe the skin and whole powdered milk. This is great combined with one of the spa's massages.
The Toned Ranger is a 75-minute body wrap experience that's sure to relax you after a day on the range. This treatment includes the application of steaming nectar milk towels and a warm sweet cream scrub. You'll be wrapped up in linens after being smothered in prickly pear cactus gel, and then treated to a massage at the end. You'll be ready to hop back in the saddle in no time!
A great massage is in order after a busy day, and the Zents massage fits the bill perfectly. You get to choose your favorite aromatic oils and massage technique, as well as how long of a treatment you want. Choose from scents such as Earth, which includes sandalwood, Siberian fir and frankincense; Sun, which includes vanilla, blood orange, grapefruit and amber; or Water, which includes linden bloom, coriander lemon and mint.
If your skin needs soothing after a day in the hot sun, try one of the spa's signature facials. The Desert Escape Facial infuses the skin with moisture to combat dry-sun-damaged skin. You'll end up with a smooth and glowing complexion.
More Fun Activities
There's so much more to do at this ranch. You can spend the day golfing, swimming in the 78 degree heated pool, or even skeet shooting. Enjoy an evening barbecue outdoors complete with a cowboy serenade. Hike through the desert and look for the 300 bird species that call this area their home. You can even explore the terrain in an ATV or jeep, or get a birds-eye view from a hot air balloon.
There are even activities geared just for kids, including campfire marshmallow roasts, swimming and tennis lessons, arts and crafts, and trail rides. This way, kids can keep busy while adults get some all-important alone time!
Wining and Dining
If you opt for the Full American Plan, you get three meals a day included with the price of your stay, including breakfast and lunch buffets and dinner in the formal dining hall. Some items on the dinner menu include sautéed tiger prawns with shitake mushrooms, linguine alfredo with clams and pancetta, and rib-bye steaks with mashed potatoes and grilled asparagus. It's far cry from hot dogs and beans! More casual dining is available at the Grill at los Caballeros, which is located at the golf course.
Rancho de los Caballeros offers a refined and elegant take on the old Wild West. Enjoy the desert air, the horses, the relaxation and the cuisine. This is truly a destination that has it all.
Photos taken from Rancho de los Caballeros Website.