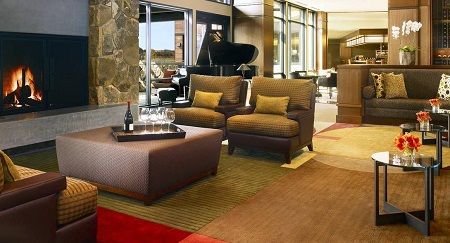 What do you get when you combine stunning scenery complete with gardens and vineyards, architecture inspired by nature and a world-class, luxury spa? The Allison Inn & Spa, located in the heart of Oregon's wine country in the Willamette Valley. It's the perfect destination for those who revere nature, good wine and a relaxing time to soothe the soul.
The Allison Inn & Spa is situated on 35 acres, seven of which are vineyards, providing for beautiful and pastoral outdoor views. The inn has 77 guesthouses and eight suites, all with fireplaces and either a terrace or balcony to relax outside and enjoy the views. The spa features 12 treatment rooms and an indoor swimming pool. To top it off, the JORY restaurant offers amazing wine-country cuisine and an 800-label wine list. This place has it all!
The Wine Country Way
The Willamette Valley is located about 45 minutes from Portland, so it's easy to get to. As you leave the city behind you are surrounded by the natural beauty of rolling hills, farms and vineyards. In fact, there are about 200 wineries located throughout this valley. It's the perfect place to enjoy the natural beauty of Oregon.
The inn's sleek, modern design captures the elements of nature, featuring lots of stone and wood. It seems to blend effortlessly into the stunning scenery, becoming one with the lush landscape. It's truly a luxury lodge that was built to respect nature. In fact, it received a LEED Gold certification due to its building practices and sustainable practices, including solar-heated water and eco-friendly roofing.
The wine industry here only began in the 1970s and was officially recognized in 1984, but is considered one of the top wine-making regions of the world. The climate make it a perfect place to produce Pinot Gris, Pinot Noir, Chardonnay and Riesling. The Willamette Valley in particular is very kind to the vines; there are 12,000 acres of vineyards here. You'll also find lots of hiking trails, covered bridges and farmers markets.
The Allison Inn & Spa takes full advantage of wine country offerings. It hosts a Celebratory Wine-Tender Wine Testing every week for visitors, featuring different wineries located throughout the valley. It's a great opportunity to find a new favorite! In addition, the Inn's restaurant landed a Wine Spectator Best of the Award of Excellence 2013 for its 800-label wine list. This is truly an honor, since the inn only opened in 2009.
Willamette Valley Spa & Fitness Studio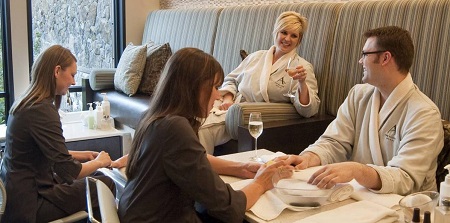 The spa experience is top-notch here, with 15,000 square feet dedicated to indulgences. A variety of massages, facial treatments and body treatments are offered, as well as sauna and steam rooms, an indoor pool and whirlpool. There's even an onsite hair and nail studio.
If you want to keep fit during your stay, The Allison Fitness Studio has a variety of equipment and instructors at your disposal. Everything from treadmills to stationary bikes, free weights and plyometric equipment is available. There's also a device called a Kinesis Omega-Duo system, which guides the user through 150 full-body exercises. Use the touch-screen to customize your own workouts!
During summer Sundays, enjoy Yoga in the garden.
At the spa, you can choose from a variety of packages or a-la-carte options. Enjoy a Day of Indulgence, which includes a 90-minute massage, 60-minute facial and a garden manicure or pedicure. There's also a variety of bridal spa packages, including a Bridal Bouquet, which features a 60-minute massage or facial, brow-maintenance wax, garden manicure and pedicure, and spa lunch on the day before the wedding. You also get a nail polish touch-up on your wedding day.
To go along with the wine-country theme, enjoy a Divine Wine Facial, the Allison's signature treatment that takes advantage of wine grapes' anti-aging benefits. Your skin will be cleansed and then given a honey and wine masque, followed by a serum and Black Perlette Grape Moisturizer. This comes complete with a nonalcoholic Mimosa.
For a memorable body treatment, try the Grape Seed Cure. It begins with a crushed grape seed scrub followed by a honey and wine wrap and Shea butter massage. You also get a scalp massage and signature beverage. Cheers!
Spa-goers can choose from a variety of soothing bath and shower massages. Try an Oregon Rain Shower waterfall massage or a pampering candlelight and roses bath in the privacy of your own suite. Add champagne and chocolate for a really decadent experience!
Enjoy Fine Dining at JORY
The Allison Inn's signature restaurant JORY is a great place for breakfast, lunch or dinner. Don't forget to check out that massive wine list, or enjoy wine by the glass. There's a terrace with a fire pit so diners can enjoy the wine-country views, a bar with casual fare and live jazz on Friday and Saturday nights.
Some dinner menu items include Oregon Dungeness Crab, Pacific Halibut and Wild Oregon Chinook Salmon. If you're staying the weekend, be sure to indulge at the brunch held every Saturday and Sunday. Choose from Lemon Poppyseed Pancakes, Chorizo Scramble or House-Smoked Salmon, to name just a few offerings.
The wine list here is truly mind-boggling, with a staggering variety of reds, whites, sparkling and champagne. As expected, many offerings from Willamette Valley vineyards are available, as well as selections from France, Italy, Austria, South Africa and Spain. You can travel the world without leaving the inn!
The Allison Inn & Spa is a perfect escape for wine enthusiasts and nature lovers alike. Enjoy the natural beauty, the ample ways to relax and the fruit of the vine. Wine not?
Photos by The Allison Inn & Spa Website.