If you're part of a couple, you know that it's nice to take an interest in the other's favorite pastimes, even if you're into horses and he's more into horsepower. It's also a good idea to take regular vacations or adventurous trips together to keep the romance going. One thing you may not have tried, but should, is a couples' spa retreat. It's a great way to reconnect, recharge your batteries and truly relax together. This can be as simple as an hour at your local spa on side-by-side massage tables, or as indulgent as a weekend or week away at a luxury getaway.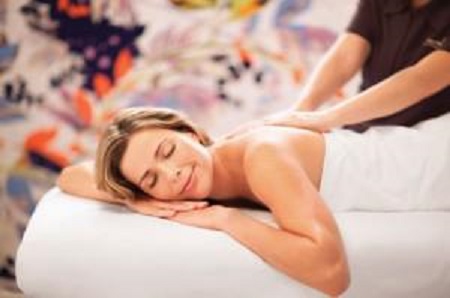 What's so great about a couples' massage? For one thing, it's a good way to get a partner who's never experienced a spa treatment to try something new. It can be comforting to have someone there who's been through it before. You'll be in the same room together, either simple or elaborate, and experience your treatments at the same time. You have the option of simply zoning out and relaxing, or sharing some quiet conversation. The choice is yours.
Before you go to a couples spa treatment, it's important to agree to some rules. Keep the long-running spats at home – this is all about relaxation and enjoyment! Also, let your partner choose the type of massage or scented lotions he prefers. In other words, don't micromanage. Be sure to be on time and are comfortable being nude together in the same room. Along those lines, keep your hands to yourself until you get home, please!
Having a couples' massage is a great experience you can enjoy together and bond over. It can give you time to catch up on each other's busy lives, or just lie quietly together. It can even rekindle that romance! Make a date to enjoy a massage or other kind of spa treatment together, and see how enjoyable it can be. Here are some great places to try it out.
Also check out: Spa Getaways | How to Find Spa Discounts
Massage Envy Spa
This franchise spa has locations throughout the United States, so you're sure to find one near you or in a city that would be fun to visit. Massage Envy Spa specializes in the couples' experience, offering a variety of massage types. You aren't limited to both of you having the same treatment. Choose from Swedish massage; cranial sacral therapy, which focuses on the head, neck and shoulders; or the hot stone envy, in which smooth, heated stones are placed on key areas of your body.
You can even try specialized treatments, like sports massage or deep tissue massage, or even trigger point therapy, which focuses on decreasing pain on stressed out areas of your body.
Add aromatherapy to enhance your experience. Choose from Lavender Garden for a calming and restful treatment; Mint and Rosemary for rejuvenation; Anxiety Release if you're stressed out; or Aches and Pains if you are dealing with injury or illness.
Petite Retreat
The Petite Retreat, located in Texas, offers a wide variety of couples' treatments. Not only do you get to relax and enjoy your massage, you also get a complimentary glass of wine, fresh fruit and chocolates. What a great date-night experience!
Start things off with the Signature Massage, which combines Swedish, deep tissue and hot stone therapy. Before the stones are put in place, you'll have an application of a cooling gel to enhance your experience. You also get aromatherapy and hot towels for your back. Pure relaxation! To kick things up a notch, you can also soak together in a warm Jacuzzi soaking tub, either before or after your treatment. Be sure to bring your swimsuits for this!
You can also choose from a variety of packages, such as the Just Because I Love Your, which includes a Japanese Foot Reflexology Treatment, or the all-out Fairytale Romance package, a full five hours of pampering togetherness.
This spa also offers a special option – you can learn how to massage your partner in an instructional session, so you can reap the full benefits of a couples massage at home.
Hawaiian Experience Spa
For a trip to the tropics without leaving the continent, visit the Hawaiian Experience Spa in Arizona. In addition to couples' massages, you can also try a Kaua'i Clay Couples' Ritual, in which you will both be covered in a clay mud mix which is allowed to dry in the open air. During this time you'll each get a foot and scalp massage, and then rinse off all the dried clay in the waterfall shower room. This is a great way to detox and nourish your skin. Afterwards you can choose from either a moisturizing or massage treatment. A special treat awaits in the palm lounge!
Another treatment here is the Chocolate Lovers for Lovers Experience, which includes a chocolate sea salt scrub, chocolate body wrap and chocolate body mousse application. You can also add a full-body chocolate massage, and end your experience with a private steam session and shower.
Make a night of it and indulge in the Date Night Massage and Dinner Experience! This includes a massage, waterfall shower, dinner, dessert and wine, and a soy candle and leis to take home.
Wherever you live, you're sure to find a spa that offers couples' treatments. Why not book one for a one-of-a-kind date night experience? It's a great and memorable way to share an experience together. Who knows? It could replace dinner and a movie as part of your regular routine. Sounds good to me!
Take some time to relax and unwind.
Alicia
Photo by Massage Envy Facebook.