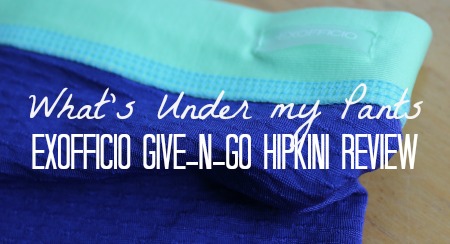 Let me show you my underpants.
Vibrantly colourful, in a cut that neither screams vamp or granny, the Sport Mesh Hipkinis are hands down one of the most comfortable pair of sports underwear out there. Exofficio's Give-N-Go Sport line offers active travellers light, odour resistant underpants that can easily be washed and re-worn within a matter of hours.
My pair were put through several rigorous tests:
TEST 1: The Sweaty Beach Run
A recent escape from snowy mountains brought Ski Gypsy Man and I to gorgeous Provincetown (MA), where we stretched our long abandoned running legs. Worn under a simple pair of running shorts, I experienced none of the following: bunching, chaffing, slipping or hungry bum.
Hungry bum /həNGɡrē bəm/
Noun.
A bottom that gluttonously swallows up garments.
I was comfortable to the point of forgetting I was wearing underwear.
TEST 2: The Hand Wash
Exofficio boasts that its new sport mesh fabric makes for easy care on the road. I took their promise to heart and only brought one pair of sport underwear for said Provincetown trip. This meant that after the sweaty run came the hand wash in the hotel sink. The care instructions recommend:
Either washing in a sink with soap or wearing in the shower
Wringing-out as much water as possible
Laying flat on a towel and rolling up to remove any remaining moisture (a step I skipped)
Hang drying in a well ventilated area
My non towel-rolled undies dried in about 3 hours, hanging in the bathroom: fairly impressive.
TEST 3: The Sweltering Spring Ski Day
This, ironically, was sweatier than the beach run. The spring skiing in the East has been excessively good this year with the abundance of snow that accumulated over the sub-zero winter. My Hipkinis made themselves scarce as I tackled slush, bumps and sunbathing, which is to say they felt just as they should: barely there. A nice way to close the season at Okemo (VT).
TEST 4: The Panty Line
This was your basic: "Can you see them now?"
No matter that I put them under the most form-fitting yoga pants, it's like they don't exist. Yet, they are full coverage and oh-so comfy. The ultra flat seams are clearly what make the difference. I declare a win here.
VERDICT: Get'em
Though Exofficio promises that you'll only need one pair (maybe two), I would highly recommend buying several and making them your go-to sport underwear. Perhaps one in every color? I will.
For size reference: I measure 38 inches around the hips and medium fits me like a glove.
Stay up-to-date on all things snow by following me on Twitter or RSS/email.
Winter is coming,
K
---

In the spirit of full transparency, please note that my Sport Mesh Hipkinis were provided by the lovely folks at Exofficio. Nonetheless, this post is the true and honest product of my personal experiences and adventures.