Kids were bouncing around us anxiously waiting to board the big red beast, some eager to be near it, others staring it down untrustingly. With smoke escaping from its exhaust stack and tracks firmly gripped in the snow, the snowcat really did seem to take on a life of its own. The littles weren't the only ones that couldn't wait to go on the tour; the powerful snowcat really did inspire excitement.
The cold in New England this season has been biting no doubt, but it has made for some spectacular, crisp night skies. A pale crescent moon accompanied us on our tour, one of many marvels we had the chance to witness. Bundled up in the cozy twelve person cabin, we popped a bottle of (not so) smuggled bubbly to share with the other passengers. It was a surprisingly gentle ride up which meant our paper cups full of sparkling beverage were none too disturbed. Passengers chatted quietly amongst themselves as we passed snow-covered trees and trail signs.
As we reached the peak, we were greeted by the glittering town of Ludlow below. The group disembarked to explore the dark, almost foreign looking summit area. The slumbering chairlift swung in the night's breeze and we couldn't stop ourselves from hopping on for a photo op.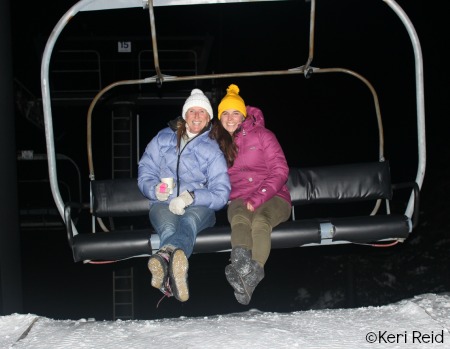 Take a friend, family member or your lover on winter adventure:
What: A snowcat tour for $39 or riding shotgun for $49
Where: Okemo Mountain Resort, departing from the Jackson Gore base
How: Make a reservation
Bonus: Try Snowcat Dining, a tour paired with a culinary adventure at Epic Restaurant
Pro Tip: Try getting there earlier and enjoy cocktails and light fare at the Coleman Brook's Lobby Bar. Featuring an award winning wine list, oenophiles can rejoice.
Been on a snowcat before? Share yours in the comments below!
Stay up-to-date on all things snow: follow me on Twitter or RSS/email.
Winter is coming,
K