I'm always on the lookout for new gluten free products since Big Papa can't eat wheat. When I saw Cappello's Gluten Free (and dairy, grain and soy free) gnocchi at our local Central Coop, I was pretty excited.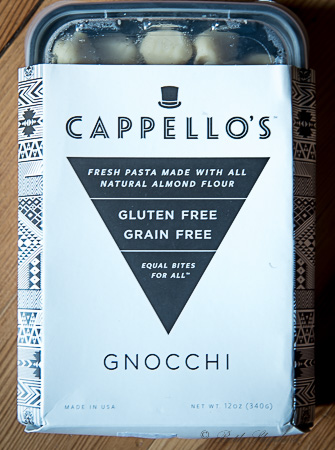 Although gnocchi, soft dough dumplings are typically made with potato as a base, wheat flour is also added. Cappello's gnocchi uses potato flakes, along with almond flour and tapioca flour so not only is it gluten free, it's grain free.
Gnocchi aside, I had a bowl full of garden fresh tomatoes and plenty of fresh basil longing to be featured in a dinner recipe. And, home-grown garlic!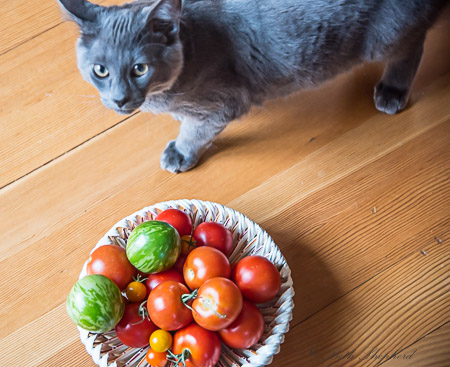 Wallingford was my tomato inspector. He thought they looked pretty tasty. A tomato eating cat? Don't put it past him. He ate cooked mushrooms last week.
Of course the addition of mozzarella cheese balls made this dish irresistible to our feline family member, so Wally had to sit out the rest of dinner prep in the bathroom.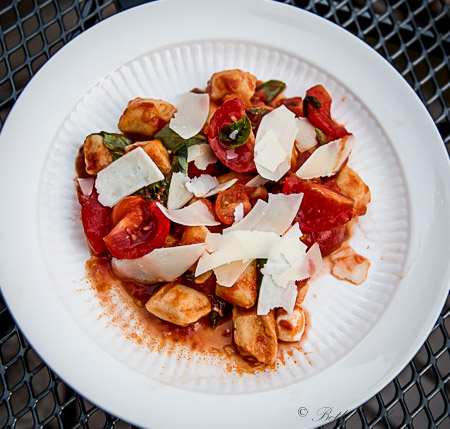 So delicious! Summer on a plate. Here's the recipe:
Gnocchi Margherita
Ingredients:
12 ounce packaged or homemade gnocchi
2 cups halved cherry  or other small to medium-size tomatoes
1 cup mozzarella bocconcini  (1 inch diameter mozzarella balls) or cilegine (cherry-size balls).
1/4 cup olive oil
2 tablespoons minced garlic
1/2 cup thinly sliced fresh basil
1/2 cup tomato sauce–optional, but I wanted a bit more tomato-y goodness and I love our local Cucina Fresca Marinara
salt, black pepper, and red pepper flakes to taste
fresh basil or garnish
shaved (or grated) Parmesan for garnish (or Asagio and Romano, I use a combination)
How to:
Place the cut tomatoes and mozzarella in a bowl and set aside.
Cook the gnocchi according to the package directions. Drain and set aside.
Warm 1/2 cup tomato sauce (optional).
Heat the oil in a skillet over medium-low heat. Add the garlic and cook until fragrant, about 1 minute. Remove from heat.
Add the garlic-infused oil to the pasta and then toss in the tomato mozzarella mixture.
Stir in the tomato sauce (if using).
Stir in basil.
Season with salt, black pepper and red pepper flakes.
Garnish with fresh basil and shaved Parmesan.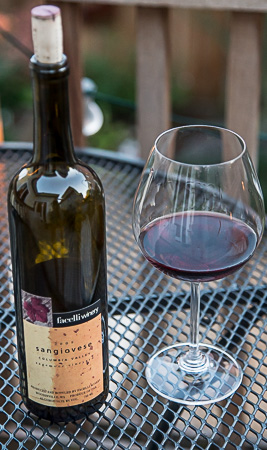 All that was needed was a bottle of wine to pair with our Gnocchi Margherita and Facelli Winery's 2009 Sangiovese fit the bill. A bit of fruit, light tannins and enough acidity to stand up to our delicious cherry tomatoes. The perfect pasta wine!