Of the more than 4,000 carousels built in during the "golden age of carousels," fewer than 150 exist intact today. Gesa Carousel of Dreams in Kennewick, Washington is one of them. But had it not been for a few very special people–with a passion for ponies–Gesa Carousel might have remained just a dream.
The Gesa story begins in 1910 with Charles Carmel, who was able to create magic from a piece of wood, carving horses that sprang to life as they carried young riders up and down, round and round. Carmel, who lived in Coney Island, was one of an handful of artisans who carved these distinctive horses. Carmel crafted the carousel which was originally installed at Silver Beach Amusement Park in St. Joseph, Michigan.
How this carousel found itself on the other side of the country is where the story becomes more complicated. Like many of the carousels of its day, the carousel at Silver Beach fell into disrepair. During World War I, wood was needed for building war supplies, and forest fires created a shortage of the soft wood that was ideal for carving carousel animals. Then the roller coaster arrived and the carousel was relegated to being a children's ride, before the Great Depression put a damper on amusement parks for years. It wasn't until the 1970s that carousels found a group of dedicated caretakers and restorers.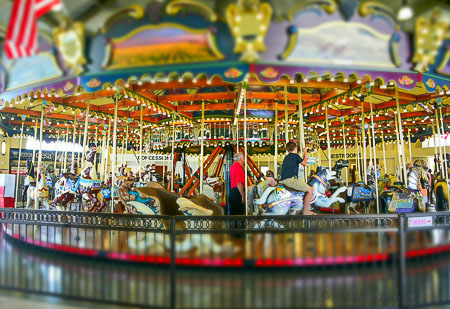 Enter Marianne Stevens, carousel enthusiast and collector. She purchased the old carousel to keep it from being scrapped and stored it in Roswell, New Mexico where she lived. The co-author of Painted Ponies
, Marianne helped raise awareness and generate interest in the antique hand-carved wooden carousels from the late 1800s-early 1900s.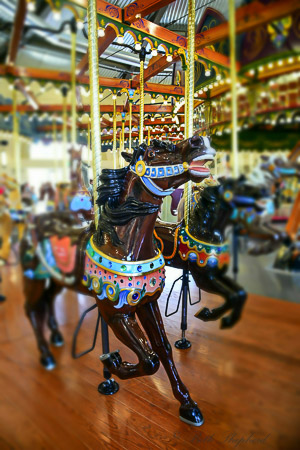 However, Carmel's stunningly beautiful carousel might have stayed in storage–as it had been for over thirty years–if two men, Ken Johanning and Phil Slusser, along with a group of Tri-City area businessmen hadn't discovered the carousel and then–with a bucketload of patience and perseverance–persuaded Marianne Stevens to give it a new home. And that was just the beginning of the arduous task to restore the carousel to its former glory. It took over a decade of determination, but sure enough, just like in the movie Field of Dreams where Ray Kinsellsa, a corn farmer, dreams about creating a baseball diamond in his fields–"If you build it, they will come"–they built it and today, some 105 years after Carmel completed his carousel, thousands of visitors have come to gallop on these grand ponies and take their chance at grabbing the brass ring.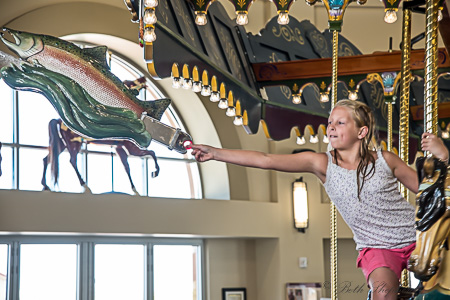 The carousel is spectacular–the colors, nuances and majesty of the horses.  You could look at a single horse over and over again, and continue to find details you hadn't seen before.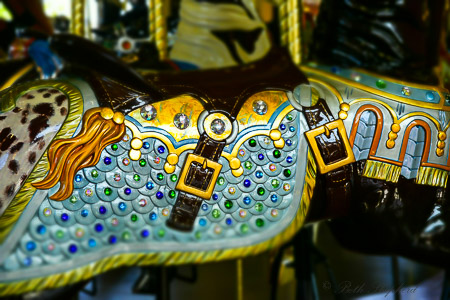 Two additions grace the Gesa carousel in honor of the carousel's new home state, Washington: a husky dog and a cougar, one of whom gets to wear an apple medallion around his neck for a year if his respective team–University of Washington Huskies or Washington State Cougars–wins the Apple Cup.
If you find yourself in the Tri-Cities, whether you're a kid or a senior, go check out the Gesa Carousel of Dreams. Less then 20 of the remaining 150 operating carousels in the U.S. have brass rings–and Gesa's is authentic Amish-made brass. Feeling lucky? Go grab the brass ring!
My visit to Gesa Carousel of Dreams was hosted by Tri-Cities Visitor and Convention Bureau, but all opinions expressed are my own.
And if you want to read more about all things Pampers, follow me on Facebook, Twitter or RSS/email.
Take the road less traveled, Beth