Our garden in August. And look what grew in it. My first Armenian cucumber, measuring 20 inches nose to tail!
The first thing you should know about the Armenian cucumber is that it is not really a cucumber at all!
It is a member of C. Pepo family along with muskmelons and honeydew
. Also known as yard-long cucumbers, snake cucumbers, and snake melon, Armenian cucumbers are long, slender, not bitter, burpless, easy to digest, can be eaten with the skin still on, and…taste like a cucumber.
Although they can grow be be a couple feet long, they are best harvested when they reach 12 to 18 inches. I've also read the fruit will grow straighter if grown on a trellis than on the ground, where the fruit is often crooked. But obviously that wasn't the case for our straight, lean and long cuke.
What I should do with my cucumber was my next question. I entertained several ideas: cucumber salad, cucumber salsa and Jajik, a cucumber and yogurt dip. I decided on Jajik, though now that I noticed another whopper of a cuke growing in the garden, I might be able to try a different recipe very soon.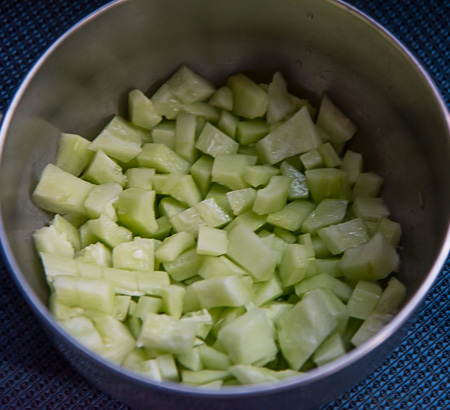 Jajik
Ingredients:
1 long, seedless cucumber, washed and peeled. You can use an English cucumber if you don't have an Armenian cucumber.
2 cups plain yogurt. I used a thicker "Greek-style" yogurt…if I had access to Armenian matzoon, that would be my go-to
1 clove garlic, squeezed through a garlic press or mashed
Dash salt
2 teaspoons crushed mint. I prefer fresh but you can use dried (and I use spearmint, not peppermint). I have seen some recipes that also use cilantro or thyme.
How to:
Cut the cucumber in quarters, lengthwise. Slice each section into thin pieces. Mine were not sliced thin but I will do this next time I make this dish. I have also seen some recipes where the cucumber is grated.
Stir the cucumbers into the yogurt and mix in the garlic, salt and mint.
Garnish with fresh sprigs of mint.
Some recipes add water to the yogurt and the Jajik then becomes more of a soup. I wanted mine to be thicker because I was serving it alongside spiced ground lamb and potatoes.