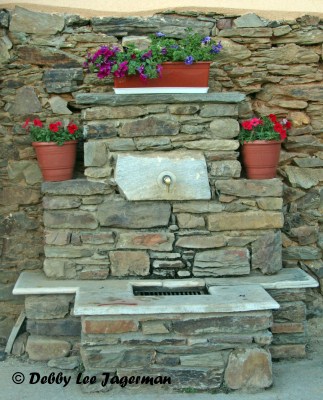 Finding water to drink along the Camino de Santiago pilgrimage route is quite easy. One option is to buy bottled water, which you can find at places like cafés, bars, restaurants, and albergues. Although it is less expensive, and more fun, to walk into a small local market and buy bottled water there.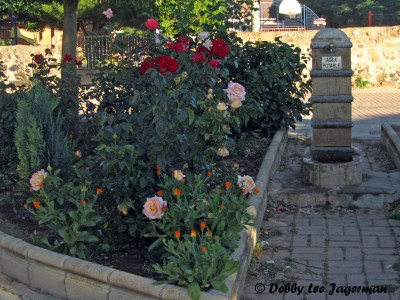 However, a free, and more environmentally friendly option, is to drink water from the abundance of water fountains conveniently located along the way. If there is either no sign, or if there is a sign that says, "agua potable," then it is alright to drink this water. Do not drink the water from a fountain that says, "non potable" or "agua sin garantia sanitaria."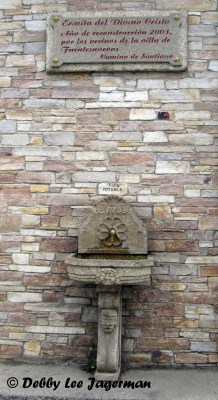 A way to carry this fountain water with you is to buy one of the bottled waters mentioned above, and then reuse this water bottle over and over again. Alternatively, bring along a water bladder, which is what I did, and refill that as needed.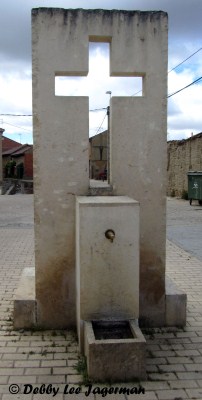 What I thought was the best part about getting water at all these water fountains was that each fountain was different, fun, and uniquely designed. For example, some were decorated with or near flowers, others were near religious symbols, and others contained the scallop shell symbol of the Camino.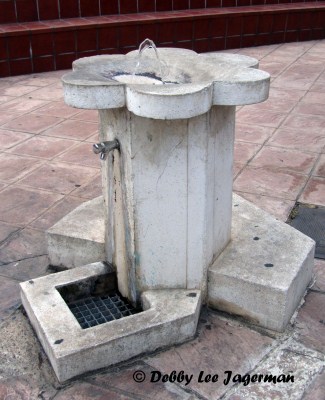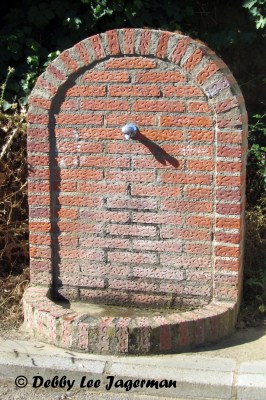 Of note in the photo below are my backpack and my hiking pole next to the water fountain.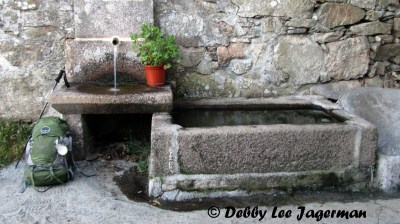 This is the water fountain where I happened to obtain that hiking pole, and left my walking stick.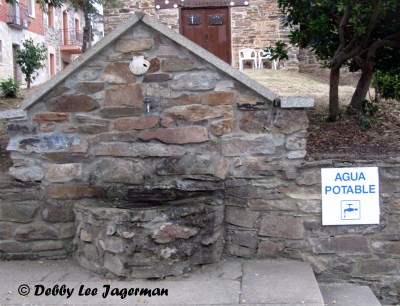 And this fountain was apparently was built in 1849!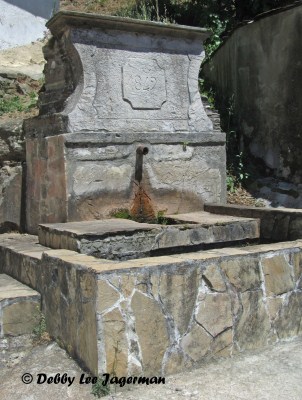 Sweet (and drinkable) Travels!
Thoughts, Tips, and Translations for Today's Blog:
Contemplative Thought from the Camino: None. Sometimes it was good not to think when walking along the Camino.
Packing Tip for the Pilgrimage: I wrote about this tip in a previous blog, but it seems appropriate to mention it again now. I used this very convenient water bladder. It was light weight, easy to fill, and carried a good amount of water.
Spanish Translation of the Santiago: Fuente de Agua = Water Fountain. Agua Potable = Drinking Water. Non potable = Not Drinking Water. Agua Sin Garantia Sanitaria = "Water Without Health Guarantee."