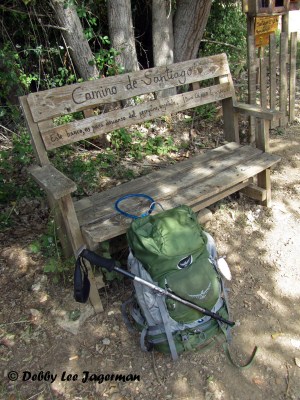 Now I realize that this story is not about some huge miracle, like my life being saved, but still…something happened to me not once, but twice, within a day of each other, along the same journey. I'll let you decide for yourself after you read this story of how I got my walking stick and then hiking pole along the Camino de Santiago – were they coincidences? Or were they a couple of small miracles?
The story really started months before I left for my 150-mile walking journey across part of northern Spain. I had an ankle injury that actually postponed my trip from May to July, because for two months earlier in the year, I was instructed by my podiatrist to not do any heavy walking. Since my whole travels-to-be was about walking, I needed to follow doctor's orders.
But time heals all wounds, and I recovered enough to go on my journey. However, in order to help me along, and to not reinjure myself, I wanted to bring some hiking poles to help support my ankle as I walked. Not necessarily for the flat terrain, but for the few ascents and descents that I would encounter along the way.
Alas, because I don't check baggage when I travel, I could not take the hiking poles that I already owned with me. Believe it or not, they are actually on the TSA list of prohibited items, under sporting goods, as they are similar to ski poles. So I traveled to Spain without hiking poles. I knew though that it would be possible to purchase hiking poles somewhere along my walk, so that would be my plan.
However, for my first four days, I could not find any hiking poles to buy. Yet all was good. My ankle was doing fine, and the walking thus far was mostly flat. (I started in Léon.) Nevertheless on my fifth day, I knew that an ascent and descent was going to occur, yet still I had no hiking poles. I stopped for breakfast that morning, figuring that I would be alright – I would just take it slowly and carefully.
Then, seconds before I set out after breakfast, my first coincidence occurred. Or was it my first small miracle? Right there, outside the restaurant, was a bucket full of bastónes. Bastónes are walking sticks sometimes used by modern pilgrims as another option to hiking poles, based on the historical pilgrim's staff that has been used by pilgrims for a thousand years.
Well, fancy that. Just in time. I wasn't even looking for them at that moment. Needless to say, I was quite pleasantly surprised, even my jaw dropped, as I really was even in a bit of disbelief. I gratefully bought one though, and went on my way. Up, up, up. Down, down, down. Good. Done. Got through that. Ankle doing well with my brand new walking stick. Excellent.
Now mind you that this walking stick was quite different from the hiking poles that I really wanted. This walking stick was about a foot taller than I was, made out of a tree branch, and while it was smooth to the touch, it would neither adjust to my height nor collapse down into a three-foot-convenient-to-attach-to-your-backpack-when-not-in-use-stick, as hiking poles do.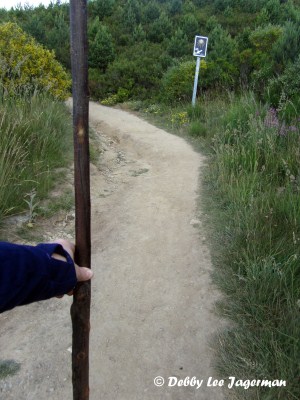 I was still very grateful to have it though, and the next day, I happily, still in somewhat disbelief, set out carrying it in my hand. However, I still wanting hiking poles for the rest of my journey. As I walked along that morning, I thought about it a lot. I mean a lot. I was trying to calculate where the next possible bigger town was in hopes that maybe I could still buy hiking poles there. I was trying to calculate how many more ascents and descents I would have to make. I was thinking that it was a bit inconvenient to carry this non-collapsible stick. I was also thinking about how ironic though, that it appeared in my life, just at the last minute before my first ascent and descent, and here I was carrying it and how grateful I was. I kept thinking for a good solid hour about it all until I got thirsty and decided to stop at a water fountain to fill up my water bladder, and rest my feet.
Then it happened. Coincidence number two. Or perhaps small miracle number two. As I was sitting there drinking my water and massaging my feet, this man came walking up. I did not know him. He did not know me. We had never seen each other before, let alone had any conversations together. Let alone never had any conversations about walking sticks or hiking poles.
After we smiled at each other and said, "buenos dias," he looked at me and then……he actually offered me one of his two hiking poles that he was carrying!! What!? What?! Really? I did a double take at him wondering if he was real. Yes, in Spanish, as he did not speak any English, he explained to me that along his journey he had this pair of hiking poles, but that he only really needed and wanted one of them for the rest of his journey, and would I like the other one? Now I really don't speak Spanish that well enough to know if this was exactly what he was saying, but with all his gestures, and with his literally handing me the hiking pole, and saying, "uno, uno," I figured I got the gist of his explanation.
Still I asked myself, how did he know? Was he a mind reader? A psychic? Who was he? Where did he come from? I even briefly looked up at the sky. I even looked behind him to see if he had any wings. Certainly he was not a figment of my imagination that actually popped out of my head from all my thoughts, and appeared right there in front of me. Or was he?!?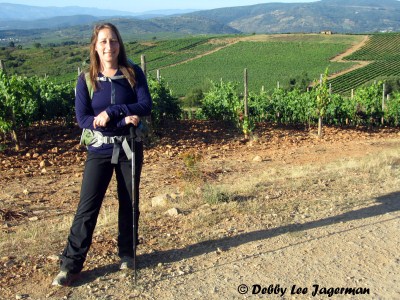 Perhaps it was just meant for us to be together at that water fountain, at that moment, of all the water fountains, of all the moments, in our lives. ("Of all the gin joints in all the towns in all the world…")
Anyway, at first I denied taking the hiking pole from him, as I did not want to take his support from him. But he insisted. He was very kind and sincere about it. Of course, I had wanted this all along. And apparently he had wanted to get rid of his second hiking pole all along. Even though I was originally planning on using two poles, I decided that one would be sufficient and definitely work just as well. I tried to offer him money; he didn't want any. I even tried to offer him my walking stick. He laughed, as of course he didn't want that, but I needed to offer. So I accepted the hiking pole very, very graciously, and I thanked him very much. "Muchas, muchas gracias. Muy buen camino." I may have even given him a hug.
And that was that. He was on his way, picking up his one hiking pole, leaving me with mine.
And that is how I got my walking stick and then my hiking pole along the Camino de Santiago. Now were they coincidences? Or were they small miracles? You decide.
Sweet Travels!
PS. I left my walking stick at the water fountain. Because perhaps someone else out there was thinking very hard about how they wanted a walking stick, and for them, maybe by coincidence or by small miracle, they got their walking stick.
PPS. Again because of the TSA rules, when I finished my journey, I needed to leave the hiking pole behind at the last place I stayed in Santiago de Compostela. I wonder who has this hiking pole now.
PPPS. This hiking pole was super great to use. Not only did it collapse to fit on my backpack when not in use, it was also had ergonomic handles, and shock absorbers. Muchas, muchas gracias once again, to this man who gave me my hiking pole, wherever you are.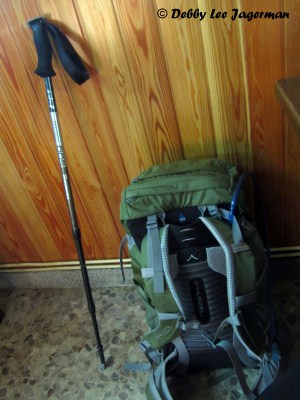 Thoughts, Tips, & Translations for Today's Blog:
Contemplative Thoughts from the Camino: Miracles do happen. The universe was looking out for me. This was meant to happen. The universe works in mysterious ways. There are no accidents. Things happen for a reason. Life just works itself out. The universe provides, sometimes at the last minute. Sometimes you are exactly where you are supposed to be, at the perfect moment.
Packing Tip for the Pilgrimage: There were many places along the Camino de Santiago to purchase both walking sticks and hiking poles. Quechua was the brand of the hiking pole that I received. Quechua must have been a Spanish outdoor recreational company, as I saw many people using this brand for other items as well, especially backpacks.
Spanish Translation of the Santiago: Walking sticks = bastónes. Hiking poles = bastónes de senderismo. Miracle = el milagro.