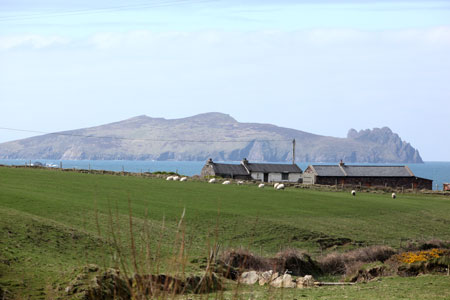 Photo by Robyn Porteen
Tradition runs deep on the Dingle Peninsula of Ireland, especially in Dingle Town (Daingean Uí Chúis).  With a large irish speaking population, The Dingle Peninsula was once voted by National Geographic as one of the top ten most beautiful places on earth. Time stands still here and the area is rich with history and culture. Many artists, musicians and craftsmen inhabit the area today.
Photo by Robyn Porteen
New Years Eve in Dingle, Ireland is an exciting place to be! They bring in the New Year with an evening full of festivity. Fireworks are set off at 10 PM off of the Dingle Harbour. After the fireworks, everyone follows the Dingle Fife and Drum Band  around the town and to the bridge at the bottom of main street to watch the projected clock count down to midnight. Then it's off to the pubs to celebrate the New Year!
Photo by Dingle News
Dingle once had 52 pubs, and there are still plenty to choose from to enjoy fresh seafood, traditional Irish Fare and music. Over 2000 people fill the streets to welcome in the New Year!
If you get a chance to get there early, Wren's Day or St. Stephen's Day is another fabulous celebration and is on December 26th.
Photo courtesy of Kerry Gems
People take to the streets on Wren Day dressed in masks and straw suits, accompanied by musicians for a festival that pre-dates Christmas. It is said that the wrens held a parliament to decide who was King. There are many stories of this event. You can read more about Wren Day here.
Dingle is the place to go many times of the year with their annual food festival in September, horse racing on the beach in August and many ancient sites to visit. Visit www.kerrygems.com to learn more about this area.
Photo by Robyn Porteen
Add a comment