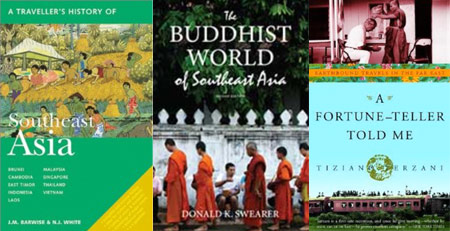 I usually read quite a bit but go through books even more quickly while traveling, particularly if they're related to the area that I'm going through. After visiting a new place I have so many questions about what I've seen and don't understand. This curiosity and interest in learning more has never been so strong as when I started traveling through India and Southeast Asia. Everything was different than what I was used to – the traditional clothes, customs, beliefs, religions, architecture, landscape – and I wanted to know how it all fit together, why things were the way the were, particularly when it came to history and spiritual or cultural beliefs.
The books about Southeast Asia below help connect the dots and paint a (more) understandable picture for anyone interested in learning more about the fascinating, and sometimes perplexing, region.
A Traveller's History of Southeast Asia
To better understand the place you're visiting, you need to get an idea of its history and background. A Traveller's History of Southeast Asia covers the area's history, going back nearly one million years ago and up until the present day.
The Buddhist World of Southeast Asia
Many countries in Southeast Asia, like Thailand, Laos and Burma, are predominantly Buddhist. Though other countries in the region are home to more of a mix of religions (Indonesia actually has the world's largest Muslim population), traveling through Southeast Asia will expose you to a Buddhist world and mindset not seen in the West. As with A Traveller's History of Southeast Asia, The Buddhist World of Southeast Asia offers readers a general overview of the religion and basic teachings, along with explanations of how it's practiced in Southeast Asia and its role in the region.
A Fortune Teller Told Me
A memoir from Asia correspondent, Tiziano Terzani, A Fortune Teller Told Me follows his journey through Southeast and the Far East consulting various fortune tellers, shamans and medicine men. Anyone who has spent some time in Southeast Asia can tell you fortunes, predictions and horoscopes still play a large role in society and daily life – people consult mystics before weddings, business deal and trips and conduct blessing and cleansing ceremonies for a wide range of situations, problems and events. Terzani dives into this world attempting to understand it from his Western perspective.
Of course, there are plenty of other helpful books about Southeast Asia to help broaden your knowledge and understanding. You'll repeatedly find many of the same titles, usually memoirs, along the backpack trail that help give the place you're visiting more historical context. While these book tend to be more specific to a certain time, area and person, the books above present a more broad overview.
Have you traveled in the area? What did you read that helped you make better sense of what you saw around you?
Note: The links associated with each book title go to where you can purchase the book on Amazon.
2 comments