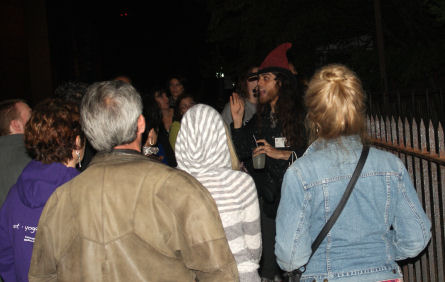 As warmer weather descends upon us, the official season for ghost tours has arrived. But to ensure you spend your time enjoying the otherworldly stories instead of cursing the cold or rainy weather, here are five must-have items to bring with you. And although a few of these might sound self-evident, I've personally forgotten every one of these "basics" at some point—and lived to lament it.
Walking shoes
Seems obvious, right? But how many ladies among us have committed that cardinal traveling sin and decided to dress up for dinner, heels and all, without thinking about the mile or more to be walked later in the evening? So it bears repeating that if you're going on a ghost tour that doesn't include a chartered bus, wear a pair of comfortable shoes for the occasion. Your feet and your traveling companions will thank you.
Umbrella (or Parasol)
Some ghost tours run rain or shine, which means you might take a stroll in less-than-stellar weather. Bringing an umbrella helps to avoid potential croup (or at least musty clothes). On the flipside, if your walking tour is during the day, be sure to bring sun protection. That could be the usual sunscreen, a wide-brimmed hat, or my personal favorite, a parasol—the umbrella's more stylish cousin.
Layers
On a summer ghost tour, you might think short sleeves sound perfect for the two-mile walk among centuries-old architecture. Conversely, if you're waiting until the fall to schedule a tour, you might figure heavy sweaters are the way to go. Instead of choosing one or the other, bring both. Temperatures during the summer can drop twenty degrees or more at night while September and October can feel warmer than August. As with the umbrella, wearing layers guarantees that despite potentially uncooperative weather, you'll be prepared.
Camera (and possibly a low-light lens)
Unlike some museums, ghost tours tend to encourage photos. But as I woefully learned on an evening Witch Walk in Salem last fall, a regular camera lens can't always pick up enough details in the dark. If you love taking photos as much as I do, then it's worth investing in a low-light or fast lens. Prices start at around $150. Now that I have one in my cache of traveling supplies, I can't believe I ever lived without it.
Cash
You can–and provided your guide wasn't a total charlatan, should–tip at the end of the tour. But more than once, I've broken into a proverbial cold sweat, struggling to remember if I brought any cash with me. In our increasingly automated world, it's an easy thing to forget, so remember in advance to pack some cash. Use the restaurant standard or 15-20% tipping rule, which depending on the ticket price, usually amounts to around five dollars.
So those are my five must-have items for a ghost tour. Hopefully, I've now prevented you from making one of my gaffes of ghost tours past.
Happy haunting!