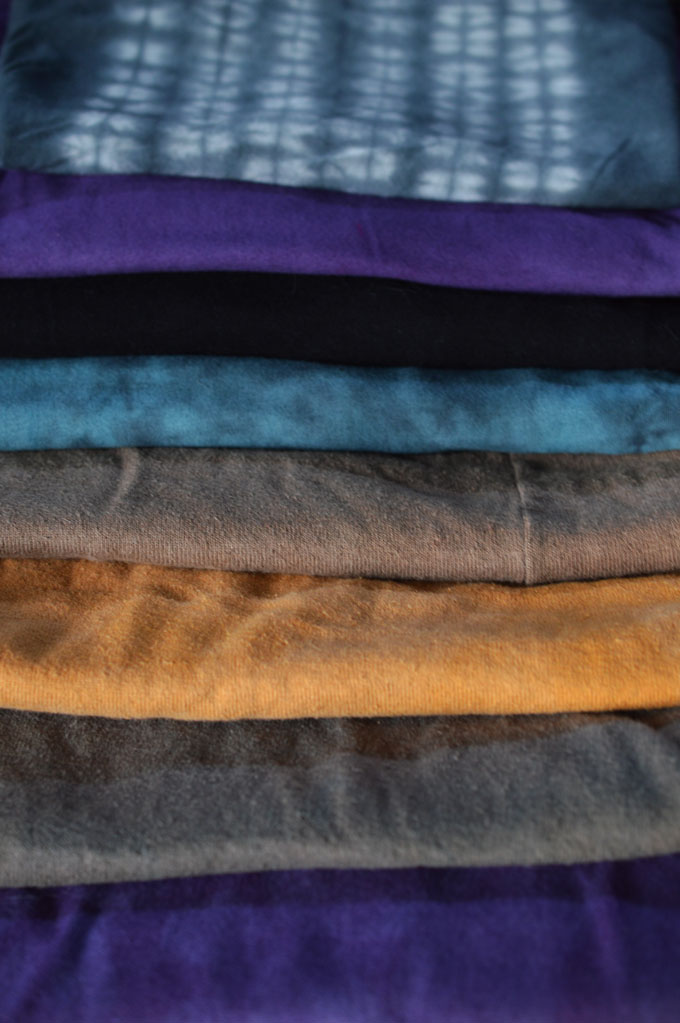 This summer, I discovered a great source for natural fiber clothing and instantly fell in love with the designs and styles offered by One Room Fibers. Shauna Shiff designs, sews and dyes everything she sells in her Etsy shop and at regional art shows. As I was envisioning my new series of posts, WanderShop, I immediately thought of Shauna and knew you would want to learn about her natural fiber clothing creations. In my WanderShop posts, I will be featuring an artist or woman owned business who offers unique items that I love and buy so I know that you will be inspired by them as well. Additionally, all WanderShop women will have a website so that all of you will have a chance to order the finds that excite you most. I am thrilled to share with you the source of some of my best wardrobe pieces this Fall.
For me the natural fiber clothing being offered at One Room Fibers is perfect. Shauna selects natural fibers for all of her materials which make everything really comfortable to wear. Additionally, she uses natural dyes which produce a wide variety of really lovely colors that are flattering for every woman. Shauna is inspired by traditional dyeing techniques, many of them Japanese, so she is creating really interesting and unusual patterns. And if that isn't enough to win you over already, there is something really magic in the shape and drape of all her creations. They are all really smartly designed so that they make every woman look wonderful, regardless of body shape, height or age. Shauna, through One Room Fibers, is offering the perfect closet full of clothes.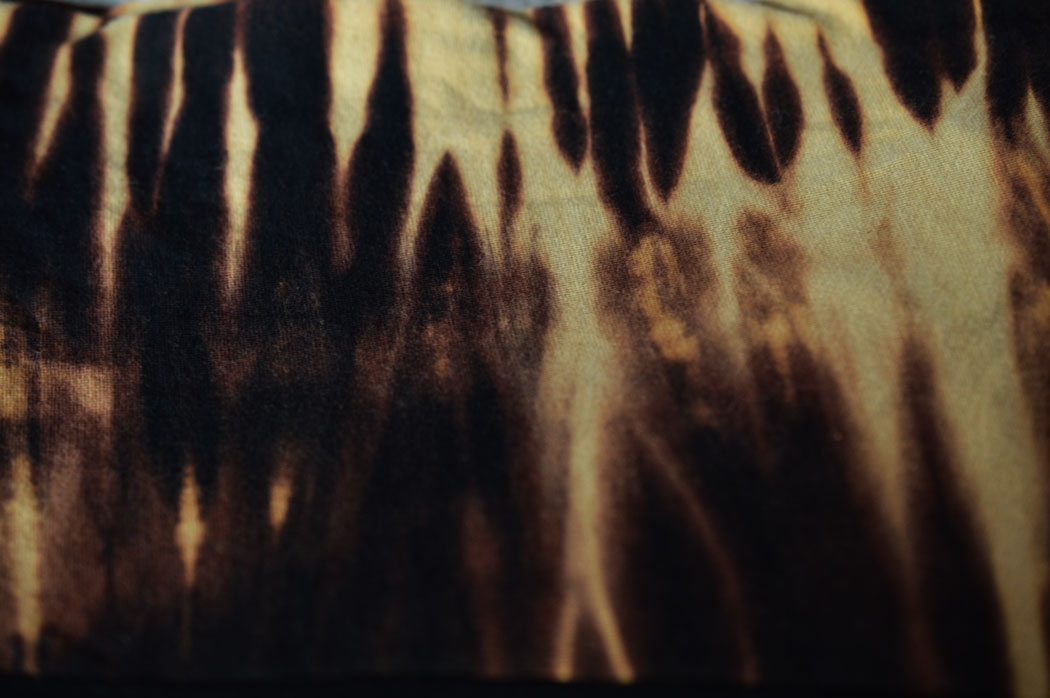 What I think is really special about One Room Fibers is that when you are selecting your clothes in their Etsy shop, you are really having items custom designed for you. Your traditional shopping experience in a store or online, has you approaching finished pieces that you hope are in your size, in a comfortable material and in a color that flatters you. At One Room Designs, you are really looking at styles of skirts or dresses or shirt. What length or cut are you interested in? And then you select the size you need and the color you want. Through Shauna's skilled hands and curated choices in her collection, you are designing your own clothes. And you can't go wrong. I have always gotten exactly what I wanted. And I have continued to go back for more and more of her natural fiber clothing.
Throughout the process, Shauna and I have always communicated as she is really committed to me being thrilled with everything I receive. Once I place my order, Shauna sets about cutting and sewing the garments from the fabric I chose. For example, I have ordered more long pencil skirts from her than probably anyone ever! But I have some in an organic hemp and cotton while lately I have been selecting soyterry as it will be a little warmer for the Michigan winter I am facing down. Shauna sews the garments I have chosen and then begins the dyeing and pattern work as each requires.
I've been wearing, and washing, my original skirts, shirts and dresses from One Room Fibers for several months now. They have worn very well for me and I find I wear them into the office as well as for play on the weekends. I so love the pencil skirt and maxi dress silhouette. It's a classic I find I turn to over and over again now. I am a good way to completing a rainbow with them, especially when my newest order arrives. Please forgive me WanderShoppers, but I jumped in and placed another order for some more of her natural fiber clothing as I knew you all would be making Shauna very busy starting today!
Recently I was able to interview Shauna and would love to share with you what I learned. I know she is going to inspire you as much as she has inspired me. Additionally, Shauna forwarded some pictures for me to include in today's post so you can better see and understand some of the techniques she uses to the create her designs as well photos of some of her other special creations. I am pleased to introduce you, WanderShoppers, to One Room Fibers and Shauna Shiff.
WS: What motivated you to start One Room Fibers?
ORF: I have been selling clothes for about 2 years now, and although I have always sewn, I did not begin in fiber arts with clothing. I am most interested in surface design, the patterning of fabric. I began silk painting about 15 years ago, and became interested in Shibori shortly after that. Clothing is the perfect vehicle to show off the patterns that hand dyed fabric offers.
WS: How did you choose One Room Fibers as the name?
ORF: I love all things fiber, and knew that eventually I wanted to include all my fiber interests in my shop: not only clothing, but hand dyed yarn, quilts and sweater patterns for the hand knitter. While I was thinking about how I wanted a name that would encompass all of these products, I was listening to the White Stripes, "Little Room." For me, these lyrics really encapsulate the creative process:
Well you're in your little room
And you're working on something good
But if it's really good
You're gonna need a bigger room
And when you're in the bigger room
You might not know what to do
You might have to think of
How you got started in your little room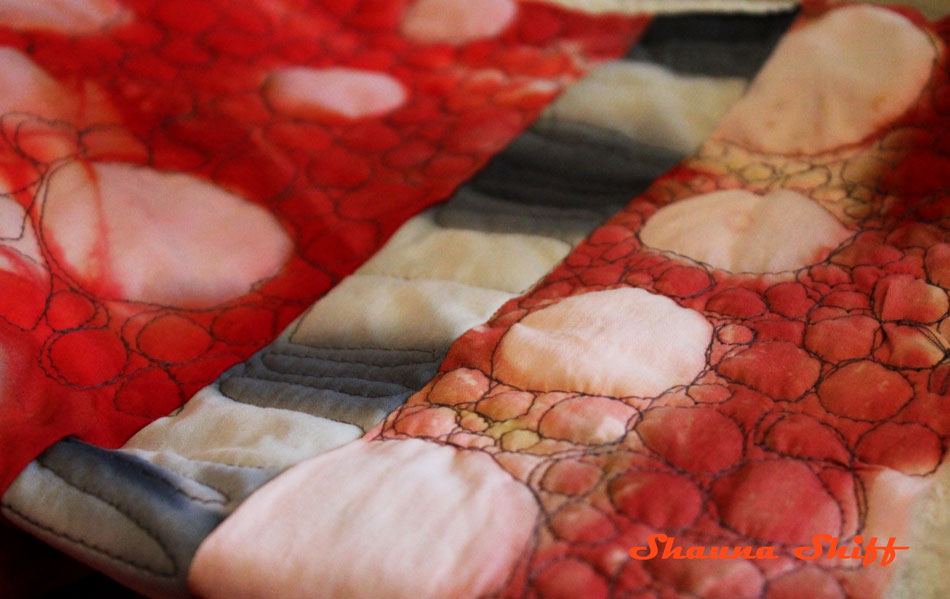 WS: How did you learn about dyeing fabrics?
ORF: I'm self taught with pattern making and fabric dyeing. I didn't study fiber arts in art school, but the one thing art school did teach me is that with hard work you can go outside the box to manifest your own ideas. When I decided to learn pattern making, I spent nearly a year constantly revising my fit and patterns. That process really helped me understand how patterns go together: by seeing what doesn't work!
Fabric dyeing came a little easier. Originally I followed formulas of fiber artists before me, but now I use my own techniques. I custom blend my own colors (the fun part,) and use low water immersion – meaning each garment is dyed in 1-2 cups of water. The tricky part about low immersion dyeing is that it is hard to get an even color on the garment. I have a system of laying the fabric into the dye that helps ensure an even color, but some hand mottling of color is to be expected. I like to think that it adds to the art and individual nature of the clothing.
WS: What are the advantages of someone choosing natural dyes and fabrics?
ORF: When I started clothing design, I knew I wanted to use and eco-friendly fabric. I tried several, and ended up settling on bamboo and organic cotton for my Shibori shirts because it had such a lovely drape. I chose hemp and organic cotton jersey because it dyes so well, and is such a comfortable fabric.
I think that people would be surprised at how wonderful natural fabrics are. The garment will move with you, as opposed to polyester, which will never be like a second skin. There is also an ecological benefit to using natural fibers: both hemp and bamboo are fast growing crops with a high yield, and both produce quality products.
WS: What inspires your designs?
ORF: When designing, I often think of a kind of dress I'd want to wear to a specific place, or the function that I'd want the clothes to fulfill, I try to blend my ideal of a romantic, prairie style into a modern, urban environment.
WS: Can you talk a little bit about the dyeing techniques you use to create the patterns on your clothes.
ORF: Shibori is the Japanese art of patterning by folding and clamping, stitching, twisting, and other means of compressing cloth and then dyeing it. Traditionally, the fabric was used for kimonos , and the dye was indigo. I love all the pattern variations that can be created with shibori. I use itajime frequently, where the fabric is folded and compressed between two shapes to create a resist, such as the circles on my Moon Hoodie, but I especially love hand stitching fabric to create designs, such as the mokume on my Black Mokume Hoodie, or my Traveling Lines Cowl shirt.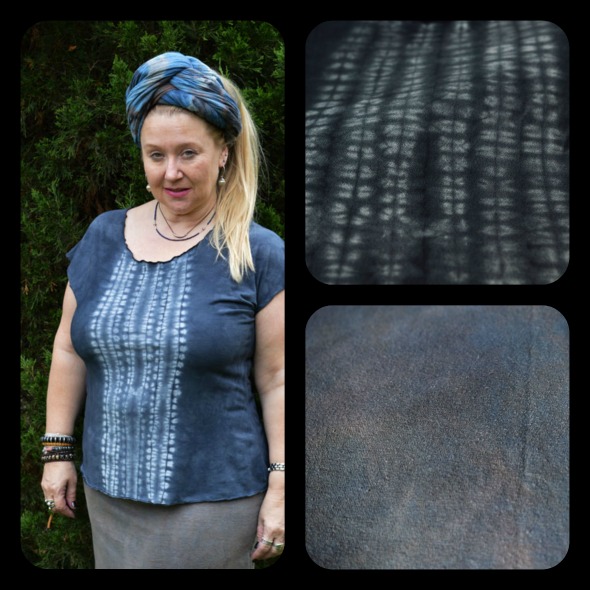 WS: What is your most popular color?
ORF: I find that my most popular design and color varies from show to show. My black shirts are always popular, and I have a hard time making enough of the Fine Line Kimono shirts for the demand.
WS: Have you ever designed for men or children?
ORF: I do make Shibori patchwork shirts for little ones, from sizes 12 months to 5T. These are really fun for me to make – I love putting together the patterns and colors.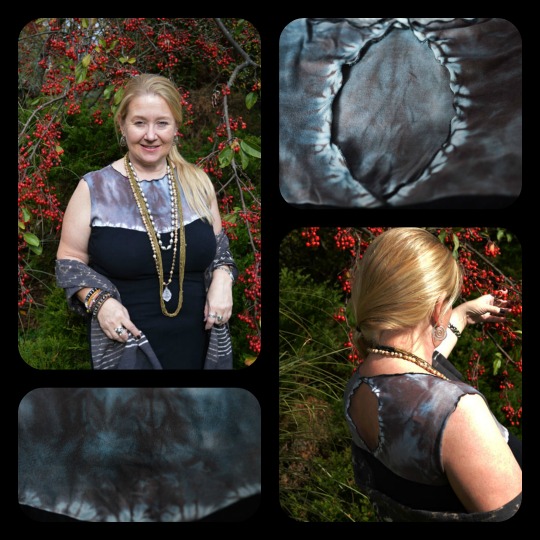 WS: What do you think will be the next direction One Room fibers will move in?
ORF: As for clothing, this winter, I am hoping to perfect my bias patternmaking for dresses for spring. I am using a hemp silk which is lovely on the bias. I would love to find more time for my hand dyed and Shibori quilts, and hope to start releasing my sweater designs for hand knitters as well.
WS: What is your role at One Room Fibers? Does anyone else help you regularly?
ORF: I do everything at One Room Fibers, from the designing to sewing to dyeing the clothes. My husband helps me a great deal at art shows though – so much so that I still don't know how to put up the tent by myself!
WS: What does being a woman business owner do to help you or add a challenge for you?
ORF: As a woman, I think that I face the same challenges that all modern women face, or modern men for that matter, namely that it is difficult to balance family and work. I have two small children, a five and a three year old, and watching them while trying to grow a business proves challenging at times!
WS: Where would you like to travel next? What do you hope to do while you are there?
ORF: I have settled in Virginia, but I grew up in Maine, so all my vacations are spent going back to visit family, which is wonderful because I always miss Maine's natural beauty and especially the ocean. One thing that I am hoping that One Room Fibers will do for me is allow me to travel across the country through art shows. I would love to see the West Coast, particularly the huge redwood trees!
WS: What do you like to shop for personally?
ORF: Shoes make me more excited than anything else. I am especially fond of Frye and Dansko.
WS: What item at One Room Fibers makes a perfect gift?
ORF: At art shows, I sell velvet bomaki scarves. I love wearing them in the winter, because they are pretty warm and are a nice pop of color with winter coats.
WS: What do you wish people knew about One Room Fibers?
ORF: The thing I am most proud of about my clothing is the fit. My customers consistently tell me that my clothes are figure flattering, regardless of the "perfectness" of their bodies.
WS: If someone is not local to you, what ways do they have to shop at One Room Fibers?
ORF: My clothing can be found online, on Etsy, and also I participate in regional art shows in Virginia, Maryland, and D.C. I keep a running list of upcoming shows on my Facebook page.
Now that you've seen some of Shauna's designs on me and have learned more about One Room Fibers, I'm sure you are interested to learn how she is able to create such interesting designs on the material. Shauna has shared with us some pictures of her creating on of her most popular patterns used on her Fine Line Kimono Tee. I ordered it as soon as I saw it so I'm sure you are in love with it, too!
Shauna begins with a plain piece of fabric which she folds. She uses an iron to press the folds to help them stay in place before she begins to add stitches and create her design. You can see she has added some marks to help guide her work.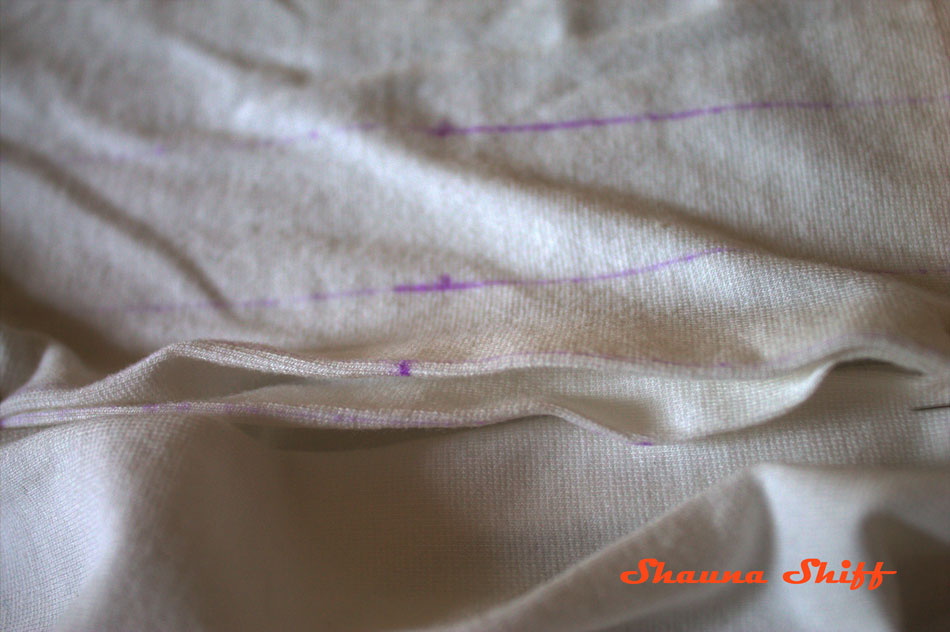 Shauna takes her folded fabric and carefully, with needle and thread, hand stitches into the material. Once she is satisfied with her work, she takes the loose ends of the thread and pulls it taut. This causes the fabric to pucker and pull together into tight sections.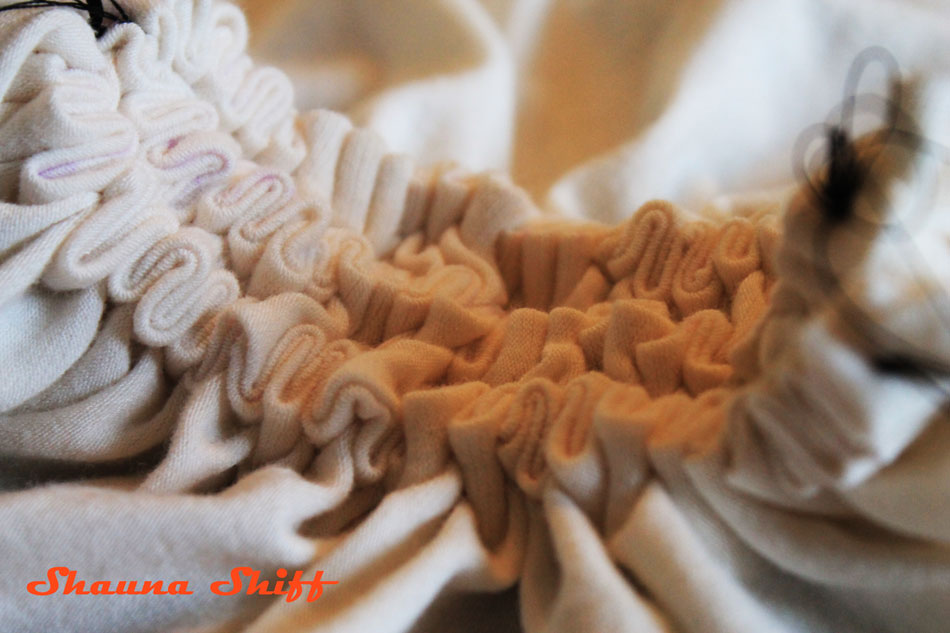 The fabric is now ready to be submerged in the dye bath. Shibori is a Japanese resist dyeing technique. That means that the pattern is created by preventing the dye from taking on portions of the fabric. In Shauna's design, she has used thread to block the dye from reaching section either by the thread's physical presence of through the puckered fabric preventing most of the dye from reaching the fabric. The portions of the material that are exposed with take on the color of the dye bath more strongly.
Once Shauna feels the material has reached the color she was hoping for, she removes it from the dye bath. She carefully begins to cut and remove the thread and the fabric puckers are slowly released revealing the pattern she has created.
Here is what Shauna's Fine Line pattern looks like when it is finished. To me, it's a really interesting and beautiful design. You can see why it's one of her most popular choices. And she has chosen a lovely shade of plum for this creation. I always get compliments on mine when I wear it.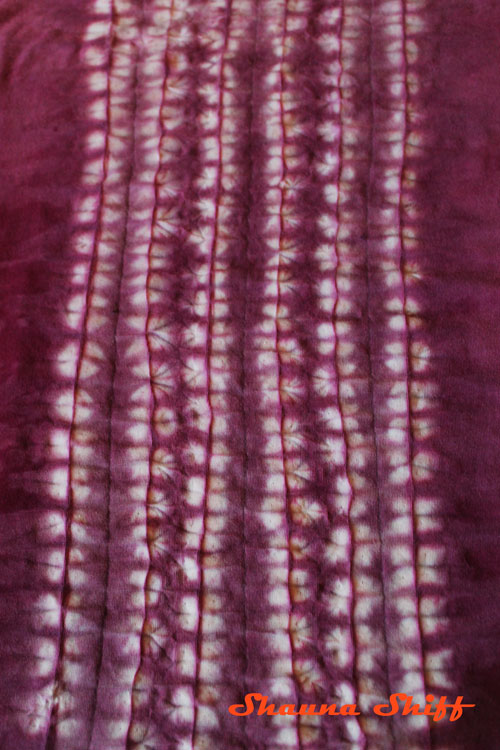 One Room Fibers offers so many great wardrobe staples from dresses, skirts and shirts. All of the lovely colors obtained through natural dyes work well together so I have fun mixing and matching. I'm sure you can tell from Shauna's Shibori demonstration above that each time a special and unique pattern is created. It would be impossible for any two to be identical. That means your One Room Fibers item is an original piece of art only made for you. How amazing is that?
I encourage you to head over to One Room Fibers Etsy shop and check out Shauna's designs for yourself. With all the colors, cuts and lengths being offered, I'm sure you will have no trouble finding ones that are perfect for you. Plus I hear that new designs and colors will be debuted very soon so you will want to continue to check back often. And be sure to follow Shauna on the One Room Fibers Facebook page so you get her latest news on her natural fiber clothing and other creations.
What part of Shauna's clothing do you like the best? Is it the natural fabric she works with? The way she uses natural dyes to create those wonderful colors? Or maybe its that you like how she chooses to create her clothing line in an environmentally conscious way? Or for some of you I know it will be the dyeing techniques, like Shibori, that she uses to create her surface designs? And some of you, like me, are also a sucker for pencil skirts and some of the other wardrobe staples she includes in her collection? I'd love to hear from you and learn what appeals to you the most. Leave me a note below.
Until we shop again,
Sarah
All photos of WanderShopper in her One Room Fibers clothing was taken by Tina Erskine and her assistants Gem (pictured with me) and Rose. Thank you, Tina!