WanderShoppers are likely to get many different Indian decorating ideas from exploring palaces during your travels. I was reminiscing recently about my first trip to India. I explored must visit destinations during a WanderTours trip to Northern India. (Check out this brand new tour to North India in Fall 2014. It's a Culinary Tour!) One of my favorite stops in the western state of Rajasthan was the city of Udaipur. In particular, we spent a few hours exploring the City Palace which is just one of many in Udaipur. I thought you might enjoy seeing pictures from the City Palace as well as what inspires me with Indian decorating ideas.
Udaipur was founded in 1559 and chosen to be the capitol for the Mewar Kingdom by Maharana Udai Singh II. It is considered to be one of the most beautiful destinations in India with its collection of five major lakes and scenic hills. This idyllic setting gives Udaipur its nickname of the Lake City and it is also referred to as the Venice of the East. The romantic setting of the elaborate palaces, many now have evolved into hotels, make Udaipur a favorite destination for weddings and honeymoons.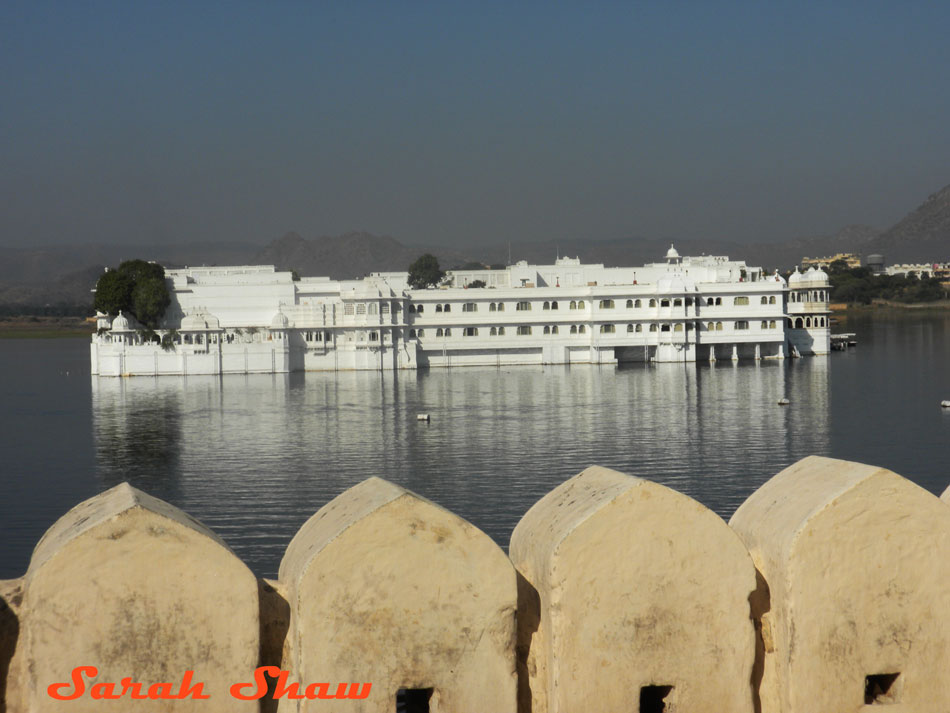 Udaipur has also been a popular location for shooting films both for Hollywood and Bollywood. Many memorable scenes in the James Bond classic Octopussy were filmed here and feature the iconic Lake Palace. A vision of white marble, the Lake Palace gives the illusion of floating in the water and is magical in the moonlight as it reflects on the water of Lake Pichola. Octopussy is still screened nightly in Udaipur and gives you the opportunity to catch up on your James Bond lore.
Our Indian decorating inspirations today will be coming from the City Palace. Construction began when the city was founded and took place over the next 300 years. It is considered to be the largest palace in Rajasthan and its large sprawling decadence merges Mughal, Rajasthani, European and Chinese architectural styles. Constructed entirely of white marble and granite, the City Palace's imposing facade gives the immediate impression of success and stability. Situated on a hill overlooking Lake Pichola and the surrounding hills, it also has a scenic view of notable Udaipur palaces including the Lake Palace, Jag Mandir and the Monsoon Palace. When you are royalty, it's good to have options.
When you visit the City Palace in person, it will be a good idea to dress comfortably, wear shoes that will be easy walk hall after hall and up and down many stairs as you explore the different public and private rooms of the royal household. The City Palace is really a collection of palaces all within the compound that is 800 feet long and and 100 feet tall. It is considered "a city within a city" as many needs can be taken care of on the grounds including visiting a post office, a travel agency, a bank as well as many shops and boutiques. Parts of the City Palace have also been converted into hotels which help to raise funds for the upkeep of the royal properties. Although the Maharanas currently have no political power or royal titles and are not considered rulers, the heirs are thought of as custodians of the royal properties and as such still own the palaces and have the support and respect of people of the Mewar region. Shriji Arvind Singh Mewar is the 76th custodian of the dynasty which makes it one of the longest running dynasties in the world.
As we explore the City Palace, I will group some Indian decorating ideas into six themes. The first is the use of colored glass. By the time you reach Udaipur, I am sure you have started to get the idea that Indians love color and are not shy about using it. It is not limited to fabrics or paint but extends into murals of colored glass edging many of the window. To wander into one of the relatively dark rooms within the palace and discover it awash it brilliant reds and greens reflected across the ceiling walls and floors, multiplying the effect across the room. As someone who has a fondness for watching how light plays across the wall of a room, I think I could sit in one spot for an entire day and marvel at the progression of this gorgeous show of light and color. Colored glass tiles in many shapes were used to construct elaborate mosaics set into the walls.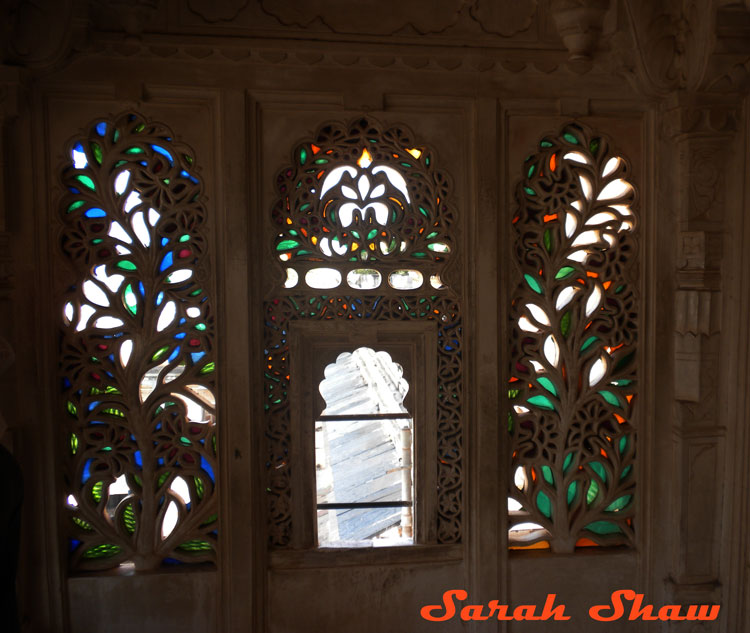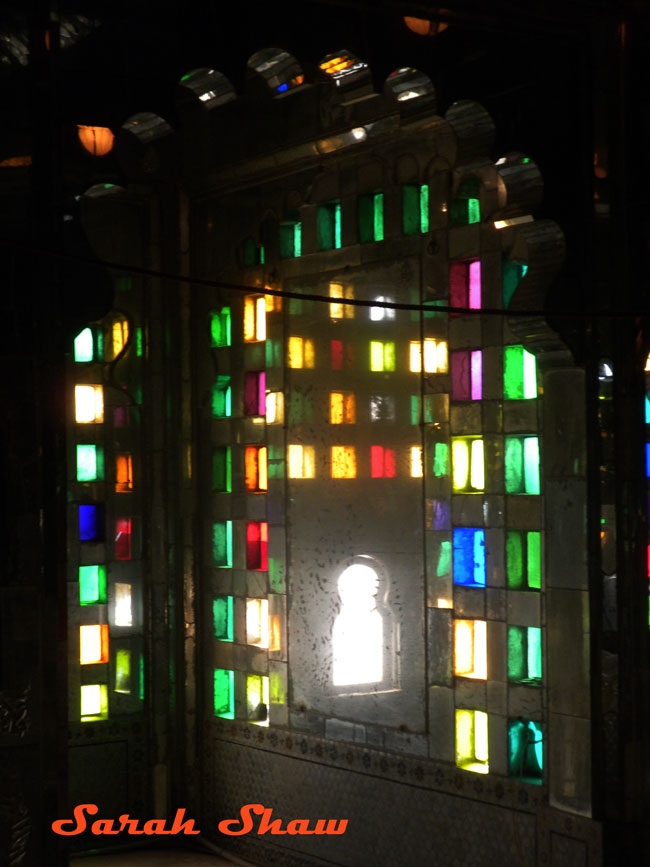 Another Indian decorating idea you can take away from the City Palace is the use of mirrors. As this palace was being constructed in the sixteenth century, it was long before electricity. When you have a large substantial structure as this palace is, you need ways to bring light into interior spaces but also without creating vulnerabilities that large windows might bring. Remember, this was not only a palace but a fort to protect the royal family members. One solution to this issue of casting light in dark spaces was to use mirrors. Much as mosaics so small pieces of colored glass are used in the windows above, artisans also worked with mirrors to cover ceilings and sometimes whole rooms including all the walls with thousands of little mirrors. The effect when one lights a single oil lamp is to suddenly illuminate the entire space as the little light explodes into thousands reflecting around the room.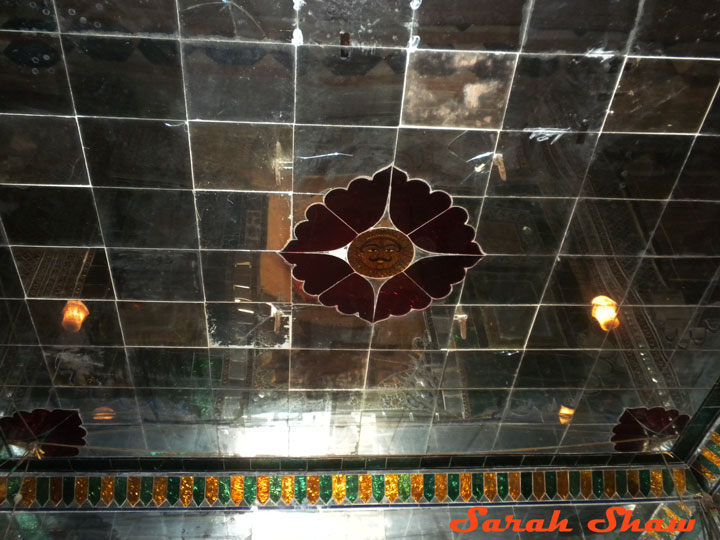 And speaking of illumination, we need to address the Mewar Maharanas interest in the sun. As it will bring us to the third Indian decorating idea. With centuries of being sun worshipers, the Mewar Meharanas adopted symbolically the sun as part of their family crest and seals. The brilliant metal discs are installed prominently above important doorways into the palace so that visitors could see that these were favored people by the sun. These impressive medallions, larger than life, can be discovered in other locations throughout the palace as you see this theme repeated.
Another item I noticed everywhere were beautiful finials installed along decorative rooftops. Not every window of the City Palace can have a view of Lake Pichola and the Lake Palace. Some interior windows looked out into courtyards and gardens. As the palace extended itself over 300 years. the builders paid attention to the views the were creating. On the decorative peaks of cupolas, impressive finals were installed. One of my favorites were a duo in amber glass. Golden orbs were another favorite, surely another nod to the sun. I also spotted an impressive cut crystal finial that must cast amazing rainbows about the palace.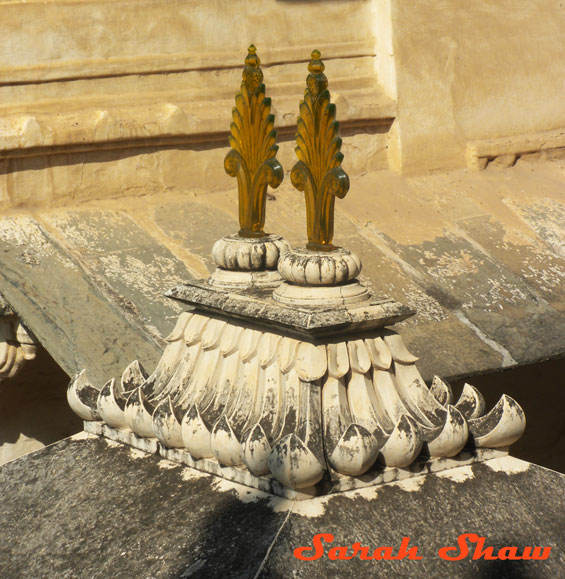 A fifth Indian decorating idea leaves you not looking out across the rooftops but instead looking up. Most every space I entered had been elaborately decorated including the ceilings. Why leave such a large expanse of space untouched? Some rooms simulated the sky with blues and clouds. Other spaces were mirrored as mentioned before. Most had been painted with elaborate images and patterns. The ceiling may cascade with a series of moldings or coves towards a central tray. Each step of the molding providing a new surface for decoration. I experienced some of the rooms as being almost overwhelming by the sheer volume of small details to look at that were everywhere! Other ceilings had simple line decorations with restrained flourishes depending on the taste of the master and purpose for the room.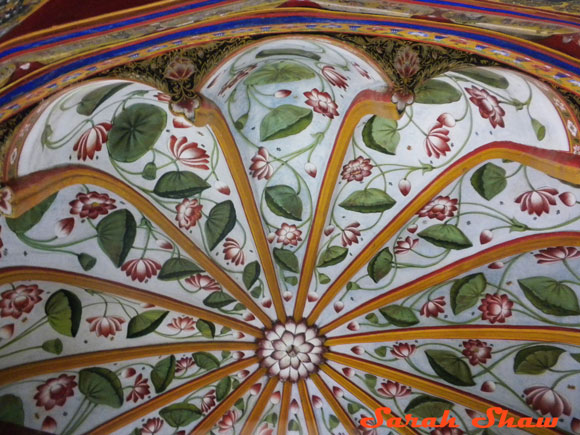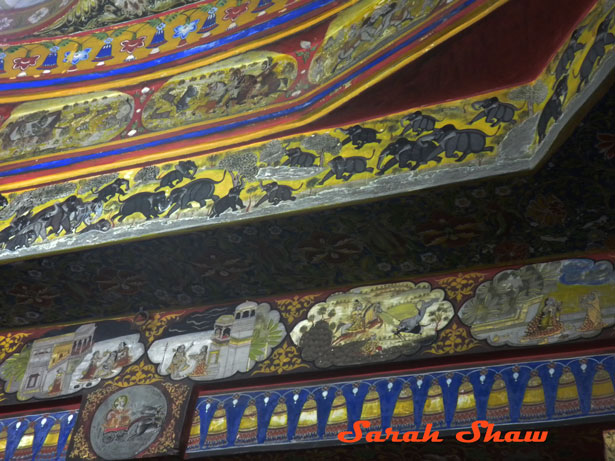 Our sixth, and final Indian decorating inspiration, is to develop a love of murals. Walls provide an obvious space for decoration and when you have so many of them as the Maharanas of the City Palace do, why not go with large scale, impressive murals of devotion. The City Palace contains a significant number of images of Ganesh which were a favorite of mine to photograph. They also have murals depicting scenes of popular stories illustrating life lessons from their religious texts. Others were purely decorative and might honor an especially lovely woman who was a muse for the artist.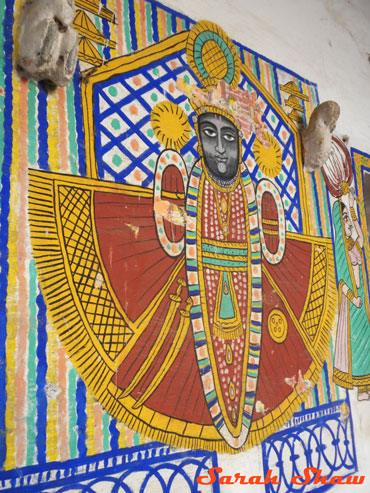 There were so many wonderful and amazing things to see within the City Palace and I can't begin to share them all with you in this post. If you would like to see more images of my visit to the palace, head on over to the WanderShopper Facebook fan page and the Udaipur Decorating Ideas album. Be sure to like WanderShopper while you are there so you get notified of future posts and Facebook only content. Over on WanderTours, I also have a post today talking about my first trip to India and what surprised and what delighted me during my explorations. I'm sure you'll enjoy hearing about those. Plus there's a link to another photo album, in that post, with even more of my images of Northern India!
Before I close, I'd like to share with you one of my favorite images, and moments, from my travels in India. While touring the City Palace, I continued to run into the same family who were also touring the palace. Eventually they decided to adopt me and we paused to pose for photographs on both of our cameras. Right before this picture was snapped, the man in the white shirt behind me reached over to grab my hand and hold it. This gesture was uncharacteristically bold of an Indian man to do to a tourist, especially with his wife in the room. However, I find this little secret between us two to be charming and sweet. My reaction to his surprise is registered on my face with the broad grin and the slight blush starting to spread!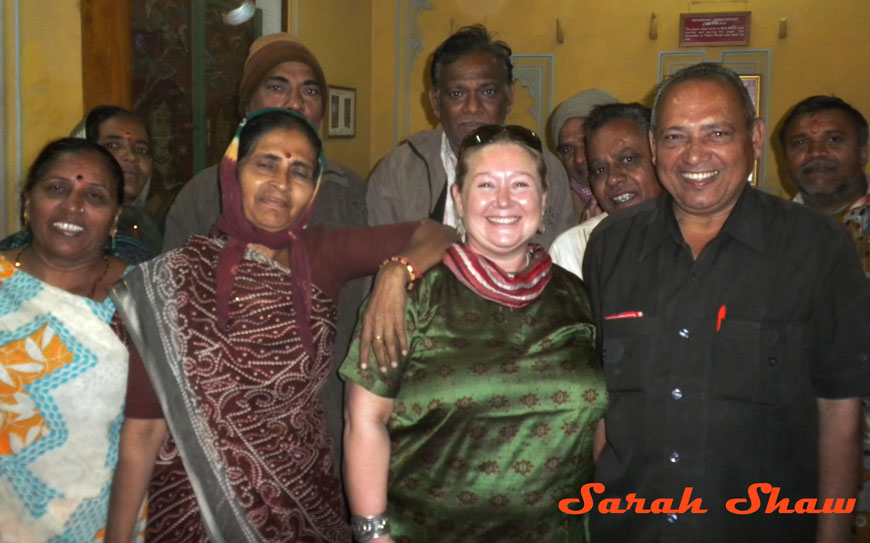 I love looking at images from the amazing palaces of Udaipur and the neighboring kingdoms. They are impressive structures decorated grandly with an amazing degree of detail, everywhere. Which of the Indian decorating ideas we explored today inspired you the most? How do you think you can use it in your home? I'd love to hear your ideas.
Until we shop again,
Sarah