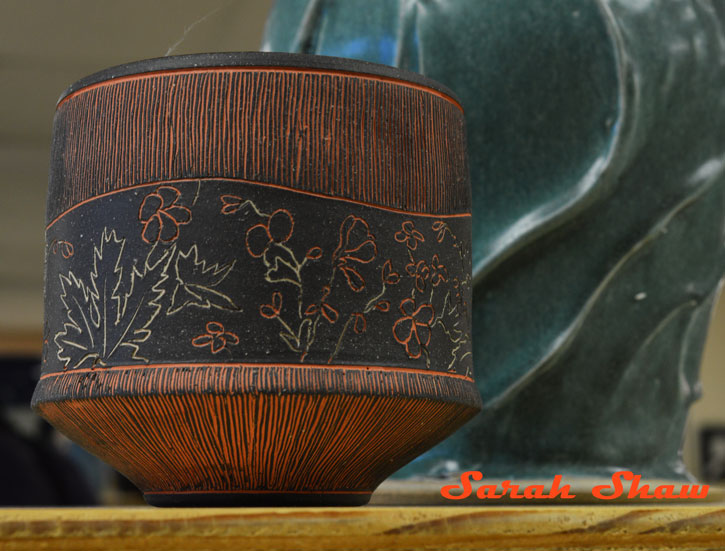 Today I made my semi-annual pilgrimage to the fall Greater Lansing Potters Guild Sale. I've been going for over two decades and have accumulated quite a collection. I like supporting my local artists so they are rewarded to the hours they spend practicing and perfecting their craft. And in return I receive the benefit of a thriving ceramics community that continually comes up with exciting, new creations, decorations and objects. I heard from many of you on how much you enjoyed viewing the sale featured in my post last Spring. I brought my camera along to this Potters Guild Sale to capture new images. Here are some of the highlights.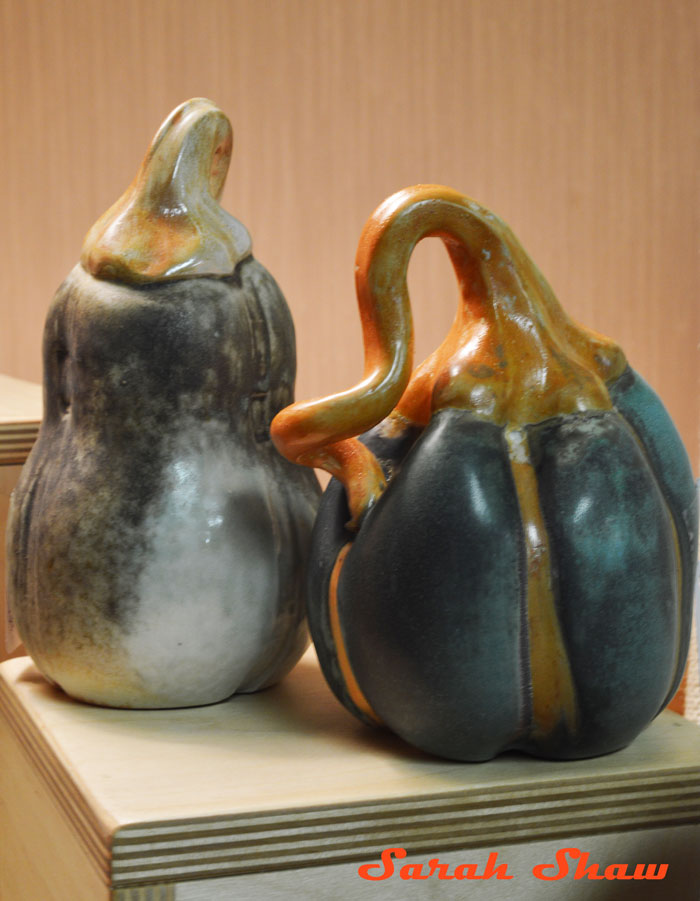 With more than 90 sales under their belt, The Greater Lansing Potters Guild Sale is a well organized three day affair. It always begins on Thursday at 5:30 pm, lasting till 9:00 pm. They reopen their restocked doors Friday morning at 9:00 am and remain open to ceramics enthusiasts through 9:00 pm that evening. The final day is Saturday with freshly restocked tables from 9:00 am – 4:00 pm. Over the years they have developed a large legion of pottery groupies who all have their favorite time to go. Some feel they have to be there for the opening on Thursday for maximum selection. Other prefer to arrive rested on a Saturday. For me, I'm a Friday girl, religiously.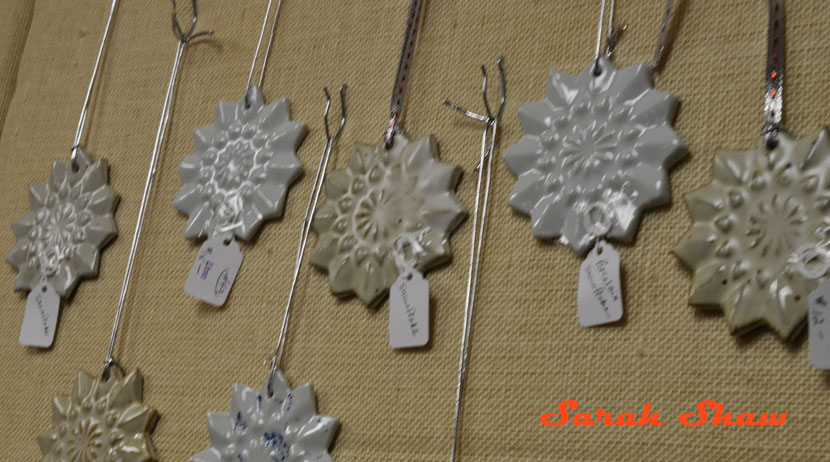 Many of my fellow shoppers love to collect pottery like I do. They may have a focus such as teapots or turtles or raku. Others are gathering a set of tableware in a particular color. This time of year brings people in for holiday decorations so they may be seeking some artisan made ornaments for the tree. Still others made need items for their own projects so they are in search of beautiful ceramic buttons to finish a garment or pillow. Some collectors feel a special affinity to a particular artist and want anything new that they have created over the last months. We all move along the aisles together, eager to be the first to spot what we seek.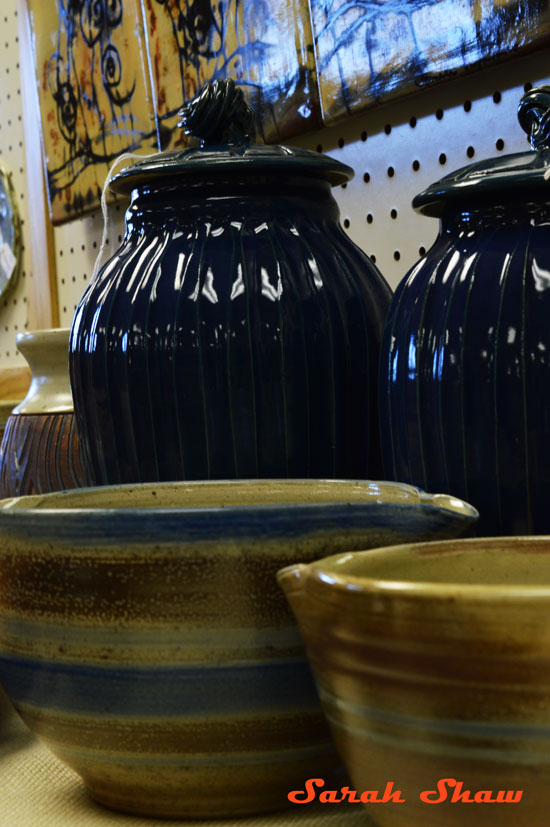 Another large segment of the shoppers are those in search of a gift. The holidays are fast approaching and when you buy something handmade, you are sure to be giving something that your recipient does not have. I also think sharing an item you've carefully selected that has been crafted by another is the next best thing to having had made it yourself. When you have thousands of options before you, finding that item that speaks to you of your treasured one is a craft in itself.
Sometimes the item selected is the gift, complete in itself. I saw a beautiful made checkers and chess board with a beautiful wood box containing ceramic checkers. Someone who is a tea connoisseur would surely treasure an unique teapot that raises their service to an art performance. A gardener would be thrilled to receive a watering can or an ornamental sunflower garden stake.
Other items I find would be a special addition to a gift basket you might be putting together. A lovely mug could be paired with a packet of hot chocolate to be given to an office mate or child's teacher. A ceramic colander would be welcomed by any cook and could be paired with special noodles, a noodle spoon, a hunk of Parmesan and a nice jar of sauce. Selecting one of the hand thrown flower pots and potting up a pretty plant or a miniature pine tree would be a thoughtful gift for someone needing something green in their home this winter. A gorgeously glazed casserole dish could be filled with your favorite recipe for macaroni and cheese written on a recipe card as well as the first batch already inside and ready to bake. The possibilities are only limited by your needs and imagination.
One of the trends I saw at this Fall Potters Guild Sale was that the artists were exploring texture. It may have been by the repetition of a mark across the surface of a vase which created interesting shadows. I discovered a series of platters where sections had been marked off like areas of a quilt and different patterns had been pressed or drawn into each section. Different colors of glazes were used, too, to increase the effect. I found another potter incising part of the decoration into the clay itself and then emphasizing the shapes with contrasting colors of glaze. It was exciting to see their ideas.
I also found a number of the potters working in other materials into their designs. I was very taken with a bowl that had a colorful rim of felted wool which had been bound onto the ceramic bowl with thread. The inside of the bowl had a textile pressed into the still moist clay so that the woven pattern was transferred into the clay. Another artist was discovered to be experimenting with attaching grains to the ceramic platter. This interesting effect for a display piece gave a new dimension for your ceramic art.
For those shoppers who were looking for figurative ceramics, there were many different pieces to choose from. I found a nice collection of people created to be wall art. Each had been dressed in detailed clothing including their buttons. Every person had distinctive facial expressions and hairstyles. Each struck a different pose and would have been fun displayed together or featured solo. I also found grouping of cylinder people standing together in a mass as if a choir. Their heads were all upturned and their mouths wide open as if singing a carol or perhaps all laughing at a really good joke. You could purchase them individually or create a large group.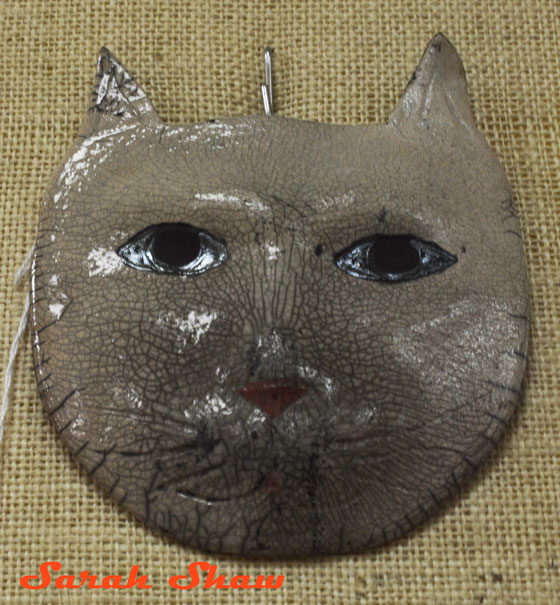 Those who like to find ceramic animal friends had many different options in creatures and sizes. I found little miniature birds, raccoons and a great collection of bears. Giant green turtles were awaiting adoption and to be taken home. Sometimes your critter friends took the form of decoration on an item like chickens on a handled bowl. Or they inspired the shape of the item like a teapot that was clearly a bird. I purchased a ceramic cat face that I will install in my cat gallery which hangs above my kitties dishes.
Although many of the items I choose are based on their functionality and that they will serve a purpose in my kitchen, dining room or desk other times I choose something because it makes me smile. I love when the potters show their sense of humor and work it into the pieces of art they create. One item that won me over was a stringy pile of fired clay that represents a haystack. Included with it was a nice pack of needles for those who are always searching. I'll be installing that at my desk at work. I also really loved the creation that came in three pieces. Two of them were hands that were flat at the bottom of each wrist and sat on a tabletop. In the center was a head with the mouth in a clear laugh. The illusion is of some one either emerging from, or sinking into, the surface it rests on. The expression on the face is what makes it so truly endearing.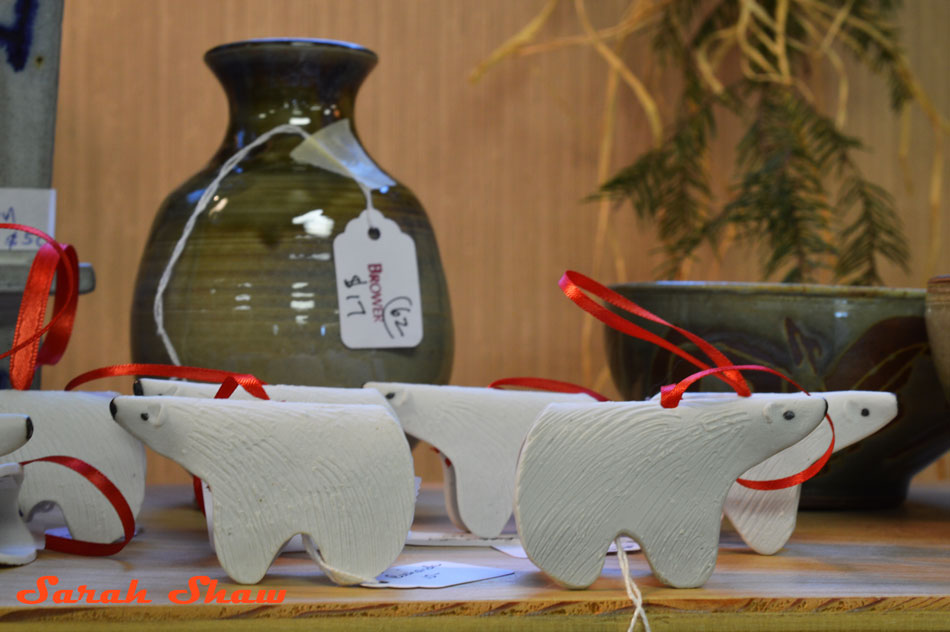 As the holidays approach, items for your celebrations were easy to find. It may be you needed a particular bowl or platter for serving during a meal or party. There were many dishes perfect for Thanksgiving or for loading with Christmas cookies and giving to a neighbor. I even found some white trays that had snowflakes decorating the surface. And speaking of snowflakes, they were well represented in a number of styles of ornaments perfect for the tree or to feature in a special window. Another favorite is ornament to collect are the simple ceramic polar bears who have graced my tree for years.
I encourage you local WanderShoppers to head over to the Greater Lansing Potters Guild Sale yet tonight or add it to your plans for tomorrow. If you are not local to Lansing, seek out your local ceramicists. You may find them in their studios or favorite galleries. The holidays brings about a selection of art shows and fairs where you can discover someone new. The art school at my local university also hosts sales where the public can buy student work. Keep your eyes open for opportunities and support your local potters.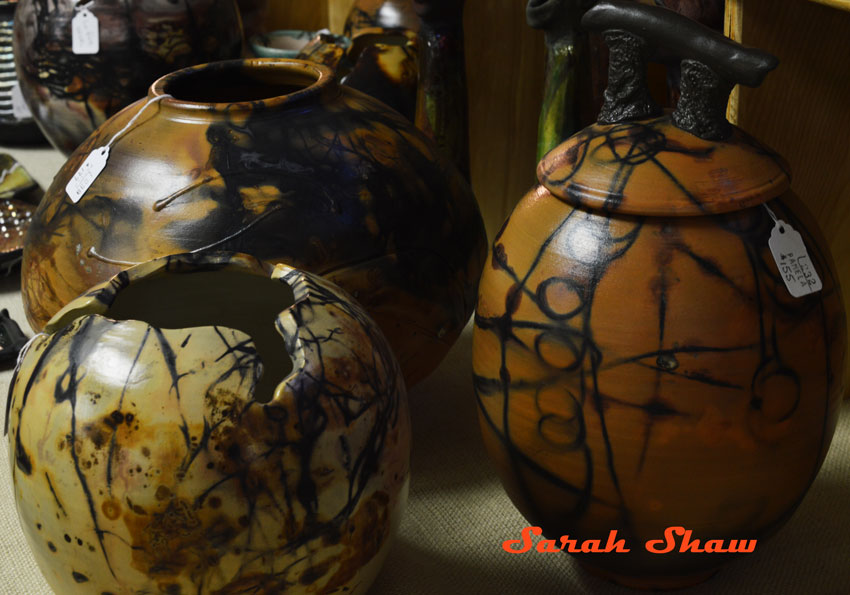 I've only been able to share a small selection of the thousands offered today at the Greater Lansing Potters Guild Sale today. I will be sharing more images over on the WanderShopper Facebook page in the Pottery Favorites album. Please check it out. And be sure to "like" WanderShopper while you are there so you are alerted to future posts as well as Facebook only content. You can learn even more about the Greater Lansing Potters Guild and their sales from one of my earlier posts. And if you are as in love with ceramics as I am, you may like to see some of my posts about potters in other parts of the world including Costa Rica, India and even the original Chia Pet in Mexico! Lastly, many of you will enjoy exploring my Pinterest pins on my Ceramics Collection board. So many pottery options, so little shelf space!
Until we shop again,
Sarah