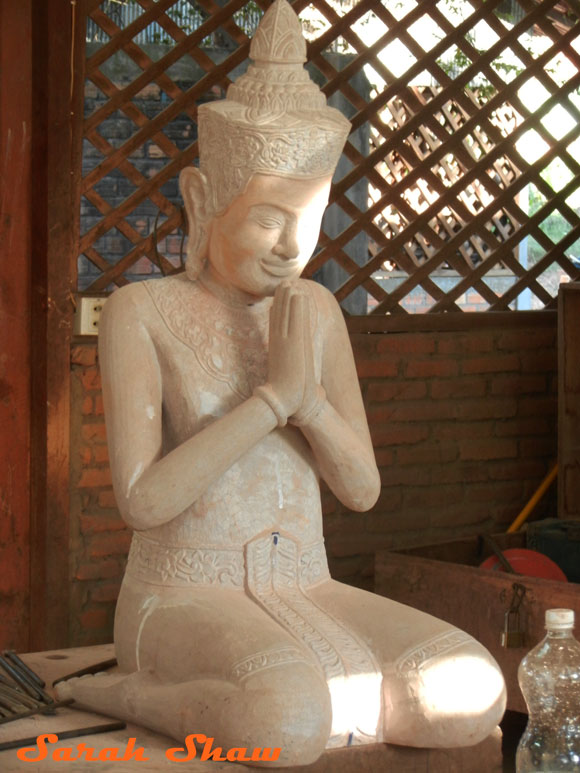 One of my favorite places to shop in Siem Reap, Cambodia is Artisans Angkor. Anyone visiting Siem Reap to tour Angkor Wat should also take the time to see the Artisans Angkor workshop and visit their wonderful boutique. Artisans Angkor offers a skills training and employment program to rural Cambodian youth while helping to preserve and advance the artistic traditions of Cambodia. Join me for a look at some of the craft traditions being practiced in the Artisans Angkor workshop.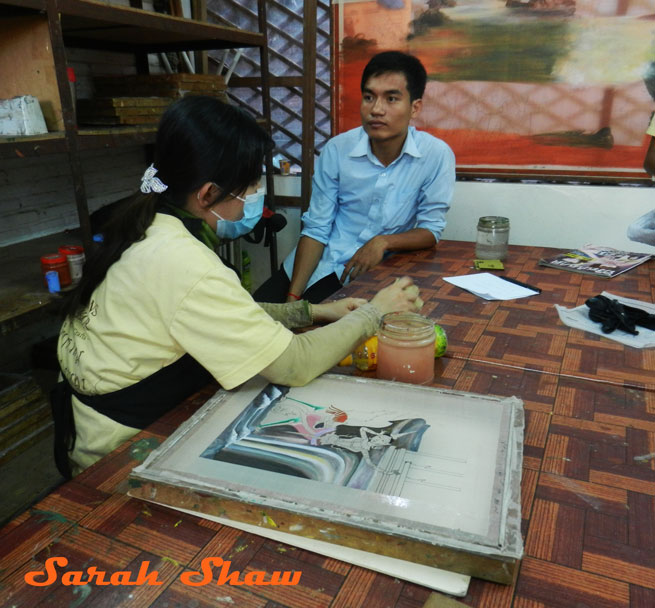 A number of different Khmer artistic traditions are carried on by the young apprentices in the Artisans Angkor workshops. Some students work with silk and learn weaving, painting on silk or creation of silk garments and household accessories. Other artists excel at carving and learn to work with stone or wood recreating traditional figures and patterns in panels or three dimensional forms. We also were able to observe people working with silver and practicing plating and embossing techniques. The creation of lacquer ware is also a valued tradition honored at Artisans Angkor.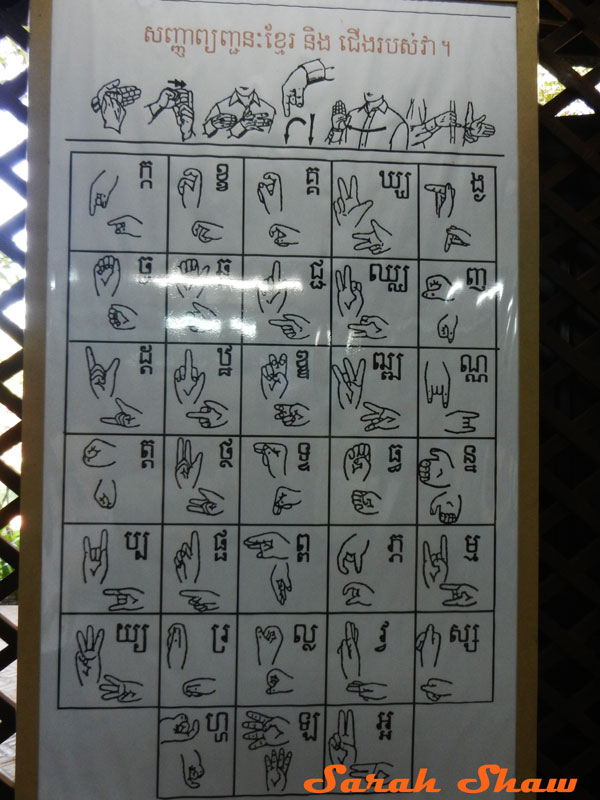 One of the the first things I noticed when I entered the initial studio was that many of the artisans were deaf. As they worked on their individual pieces, they would turn to each other from time to time and chat or ask questions using sign language. Along the walls in the first space were a number of posters demonstrating the sign symbols for English letters, Khmer characters or numbers. Artisans Angkor employs more than 1,300 people of which 900 are artisans. Of that, 5% are people with disabilities who would find education and job training nearly impossible in the rural settings of their villages. Artisans Angkor provides life changing opportunities to their employees which then trickles down through the whole community where a workshop exists by improving social conditions and reducing poverty. There are currently 42 workshops throughout rural areas in Siem Reap Province.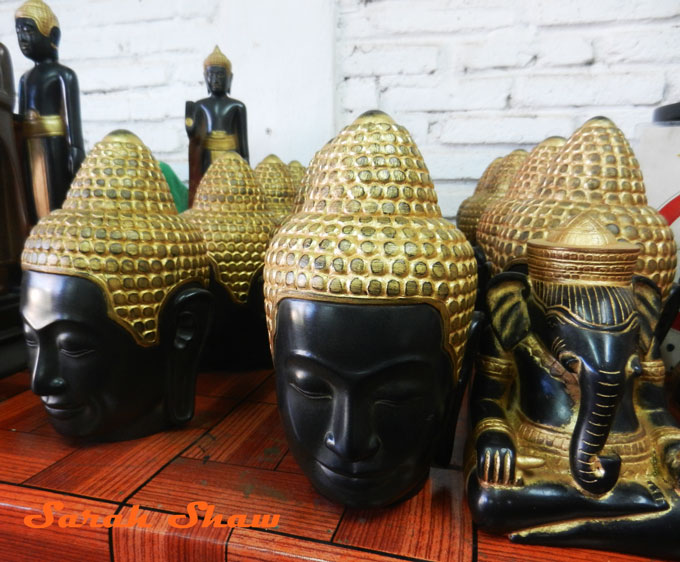 Artisans Angkor welcomes the world to learn about traditional Khmer arts and crafts as well as offering opportunities to shop for the items created by their artists. At the workshop in Siem Reap, free guided tours are offered daily from 7:30 am to 5:30 pm and no appointment is necessary. Tours are currently offered in English, French, Spanish, Chinese, Korean, Japanese and Khmer. The boutique on the same grounds stays open until 6:30 pm to allow for plenty of time to explore their large showroom after the final tour of the day or you may choose just to stop by to shop.
If you have the time, it is well worth it to tour the workshop though and learn more about how the students are instructed in their traditional art form. Each apprentice usually trains in their craft for 6 to 9 months. The process is designed to allow them to develop professional skills even they may have only had a limited amount of formal education. Not only will they pick up specific skills that will be marketable for a lifetime, they also develop as individuals and are proud of the quality pieces they are able to produce.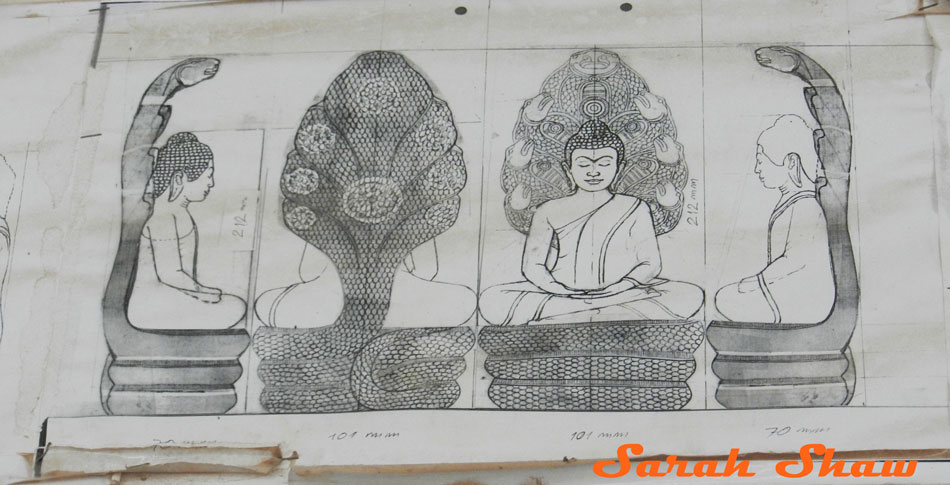 One of the studios I enjoyed most was packed with apprentices learning wood carving techniques. Some were starting on rather simple designs that required general shaping to create a finished product. Others were engaged in complicated and intricate designs that were sometimes larger in scale such as an installation for a wall at a local hotel. All began with a paper pattern sketched out showing the finished creation from all angles that had been created by masters. In the photo above, a pattern shows the Buddha meditating from side, back, front and other side views.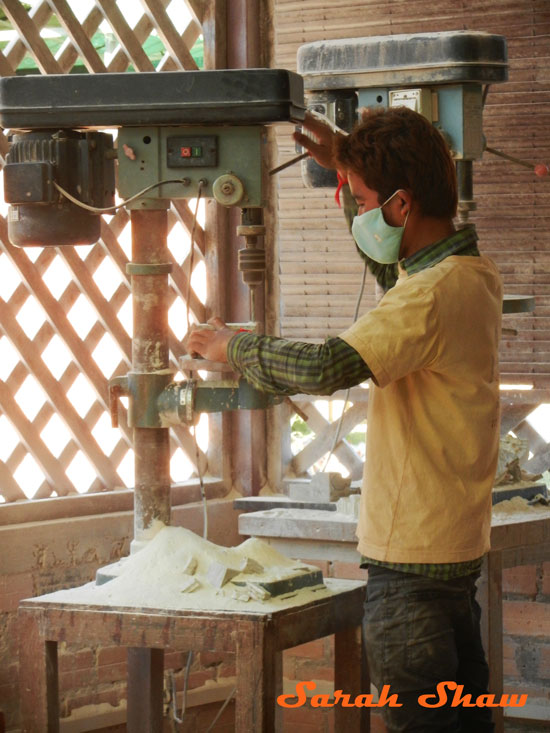 A student will then get a block of wood the approximate size they want their finished object to be and then sketch out the rough design on the wood with a pencil. A saw was used to make a rough cut and remove larger pieces of wood from the design.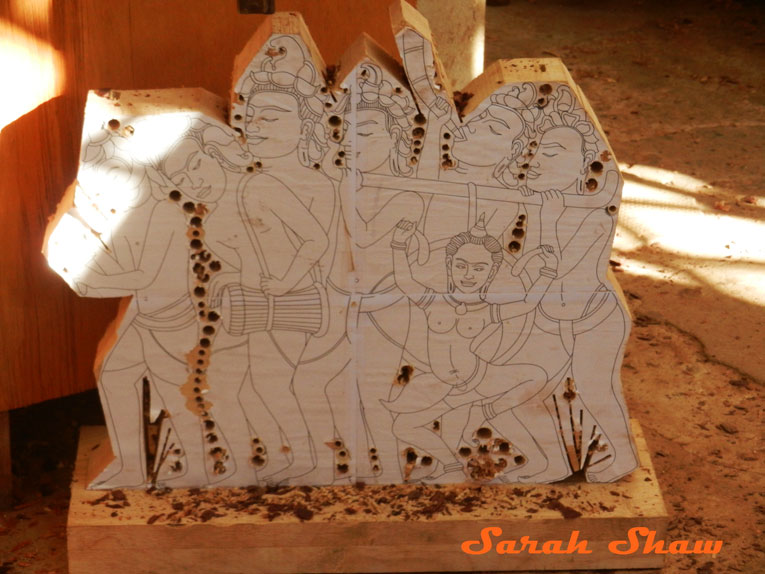 The piece to be carved above is clearly a more intricate pattern involving multiple figures of musicians and dancer. In this case, the design was traced on a piece of paper from the original and then that was adhered to the wood. The outline has been cut away with a jigsaw which will save time and effort from having to carve those parts away by hand. The student has also drilled some pilot holes for spaces that will need to be created between the different figures. This will make it easier to begin to carve away these sections.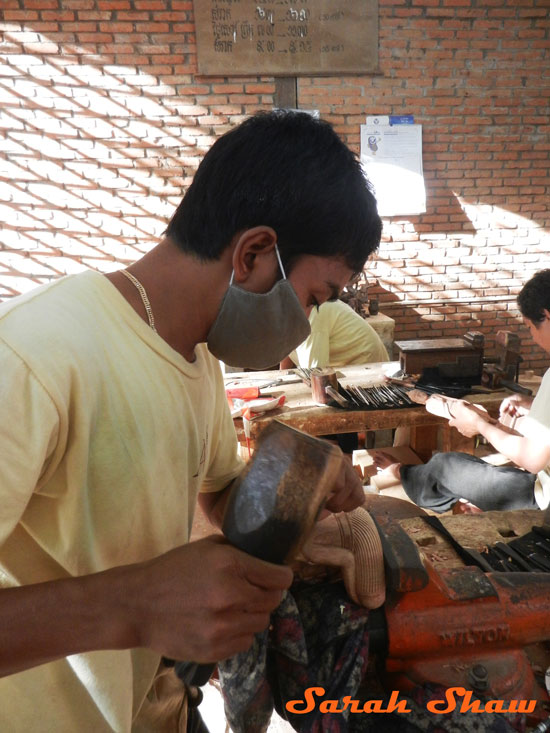 The apprentice would then use chisels to begin to shape the more delicate curves in the design. They may use the force of their hand and body weight to carve a strip. Other times when they need to take away small chips of wood, the student may use a mallet to drive the chisel into a precise space as seen in the picture above.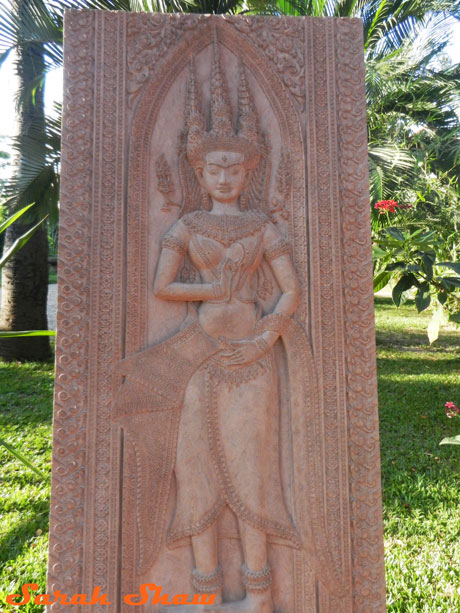 Apprentices practice their skills while creating many different sculptures of all sizes. In the courtyard outside their studio, a large panel displays an intricate design of an apsara. Heavenly dancing figures, apsaras have been a popular image in Khmer art for over a thousand years. While touring Angkor Wat and Angkor Thom, you will discover apsaras everywhere. In addition to the beautiful figure in the center with her elaborate headdress and jewelry, a series of decorative borders cascade outward completing the scene.
Another studio I enjoyed visiting housed the metal workers. The artist there would work with forms that had intricate designs carved into them. A sheet of silver, or silver plated metal, is then laid over the form. The apprentice will then take a steel tool, sometimes called a punch, and place it over the metal. They will strike the tool with a mallet which forces the silver into the form. Once complete, the silver is separated from the form and it now has been molded in a dimensional design. This technique is called embossing and is a relatively fast way to create detailed designs with metal sometimes in multiples. In the picture above, each sheet of metal may be cut into strips that may form the sides of a little silver box. Each strip could also be shaped into a bangle for a wrist.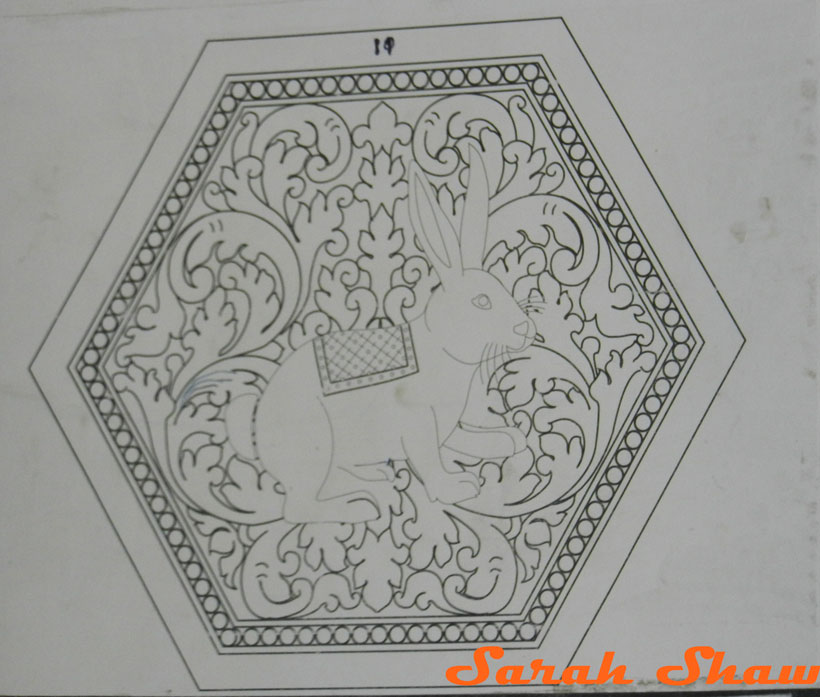 One of the popular items created by using embossing techniques are little silver boxes. Each component, or side, is created separately and then they are joined together. In the photo above, you can see a paper pattern showing a design for a lid of one of these boxes. This one features a rabbit which would have been a popular choice in the months before my visit as the Year of the Rabbit had just ended. People may have purchased the silver rabbit boxes as gifts for babies born that year. Just as with the wood carvers, the metal workers also begin with a paper pattern which they would use when they create their molds.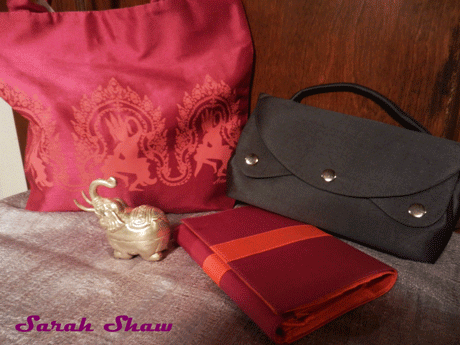 Although photography was allowed and encouraged within the workshop, unfortunately I was not allowed to take pictures of the items offered within the boutique. Everything was beautifully displayed which made Artisans Angkor a pleasure to shop. Exploring the different galleries would give you plenty of ideas of how to use the different items in your home or how to work them into your wardrobe. There are a wide range of items for sale that would work in every budget. You can also find very small things like the little silver elephant box (pictured above,) pieces of jewelry or a silk scarf. All would fit into the tightest of spaces in your suitcase. You could also choose larger items like sculptures and ask that they be shipped home for you. The items in the photo were some of the pieces I purchased from Artisans Angkor including a silk wallet, purse and tote bag. I also purchased a number of souvenir gifts for people back at home from their boutique.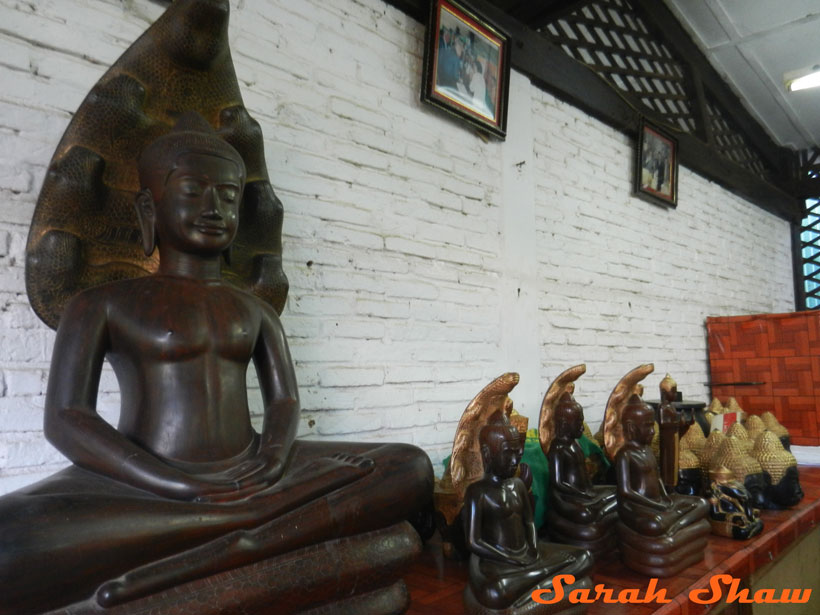 There are many opportunities for shopping at Artisans Angkor while you are in Cambodia. In addition to the boutique with the workshop in Siem Reap, you can also find shops at the airport in both Siem Reap and Phnom Penh and in three other locations. This summer, you can also buy many popular Artisans Angkor creations in Paris, France. The Babel Concept Store can be found on Quai de Valmy. One of the reasons everyone loves Artisans Angkor is because they are a fair trade organization and that is also being well received in Paris. Staying around home this summer? You can still shop with Artisans Angkor by visiting their website as they will ship to the United States.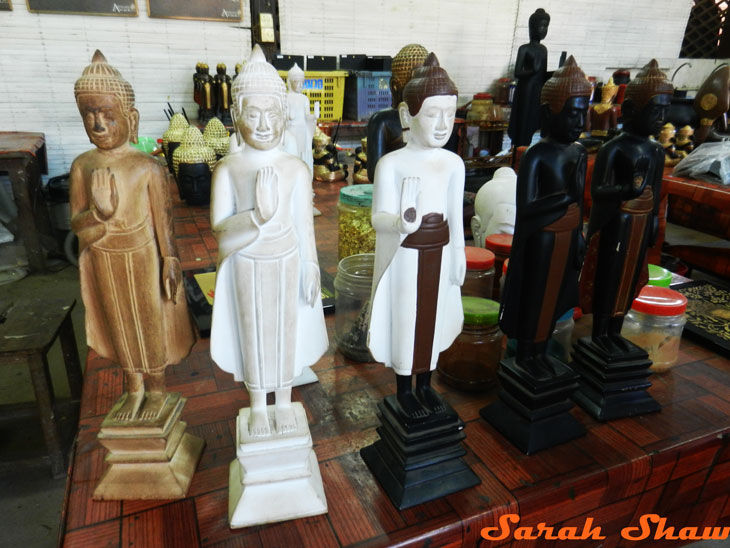 Obviously, as WanderShoppers, we all enjoy seeking out beautiful souvenirs to bring home. What makes Artisans Angkor an important choice for me is their emphasis on offering traditional crafts reinvented for a contemporary person as well their impact on the rural youth of Cambodia. When my dollars can make a difference for a person, a family and even a village, as well as the boutique offers beautiful, quality items, that will be where I choose to spend my money and source my gifts. Would you like to see more images of my time spent with Artisans Angkor? Please visit the WanderShopper Facebook Page and the Cambodia Album. Be sure to "like" WanderShopper while you are there so that you receive alerts to future posts and Facebook only content. What aspect of Artisans Angkor appeals to you the most?
Until we shop again,
Sarah