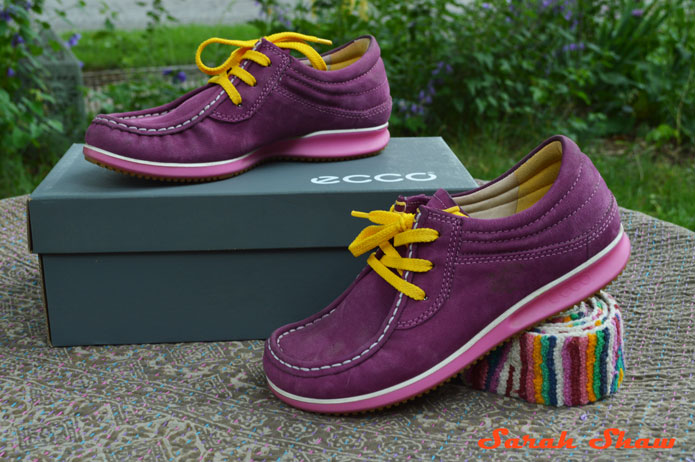 I'm thrilled to tell you about my newest pair of shoes, the ECCO Mind Limited Edition in Fuchsia. When I was offered a pair of the ECCO Mind to try out, I knew I would love them long before I had ever slipped my feet into them. ECCO was founded in Denmark back in 1963 and their 50 years of attention to design, materials, production and quality testing have made them the popular choice in over 94 markets around the world. I remember during a family trip to explore our Swedish roots a few years back, one of our first stops in Stockholm was to the ECCO store so my brother could select a new pair. Now the United States has grown to be ECCO's single largest market so it is so easy to find the ECCO for you whether you visit a store or order online. Today on WanderShopper I am featuring the ECCO Mind Limited Edition shoe for women, although they are also being offered for men, so join me as I share more about why I love ECCO and my pair of ECCO Mind.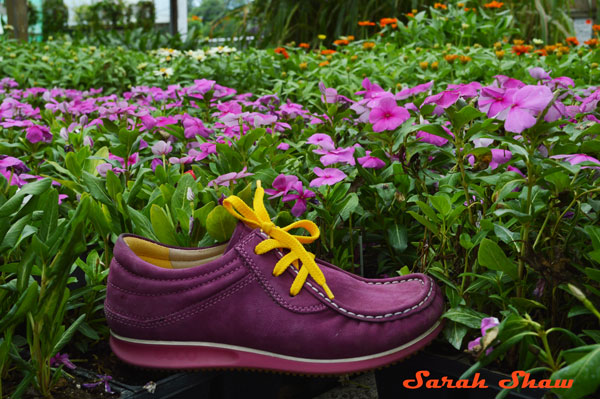 In honor of ECCO's 50th Anniversary this year, chief designer Niki Taestensen wanted to create a shoe that would both "celebrate the past and point to the future." The result is his inspired interpretation of a modern moccasin. The first thing I noticed when looking at the ECCO Mind is the incredible array of colors offered. Some, like the Black or Shadow White, are more understated while Mediveval (a shade of blue) and Fuchsia (my choice) are bright and confident colors. All of the choices will be noticed and admired.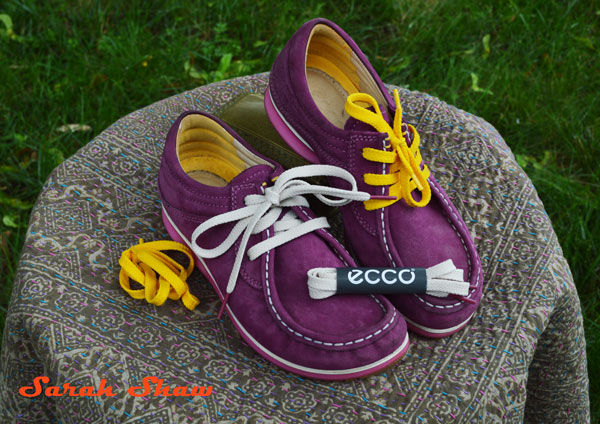 Each pair of Ecco Mind shoes comes with two sets of laces. One that provides a contrasting color for added pizazz while the other set is a subtler cream. My color selection of Fuchsia came with the golden yellow set already laced in the shoes – perfect for celebrating 50 years! I also really like that the cream laces are tipped with Fuchsia which to me makes a perfect pairing when I want an alternative. This is a detail most shoemakers wouldn't bother with but attention to even the smallest details is classic ECCO.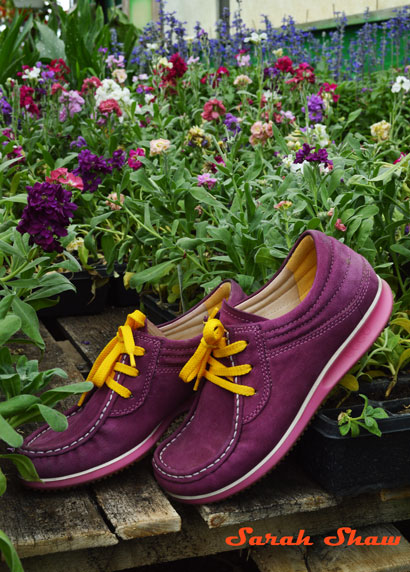 Once I had my ECCO Mind shoes in hand, I was struck by the softness of the leather. The quality of the leather is not a coincidence at ECCO as they are the only major shoe manufacturer in the world with their own tannery. Started in 1985, creating their own tannery allowed ECCO to control the materials, colors and quality of the leather they use when making their footwear. ECCO believes that the leather provides a "second skin" for your feet and that it needs to react both to the weather conditions as well as the conditions of your feet. ECCO has been so successful at creating top quality leather for their own products that other leading luxury brands have begun to seek out ECCO leather. The ECCO Mind has uppers made from supple camel leather.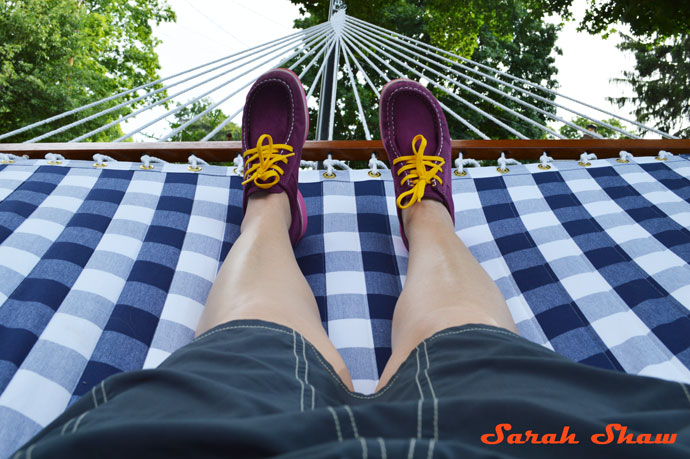 In addition to the wonderful color choices and the amazingly soft leather, the other thing you notice immediately is that the ECCO Mind is just a cool looking shoe. That's the Scandinavian design principles of simplicity and functionality coming into play. At ECCO, the beauty of their footwear isn't so much from added decoration but it comes from "purposeful elements: materials, shape, color and the experience" of wearing a pair of their shoes. Scandinavians love nature and spending time outdoors. Their sense of style embraces a life that is relaxed and comfortable while at the same time being contemporary and elegant. The ECCO Mind slips onto your feet and walks you into this world where you will be noticed for your effortless and enviable style.
I have had my pair of ECCO Mind moccasins for a couple weeks now. They were comfortable right out of the box and required no breaking in period. I'm sure one of the reason they feel so nice right away is because every pair of shoes at ECCO is touched by 210 pairs of hands. That is an incredible manufacture and quality control process that insures that when you get your pair, it will be perfect for you on your first outing. I've worn mine walking around everywhere and running errands. I wouldn't hesitate to move them from box to suitcase on the day I received them as I'm confident they could be a primary travel shoe the instant you open the shoe box.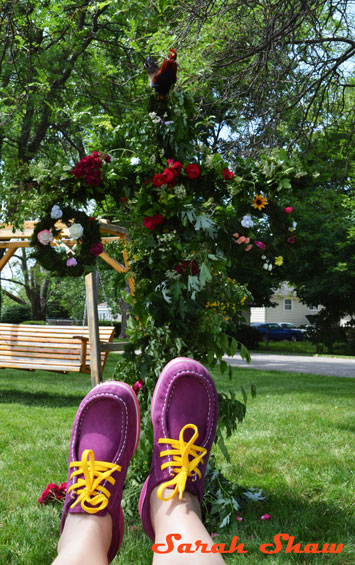 Another reason the ECCO Mind is so comfortable is ECCO's Direct Inject Process which ensures "toe to heel comfort." ECCO creates a polyurethane injected mid sole that follows the natural motion of your foot. It supports your foot as it should be supported during all of its movements. I put my ECCO Mind shoes to the test on their very first outing which was to my local Scandinavian Society's Mid Summer Celebration. I proudly wore my new shoes as I joined hands with my fellow Swedes, Danes and Norseman to dance around the maypole. I've definitely had new shoes before that I wouldn't dream of dancing in on their first day but the ECCO Mind were comfortable from the first step to the last twirl and even through the Hokey Pokey. Several ladies stopped me to admire my shoes. It turns out that the ECCO Mind is really what it's all about!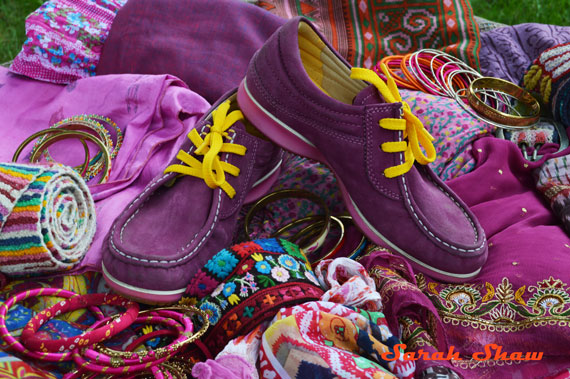 When choosing your pair of ECCO Mind, I would understand if you went with Black or Shadow White. They are both great colors that will be really versatile in your wardrobe. I do want to encourage some of you WanderShoppers to try a different color choice than you probably have in your shoe wardrobe already. I specifically chose Fuchsia as I knew it would fill a shoe color gap that I hadn't even yet realized existed. I am so glad I made that choice, too. When planning what to wear with my Fuchsia ECCO Mind, I started by looking at the accessories I already had that would pick up the colors from my shoes. I found I had a lot of scarves with similar tints featured in their patterns as well as many belts and bangles. There will be some of you WanderShoppers that will want to let your inner Betsey Johnson freak flag fly and you are ready to flaunt lots of colors and celebrate the rainbow all at once. I salute you! If you are new to bolder colors, I suggest that you stick with a more neutral palate for your clothes, such as black, white, grey or khaki for your shirt with a skirt, capri or pair of jeans. Then you can use your shoes with a belt, or scarf, to add some spice. This is how I like to travel. I pick a neutral color as my base for shirts and bottoms and then I use accessories to add color, and change the look of the few pieces I bring, each day of my journey.
As I thought about Scandinavian design aesthetic and how nature is one of the major inspirations, it occurred to me that as bright as the Fuchsia initially felt to me, this shoe was celebrating colors from nature. Both the fuchsia and the yellow are seen in many flowers. I had a trip to my local greenhouse planned to pick up some plants for my garden and containers and decided to wear my ECCO Mind's that day. I started first by propping my foot up near some flowers but then jumped in and just started placing my shoes within the different flats. This of course drew some interesting looks from other shoppers and a few brave souls approached me to ask what I was doing. All of them mentioned how much they loved the colors of my ECCO Mind moccasins as they looked like they had just bloomed among the other flowers. It was a fun way to create images to share with you as well as introducing other gardeners to the ECCO Mind. And just as all rare blooms have a limited time you can admire them, so too is the chance for you to get your own pair. The ECCO Mind shoes are a limited edition collection to celebrate ECCO's 50th anniversary. When all colors and sizes have sold out, you will have missed your chance to own your own pair so you will want to jump on to their ECCO USA website and pick up yours today!
ECCO's tradition of "50 years of passionate shoemaking" is carried on today by the global family of over 20,000 shoemakers around the world. Although the world headquarters is in Denmark, shoemakers can be found around the globe including Indonesia, Amsterdam and Shanghai. If you discover you need a pair of shoes while you are out exploring the world, finding an ECCO store should be easy as they are in 94 markets worldwide and you can count on them being an instant success. Since its founding, 350 million pairs of ECCO's have left their mark around the world. It's no secret – you can tell I am a huge fan of ECCO and the ECCO Mind. I'm so glad that I was able to get my color choice while it was still available in my size. Which one are you going to get for you and where do you want to leave your ECCO mark?
Until we shop again,
Sarah