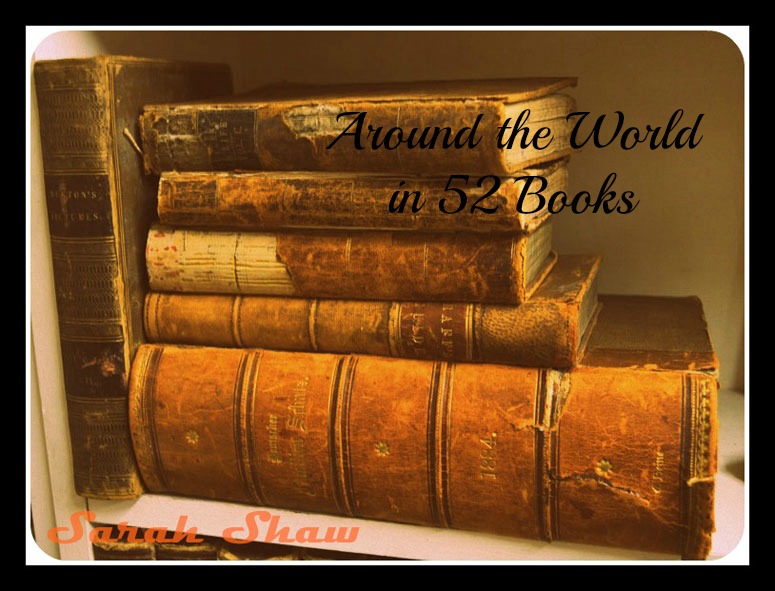 Now's the perfect time to share with you my progress on the Around the World in 52 Books challenge. Summer can provide some great opportunities for your to catch up on your stack of books to read. Maybe you're on a vacation with some time on the plane, in the car or even at the beach with a chance to get a few more chapters completed. Or maybe this year, you are taking more of a stay-cation and are hoping to be transported somewhere exotic through the pages of a book. Since I last reported in, I completed 11 more books for the challenge plus a bonus book from one of the other book clubs I'm a member of so please check out the countries and reviews and select the one that are right for you.
WanderShopper's Around the World in 52 Books
Make yours @ BigHugeLabs.com
I have been having a lot of fun this year visually tracking the countries I have visited through my reading by using this free map offered by Big Huge Labs. It has been really satisfying to see each county darken as I check them off. You may want to do something like this whether it is for a reading challenge like I am doing or to track the countries you have actually visited. And now, on to the review.
Book:  Thirty     Country: Myanmar/Burma

Title: Twilight Over Burma: My Life as a Shan Princess      Author: Inge Sargent
In the early 1950's, author Inge Sargent was a young Austrian college student in Colorado when she met and fell in love with with another international student, a man from Burma. After their courtship, graduation and marriage the couple journeyed home to Burma where Sargent was surprised by the grand reception meeting their boat in Yangon. The groom had neglected to mention that he was the Prince of Hsipaw, one of the Shan states about the size of Connecticut, and that she was now royalty. Through Sargent's own words we learn what it is like for a Westerner to find herself a princess in a foreign land, at the same time as she learns to be a wife and eventually a mother all the while learning the customs and language of a very different culture from her own. In Twilight Over Burma, we also learn first hand of the brutal way the military seized power throughout the States of Burma. With the abduction and disappearance of her husband, Sargent is forced to courageously lead her people through a tumultuous time period in Burmese history. Learning of these events through the eyes of a Westerner may give you even more insight into the difficult history faced by the collection of tribal groups within Myanmar.
Book: Thirty One     Country: Portugal
Title: Journey to Portugal: In Pursuit of Portugal's History and Culture    Author: Jose Saramago
Jose Saramago, winner of the Nobel Prize for Literature, pours out love for his homeland in Journey to Portugal. Driving himself around the country with what feels like an endless amount of time at his disposal, Saramago visit nearly every tiny town, church and ancient ruin there is left to discover in the country. I too love to spend time away from the tourists traps but this book perhaps went too far in-depth for my introduction to the country. Saramago's 443 pages do offer the occasional picture and of course his writing competence allows him to offer great descriptions of what feels like thousands of small churches we get to tour with him. Many amusing anecdotes are shared throughout the six sections of a Journey to Portugal but unless you are looking to plan a trip off the beaten path, or to reminisce about a time lived there, this may be more than you wanted.
Book: Thirty-Two     Country: Mexico

Title: The Labyrinth of Solitude and Other Writings     Author Octavio Paz
The Labyrinth of Solitude and Other Writings is a collection of essays and speeches by Nobel Prize Winning Writer Octavio Paz that span several decades. Labyrinth of Solitude was first published in 1961 and was Paz's attempt to define the Mexican man by a Mexican man. Paz examines mythology, religion, conquest, colonialism, revolution and the unending wall of solitude each man carries as what shapes him to this day. Following his initial writing, the book includes speeches, interviews and additional writings up through the late seventies. Paz also examines the role between the United States and Mexico and its influence on the psyche of the Mexican man. I found this to be a very interesting read as I believe most, if not all,  I have read about Mexico has been filtered through and American or European viewpoint. To understand a people from their own perspective is of course, much more meaningful.
Book: Thirty-Three     Country: Kazakhstan

Title: Apples are from Kazakhstan     Author: Christopher Robbins
I really loved reading Christopher Robbins' Apples are from Kazakhstan. I am ashamed to admit that I too knew very little about Kazakhstan other what brief, and offensive, comments had been made about it in Sacha Baron Cohen's movie Borat: Cultural Learnings of America for Make Benefit Glorious Nation of Kazakhstan. Robbins admitted, too, that he knew almost nothing about Kazakhstan before he found himself seated next to an American on his way to Kazakhstan to meet his future wife after they had made a cyber love connection. It started Robbins thinking, about the country not a wife(!), and he started to try to learn more about Kazakhstan. Now Robbins is probably Kazakhstan's best ambassador and in his highly entertaining book you learn all sorts of interesting facts like that apples are originally from there as are many other things including the whole legend of King Arthur and the Knights of the Round Table. It is also fascinating to watch this former Soviet block country turn its back on the old ways and embrace the United States and democracy. Bet you didn't know either that it was the Americans who were the one's who came in and took responsibility for all the Soviet toxic waste left behind from the Soviet's weapons program, cleaned it all up and shipped it back to the U.S. for disposal. Oh yes, there is lots to learn in Apples are from Kazakhstan. This may be one of the most fun books you read this year about something you know absolutely nothing about.
Book: Thirty-Four     Country: Sweden
Title: The Emigrants     Author: Vilhelm Moberg
Sweden, like many European countries in the nineteenth century, was struggling under an inheritance system that continued to subdivide already small plots of farmland further still with each successive generation. More people were having to do more with less while having very little chance of ever improving their position in life. Under this stress, along with several years of drought, we meet the Nilsson family of Ljuder Parish in Smaland, Sweden. During the first of Vilhelm Moberg popular series of books called The Emigrants we follow the Nilssons and some of their neighbors to the breaking point where they decide to risk everything. The Nilssons sell their land, farm, livestock and most of their possessions to clear their debts and pay for their voyage to America. As news of their plans spread a few more neighbors decide to join them, some because of the religious persecution they were experiencing. In the end, 16 adults and children become the first people from Ljuder Parish to emigrate to America. The first book ends with them arriving in New York City in 1850. The other three books in this immensely popular series in Sweden follow the families as they head to Minnesota and establish a farm there. The books were later turned into movies in the 70's which were nominated for Oscars and won a Golden Globes award. Anyone interested in what the experience was like for their ancestors, Swedish or otherwise,  to choose to leave everything behind and risk it all for a new beginning will enjoy The Emigrants.
Book: Thirty-Five     Country: Vietnam
Title: Silk Roads: The Asian Adventures of Clara and Andre Malraux     Author: Axel Madsen
I had expected to really enjoy Silk Roads,  as it had so many of my interests all rolled into it. This is the true story of two young Europeans in 1920's who develop a passion for archeology and head off to Indochina to discover temple ruins like Angkor Wat. After that they lost me. Their true intentions were to "liberate" these treasures from the jungles of Asia for resale to museums and private collectors in Europe and the United States. Because they were just a couple of rich kids trying to bluff and lie their way through everything, the plan failed horribly with Andre Malraux and his friend in jail while Clara returns to Paris to try to drum up support and money from rich friends and artists for their defense. They kill some time in Hanoi attempting to set up an alternative newspaper that exposed the corruption of the colonial powers and their benefactors. Andre Malraux goes on to become a famous writer and confidant of Charles de Gualle. The divorced Clara is left to a sadder, and lesser known fate as a writer herself until the women's liberation movement kicked in during the 60's. All in all, the places are interesting as is the large amount of name dropping through the time period but in the end, I found it hard to like either of the Malraux.
Book: Thirty-Six     Country: Ghana
Title: Indigo: In Search of the Color that Seduced the World     Author: Catherine E. McKinley
I've long had a passion for indigo, just seeing its color saturating a fabric makes my pulse quicken. While browsing through the shelves of my local, independent bookstore, I discovered Catherine E. McKinley's Indigo and it was all I could do not to squeal out loud. Most of my exposure to indigo has either been through my travels in Asia or my pairs of denim jeans. What I loved about McKinley's book was that it filled in enormous gaps in my indigo knowledge by teaching me about indigo's traditions in Africa as she discovered them herself. The uncovering of indigo's African roots and stories are shared along with McKinley's personal journey of discovery. I loved the value generations of women have placed on each of their collections of fabrics, handed down through the generations as well as how each pattern had a name and a story. These are beautiful and meaningful traditions that are in danger of disappearing to the global onslaught of cheaper, machine made fabric from China unless this artistic tradition is rescued and championed by today's generation. An important read for anyone who values the preservation of local arts and culture. (And I should say, I came across a number of poor reviews of this book before I read it that worried me enough to consider not reading it. Having read Indigo, I couldn't disagree with them more. I think lovers of indigo, artistic traditions and African history and culture will benefit from this book.)
Book: Thirty-Seven     Country: Brazil

Title: Gabriela, Clove and Cinnamon     Author: Jorge Amado
I thoroughly enjoyed Jorge Amado's Gabriela, Clove and Cinnamon. It follows a cast of strange and eccentric characters in a small town that finds itself facing growing pains from the wealth suddenly being generated by the new abundance of cacao plantations. Each character is so humorously developed, it made me long for a movie version to see this come even further to life. Gabriela wanders into town, with other indigenous people who have migrated to the village in hopes of employment, at the same time as local Arab restauranteur Nacib has lost his cook. Underneath her wild and unkempt appearance from the voyage, Gabriela turns out to be one of the most beautiful women in the village and she is able to cook unbelievable feasts. All the rich men of the village court her and want to set her up as their mistress while Gabriella remains loyal and true to Nacib. Politics, murders, assassination attempts, psychics, wives and mistresses are all just some of the intrigues that center around the town of Ilheus. Gabriela, Clove and Cinnamon will definitely be among my favorites of 2013.
Book: Thirty-Eight     Country: Austria
Title: The Hare with the Amber Eyes: A Hidden Inheritance (Illustrated Edition)     Author: Edmund de Waal
When author Edmund de Waal inherits 264 Japanese netsuke, tiny carved figures or objects in wood, ivory or bone used to secure a pouch or box to a kimono, he heads off on a search of their story. What he uncovers in the process is an amazingly detailed account of his family's history from the time they leave Odessa and move about Vienna, Paris and eventually Tokyo and London. During many of the decades, his ancestors were among the most powerful families in Europe and many of the Ephrussi were enthusiastic patrons of the arts. Most of their treasures were confiscated as the Nazi's stormed Vienna but a conscientious and loyal maid hid the entire netsuke collection in her mattress for a decade which preserved them together to carry on their wonderful story. The Hare with the Amber Eyes is a wonderful account of the history of Europe and an influential family as seen through the stewardship of a menagerie of tiny objects. I highly encourage you to locate the more recently released Illustrated Edition as all of the photos, documents and family mementos will enhance your experience significantly. This book was the July selection for the Art Museum Docents Book Club I am a member of and a couple of our members brought collections of netsuke for us to admire and fondle. Be warned – you will want to start your own collection too!
Book: Thirty-Nine     Country: Russia

Title: Travels in Siberia     Author: Ian Frazier
Reading Travels in Siberia did exactly what I hoped a 471 page memoir on the author's exploration of Siberia would do which is to fill me in on virtually everything. I went into the reading knowing little more about Siberia except that it was very cold, was where political prisoners were sent and where the last Tsar and his family were murdered. Ian Frazier, over the course of several road trips, explores modern Siberia from west to east and then again from east to west but further north. Through his journeys you learn all about the history of the region, significant writers, composers, politicians and revolutionaries. You also learn about the vast resources offered from minerals, to gas, to wood as well as popular activities like hunting and fishing. You also learn what it's like to be the sole American with a couple of Russians roadtripping through the wilderness in a van of questionable soundness. Through it all, Frazier makes it an interesting read. Siberia has moved up in my ranking of places I want to visit. It may not have cracked the top ten yet but there are a number of remarkably beautiful cities, villages, lakes and rivers that should be seen before one's travel life is complete. Frazier has sold me on Siberia.
Book: Forty     Country: Iraq (and United States)
Title: The Yellow Birds     Author: Kevin Powers
Each year, my City of East Lansing and Michigan State University select a book for the "One Book, One Community" program. The Yellow Birds is this year's selection and members of the community are asked to read the book and all incoming freshmen are given it as required reading. I've owned this book for some time and waited till I worked up the courage to begin to read it, afraid of what I would find and even more afraid of what I would then need to require of myself when I had to lead a discussion of this novel for my book club at the library. The Yellow Birds was  very hard read for me. It follows young, American soldiers on duty in Iraq and transitions back and forth between their time periods and locations. It portrays vividly the disturbing reality of what life is like when you are serving in Iraq, the mental health costs required to get you through each day and the choices that get made when events don't happen the way they hoped they would be. Civilians are killed, a soldier is captured and tortured, a commander commits suicide and leaves behind the main character to stand trial for war crimes back home. Regardless of how you feel about the war efforts itself, one clear theme is that the safety net of mental health support that should help our returning veterans learn how to reenter our society and make sense of their war experiences is pitifully lacking. The rawness of the reading experience is still too fresh for me to offer perspective beyond this. I expect to learn a lot more from author Kevin Powers when he speaks here in a few weeks.
Bonus Book     Country: Japan and United States
Title: The Buddha in the Attic     Author: Julie Otsuka
Julie Otsuka examines the practice of Japanese picture brides and tells their story through a chorus of voices throughout The Buddha in the Attic. Their story begins before World War II when Japanese women depart for America with dreams of a good life with a husband they have not yet met. They are followed through the hopes and fears about their wedding night, trying to fit into a new community where they do not speak the language as well as becoming mothers without the support of their own family back in Japan. You hear from some women who find happiness with their situation while others wish they had never left Japan. With the bombing of Pearl Harbor, some Americans become suspicious of their Japanese-American neighbors and communities begin to change. You follow the women through the terror of some of their husbands or friends being picked up for questioning and then disappearing. Eventually, they are all rounded up and moved to internment camps. Otsuka's writing technique of a collection of voices at all times represents the wide array of experiences these young women faced in their new country. Some of the women in my book club appreciate this style of writing while others found it distracting and less effective.
Well, there you have it WanderShoppers. Twelve new books to choose from as you decide which to tuck into your tote as you head off for a day at the beach or a picnic in the park. I'm nearing my own horizon on the Around the World in 52 Books challenge and have learned so much by reading books I probably wouldn't have chosen otherwise. You might try something unexpected too, and see how it works out for you. Not seeing just what you were looking for? Check out some of my reviews from books earlier in the challenge from this last post of reviews. I would love to hear about what you have been reading this summer. Drop me a line in the comments below and let us all know what you give the thumbs up or thumbs down to. Let's keep building up the WanderShopper library.
Until we shop again,
Sarah