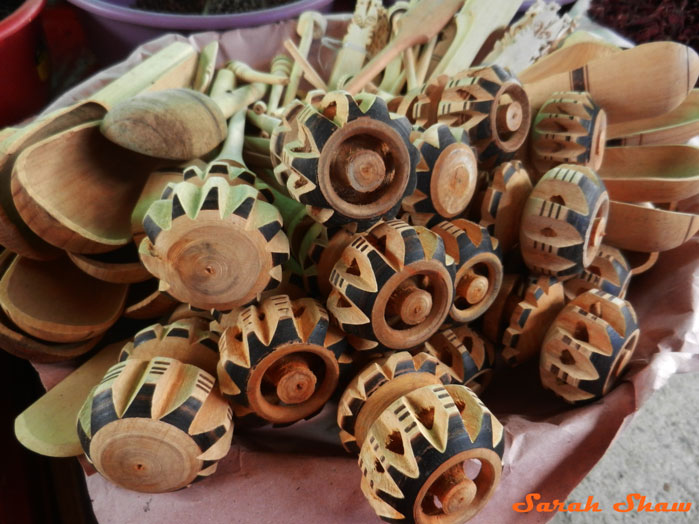 Wooden utensils, including molinillo are offered in a market stall near Oaxaca, Mexico
I am so excited to be debuting a new feature today on WanderShopper. Once a week, I will be sharing a Souvenir Spotlight with you. The idea is to feature a special item that you should keep your eyes open for when you are on vacation as it would make a wonderful souvenir of your trip. I will also provide links to a source for the item so that it can be ordered in the United States if you are interested in obtaining one but have no upcoming travel plans.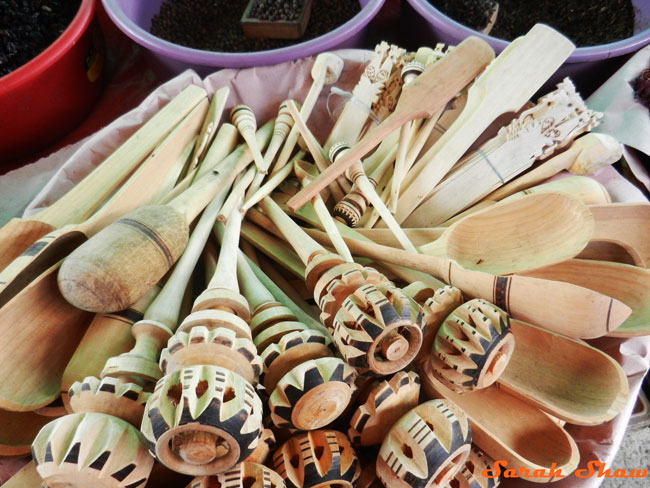 Molinillo are turned wooden whisks used for mixing and frothing hot drinks
For my first Souvenir Spotlight, we visit Mexico and seek out Molinillo. One of my favorite things about breakfast in Mexico is enjoying a delicious mug of hot chocolate. Each purveyor will have their own favorite recipe passed down in their family but you can count on most to contain cinnamon and some ground almonds in addition to the chocolate and milk. Some recipes may contain other spices as well. The hot chocolate is also frothed and whipped a bit. No fancy frother like you see your favorite barista use is required when you are in Mexico. Instead they use a molinillo, a turned, wood whisk. Placed in the pan, the molinillo is held between the palms of your hands and twisted back and forth. The unique shape of the molinillo adds air into your hot chocolate making it lighter and frothy.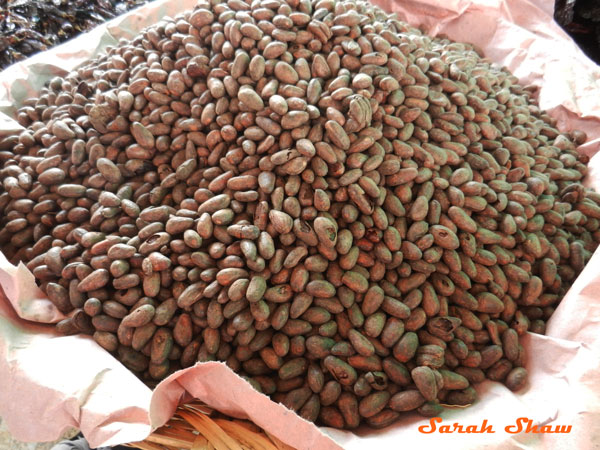 Fresh cocoa beans for sale in the Morelos Market near Oaxaca, Mexico
Not only will the molinillo help you to create the best mugs of cocoa in the comfort of your home, it will also look incredible. Stick it in the center of your kitchen utensil crock and let it lord over your other spatulas and spoons. You may want to buy two, one for your kitchen decor and another for regular use.  Feel free to try it for frothing other delicious hot beverages. For me, nothing is as soothing as hot milk with some honey or almond syrup added. A molinillo, a ceramic mug and a few cakes of Mexican chocolate would make a thoughtful get well soon gift. You should be able to easily locate molinillo in local markets like Morelos Market outside of Oaxaca where the included photos were taken. Nicer souvenir shops that offer cakes of  Mexican hot chocolate to bring home with you will also likly have molinillo.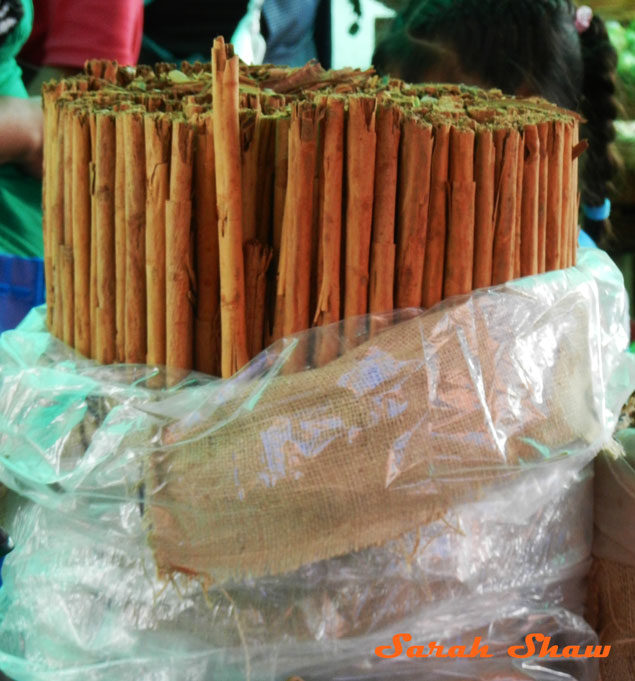 Giant cinnamon sticks for sale in a stall at the Morelos Market outside of Oaxaca, Mexico
Don't have a trip to Mexico planned any time soon but want to try making your own authentic Mexican hot chocolate? I found a number of molinillo very similar to the ones pictured in my photos from the Morelos market in Oaxaca at Amazon's site. Mexican Molinillo
There are many to choose from but I found this particular offering to be at a better price than some of the others.
Have you ever tried to make Mexican hot chocolate with a molinilllo? What did you think?
Until we shop again,
Sarah