When visiting Istanbul, take some time to pamper yourself by visiting a hamam. Not only will you get to experience a centuries old ritual but it will give you an excuse to shop for some great souvenirs.
Centuries ago, Ottoman homes were built without bathrooms. To get clean, one just needed to head to their local hamam. Not only did the hamam provide an important hygiene function for the community but it was also a place to socialize and celebrate. Women would gather on their own side of the hamam to gossip, perform ritual baths before a wedding or even to enjoy some music, dancing and food. Once at the hamam, you could easily linger for hours with your family and friends.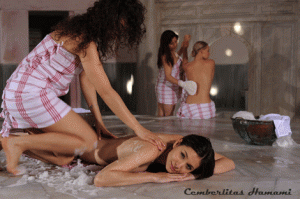 When I was in Istanbul, I visited the Cemberlitas Hamami, just a couple stops away from the Blue Mosque. The Cemberlitas Hamami was built in 1584 by the prolific architect Sinan. After selecting from a menu of services and packages including hiring an attendant who will give you your bath and scrub, an aromatherapy oil massage, reflexology and a facial, you are given the corresponding tokens and shown to a changing room to a locker for your belongings. You will be given a pestamal, or towel, to wrap around yourself and then you are ready to head to the steam room. Laying on the heated marble slab (sicaklik) you can take in the immense domed ceiling above you and the bathing areas around the edges of the space as your body begins to seriously sweat. Then the attendant will give you the scrubbing of your life using a kese, a hand mitt used for exfoliation, and some soap that would put Mr. Bubble to shame. Then together you move to one of the water basins where she will wash your hair and give you a thorough rinse with bowl after bowl of water. Afterwards, you can head to one of the hot baths for a soak or head off for a massage.
Regulars of the hamam, or savvy WanderShoppers, may want to pick up some hamam accessories of their own. Any hamam you visit will provide everything you need as a part of the service but having your own will make a nice memory and allow you to recreate your own hamam spa day back at home. So let's talk opportunities!
The pestamals are a very popular souvenir purchase and you will be able to find them easily throughout the Grand Bazaar and the Spice Market. Once place that really stood out to me in the Grand Bazaar was Abdulla Natural Products. They had a beautiful selection of natural colored pestamals and a great ambiance.
No shop in Istanbul compares though with Jennifer's Hamam. Located in the Arasta Bazaar, next to the Blue Mosque, Canadian expat Jennifer Gaudet has opened two incredible stores to accommodate her overflowing options in design, color and fiber that would please even the most discriminating hamam enthusiast. Jennifer chooses to work with some of the last remaining families and individuals in Turkey who still carry on centuries old weaving traditions. In Jennifer's Hamam, "all fibers used are Turkish and all the artisans are Turkish weaving in Turkey." You may find cheaper pestamals in the markets but they will likely be machine made and not of the same quality. I think this is definitely the time to invest in the "good stuff" for yourself.
In addition to a pestamal, you may also prefer to have your own kese. My choice included goat hair in the weave which added to its abrasiveness. There is no way any dirt or dead skin could remain after a once over with it! Again, you will have a choice of several different fibers as well as an assortment of colors so your kese can stand out in the crowd.
Another thing that set Jennifer's Hamam apart was that she carried a selection of hamam bowls and pails. You might choose one of the old pressed design buckets to carry all of your bathing supplies to the hamam. They are also handy to fill with a lot of water to be used during your rinse cycle! You can dip your bowl in it to pour over your head and down your back to rinse away all the suds. I can easily see both items being used in your bathroom back home to show off a collection of soap or to store face cloths in.
I consider myself to be a spa collector. I love to experience the way different cultures approach taking care of the self in body, mind and soul. I always make at least one visit per trip. To experience a centuries old practice, in the original setting, is really magical.
What is your favorite spa experience during a trip?
The Details:
Cemberlitas Hamami: Also has a shop on site with a nice selection.
Vezirhan Cad. No: 8, 34440 Cemberlitas / Istanbul  90-212-522 79 74
Jennifer's Hamam: They will ship to the U.S. too!
Arasta Bazaar, No. 135, Sultanahmet, Faith, Istanbul, 34400  90-212-518 06 48
Turkish Towel Store: Big selection of Turkish towels and supplies located in the U.S.