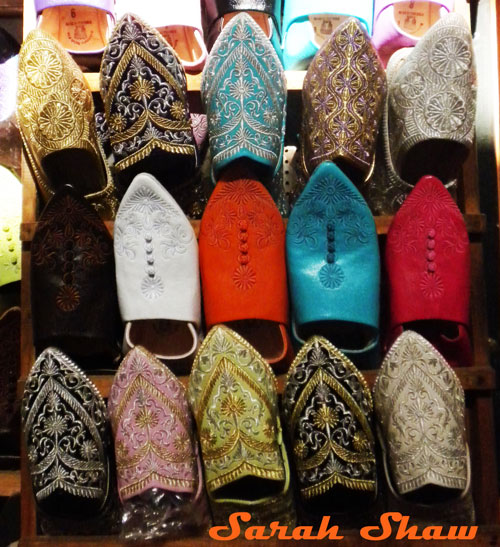 Shopping for babouche in the enormous market, or souk, in Marrakesh has to be one of the top travel experiences for a WanderShopper in Morocco. Babouche are the colorful slippers you can find in abundance in market stalls and shops throughout Morocco. Babouche can be found made from leather or cloth and are often ornamented for special occasions. They remind me of my ballet slippers as they have a thin leather sole. They lack a heel and you slide into them like a mule. Babouche is the French version of the the Persian word papoosh  (pa "foot" + poosh "covering.") Despite the Persian word origin, babouche were first created in Morocco.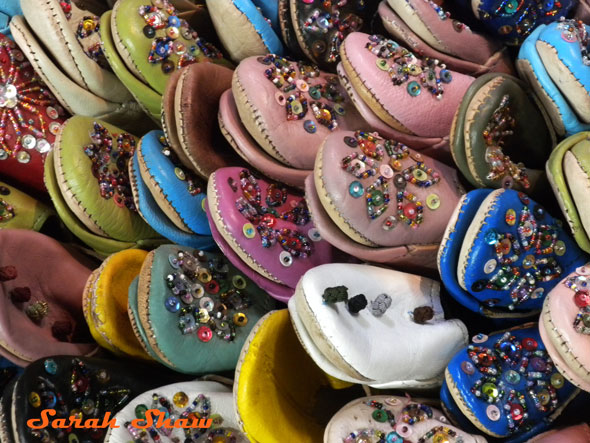 Babouche come in as many colors and designs are there are Moroccans and tourists. There does seem to be an infinite number of color pairings with sequins, tassels, embroidery, knots and patterns. Some babouche I found were very simple with a modest rounded toe and a single matte color. I selected a pair of black leather babouche like these to be simple house shoes. I purchased another pair tonally embroidered in an olive color to go with a djellabah  I was gifted. I also found I couldn't resist the baby pink pair (a throwback to my ballet class days) jazzed up with a gold embroidered flourish and with a pointed toe.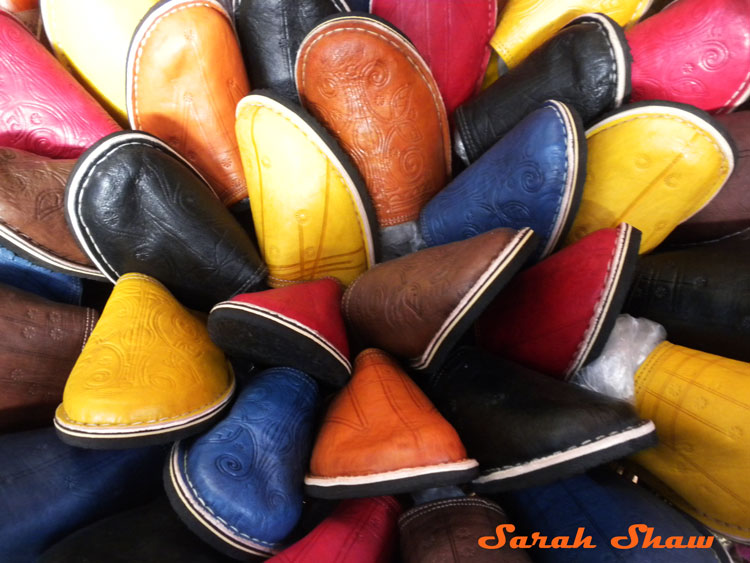 Babouche are somewhat stiff when first worn but over time they will mold to the foot of the owner and feel like they were custom made for you. You should buy them on the tight side as they will stretch with wear and you do not want them to become too loose. You will find Moroccans shuffling along in their babouche throughout the alleys of the souk. You will also find that they will have another pair that are reserved for inside their home. Outside footwear is left at the door as you switch to your babouche or slippers you will wear exclusively inside. Not only does this custom keep the floors cleaner but it allows you to own even more shoes and who wouldn't support that?!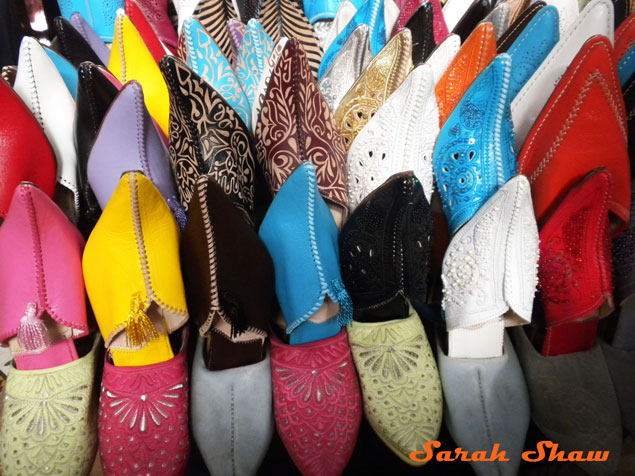 Marrakesh (Marrakech in French) has been inhabited since 1062. It made a convenient stopping point for traders along the north-south route between Spain, through the Sahara and on to the African countries of Senegal, Mali and Ghana. Caravans paused to exchange goods and Marrakesh developed into an important political, religious and social center in northern Africa. There are 18 souks, or open air market places, in Marrakesh. Each tends to be grouped loosely by the items offered. For example, you can find a gold souk, a leather souk, a spice souk, etc. Today many vendors will offer a variety of merchandise to accommodate the thousands of tourists who visit each day. The souks of Marrakesh employ over 40,000 artisans and are vital to the continuation of traditional crafts. Expect the alleys to become more crowded as the day goes on. It is wise to come first thing in the morning as vendors will be anxious to make their lucky first sale of the day, it will be cooler and the lanes will be less congested.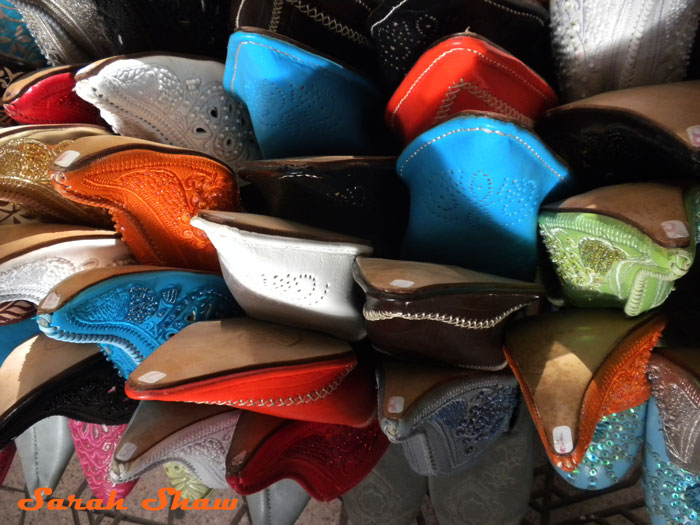 Bargaining is the rule at most of the stalls in the souks. You can expect a much higher price will be first quoted to you than you can successfully negotiate by the final sale. Only begin the bargaining dance if you are serious about an item. You can expect a better price if you buy multiples of the same item or of different items within the same shop. If you can't come to a price you can accept, don't despair. There are thousands of other opportunities in other shops so you are likely to find the same, or very similar, items elsewhere. Don't get too stressed about having to bargain. The goal in the end is for both the buyer and the seller to come out feeling like they made an acceptable deal. Neither should feel like they won. If you absolutely don't want to bargain, look for shops that display a "prix fixe" sign as the price is fixed there and the vendors will refuse to bargain.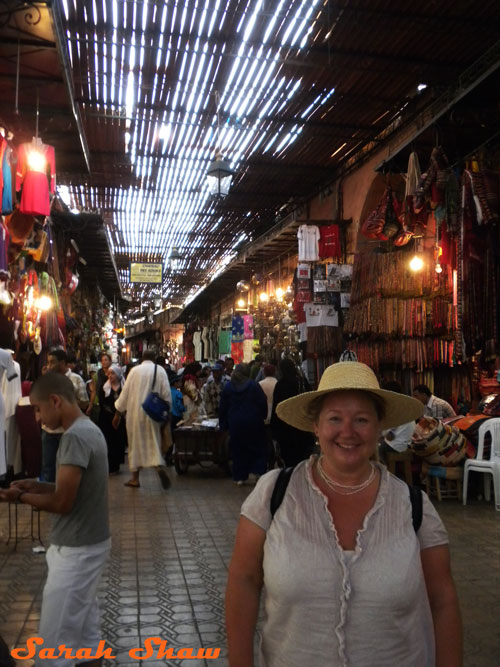 Interested in buying some babouche or other Moroccan treasures without ever leaving your home? My friends over at The Loaded Trunk have just come back from a trip to Morocco and have a wonderful selection of items. In addition to their inspired collection of babouche, I also really like their Berber wool blankets and the vintage sugar pots. Be sure to look at everything in their New Arrivals section as it is almost all from Morocco. I love to visit their website and discover their new offerings and know you will too.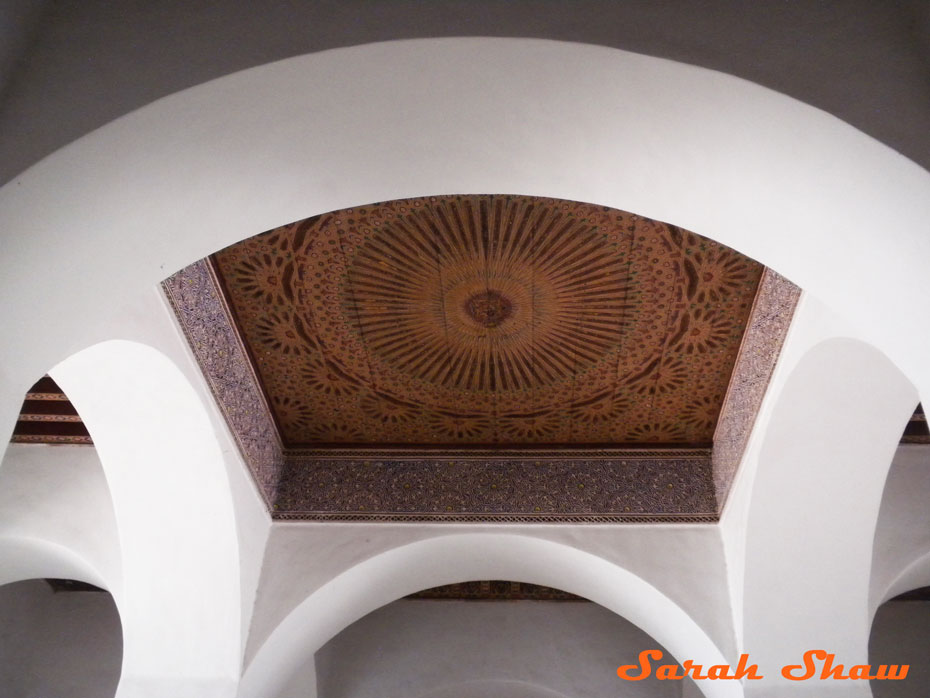 I will be doing future posts on some of my other finds in the markets of Marrakesh. If you would like to see some photos of other things to do in Marrakesh near the markets, head on over to WanderShopper's Facebook Fan Page and the Morocco album. I have a few more images to share with you there. You may also enjoy my earlier post on Argan Oil, Morocco's Beauty Secret.  Have you ever shopped in a souk or market? What items were you excited to discover?