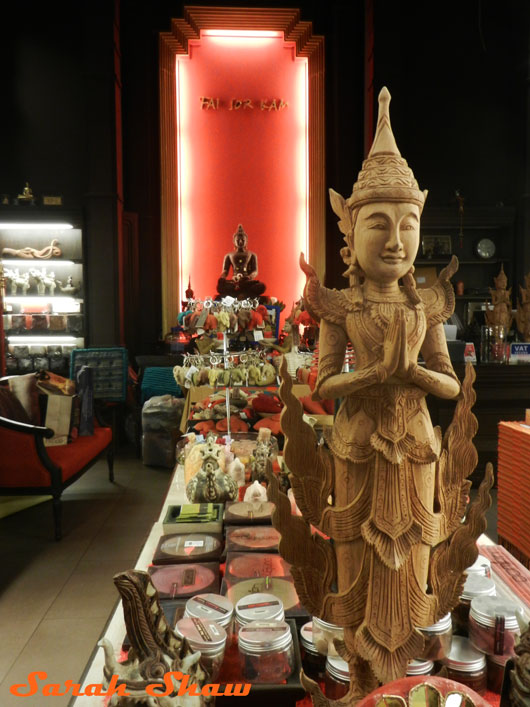 Whenever I arrive in Bangkok and head out for some shopping, one of my priorities is Fai Sor Kam at the Siam Paragon. I can still remember the first time I stepped into this home boutique. The entrance had tall shelves with hundreds of their signature stuffed elephants in a variety of sizes all greeting me with their raised trunks. I fell in love immediately and knew this was a store that could get my suitcase in some trouble. Formally called Fai Sor Kam Home Collection, at the Paragon it consists of both a boutique of accent and decorative items as well as a restaurant open to the mall. It's a place where you can see and be seen by other hip shoppers at one of Bangkok's most exclusive malls. They offer a menu of northern Thai food that I still need to sample. Fai Sor Kam can also be found at the Siam Discovery Center in Bangkok, in Phuket, Thailand and even in Nice, France.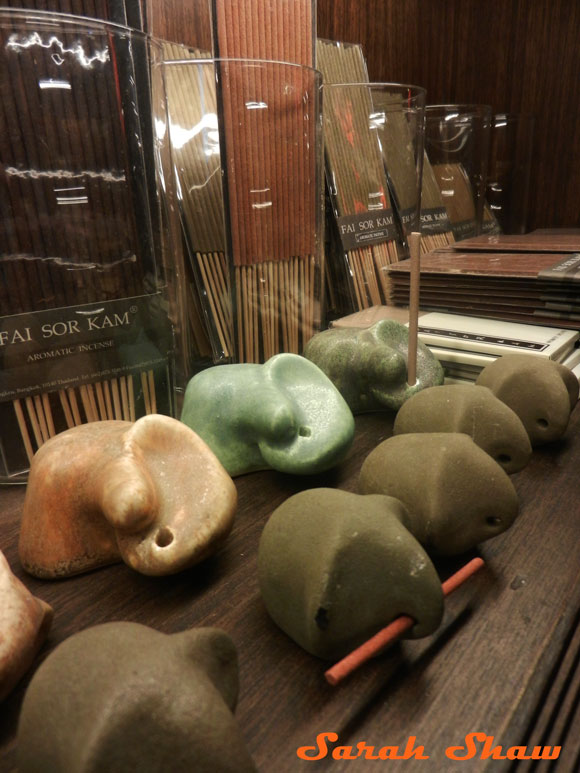 Fai Sor Kam carries a beautiful selection of home goods created by artisans in villages around Thailand. One of the products they are most recognized for is their signature line of candles. They carry a wide selection in different sizes, styles, colors and scents. They started their aromatic candle line in 1994 and they now can be found in department stores and other boutiques. In addition to the candles is a wonderful collection of incense. On my final visit to their store during my fall trip to Asia, I selected several of their blends as well as some really clever incense holders. They have a series of little elephants from clay that hold your stick of incense. Some carry it like a tree trunk while others are laying down and thrusting the incense into the air like a flag. And they are so petite that it is easy to tuck a number of these little elephants, and a pack of incense, in your bag to bring home as gifts for friends. I also found little clay bird incense holders that could sit on any small ledge or in a nook to add your favorite scent in any environment.  I always travel with incense or an aromatherapy candle to make my hotel room a little more special. A set from Fai Sor Kam would be perfect for this.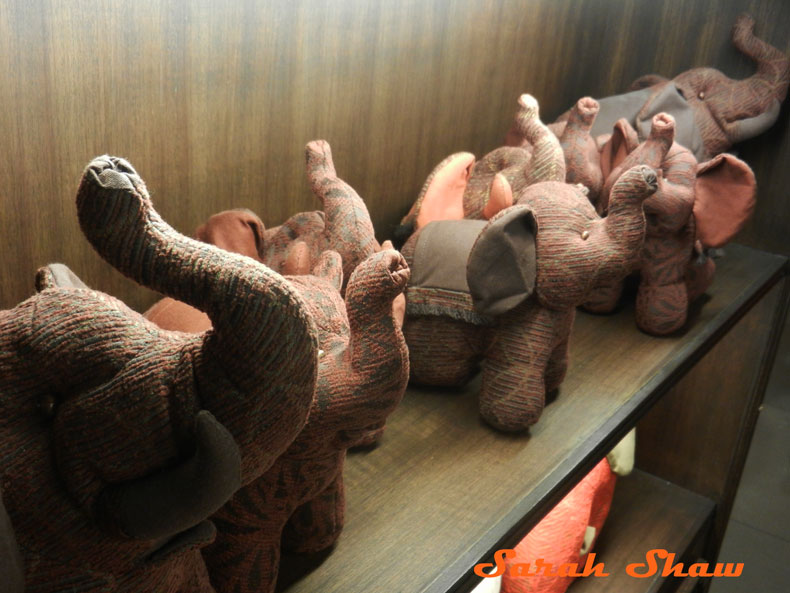 I have always love the array of fabrics they have to choose from at Fai Sor Kam. Their brocades have a beautiful hand to them and you can find an elephant created from most of the choices. They also carry many options of pillow cases and shams to accent your seating or your bed. These cases would be another item that would be an easily transportable souvenir of Thailand as they would pack well in your suitcase. For me, I am always drawn to the elephants and a lovely rusty brown brocade friend, with a coordinating blanket on his back, came home with me this trip. I love how all these elephants seem to smile.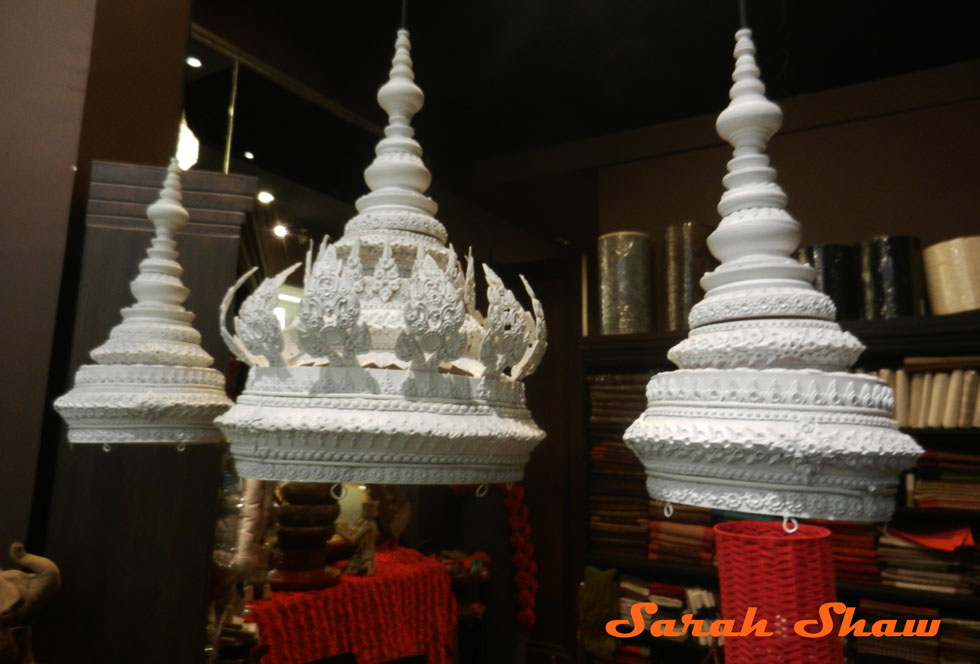 While roaming their store, I discovered some really clever pendant lamps. They have been created by re-purposing the ornamental finials you can find at the top of stupas at Buddhist temples in southeast Asia. In the photo, below, are some I spotted while I toured Indein, Myanmar. At Fai Sor Kam, they have taken some vintage finials, painted them white and then added a light kit. I think it makes a very clever and beautiful pendant light for above your dining table or grouped together in a corner. They are functional art that will create interesting shadows and ambiance in your home.
Fai Sor Kam has a really nice collection of pottery to choose from at their store. Many of the pieces are reproductions of traditional Thai creations. I loved the effect the glaze the potters had selected created and how it gave each piece its own patina like it actually was hundreds of years old. Some of the items are sculptural and you can choose from several different horses and elephants. They also had a selection of antique teapot reproductions. They looked so convincing like you had just come back from an archeological dig and had discovered a cache of these teapots. I selected a small one in the image of that mythological duck you see everywhere. The staff at Fai Sor Kam, carefully wrapped it with bubble wrap and secured it in a box for me so that it arrived home in perfect condition.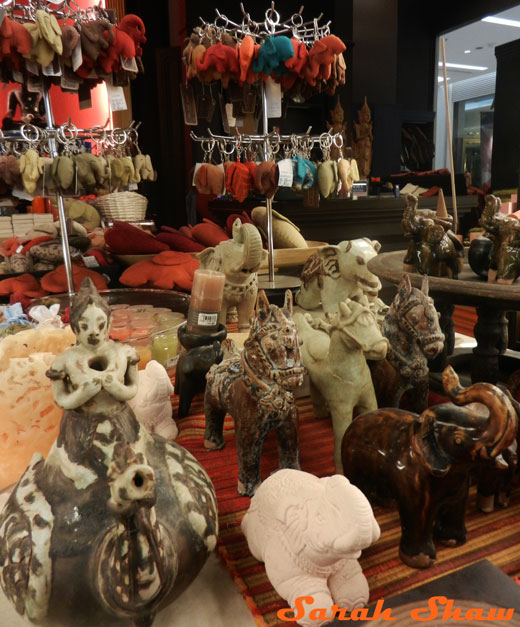 The item that brought me back to Fai Sor Kam multiple times on my fall swing through southeast Asia was the incredible fiber tapestries they had suspended in groupings from the ceiling. I have never seen anything like them before and I think they are ingenious. They are made from a compressed fiber, I think coconut husk, that has been stamped out into a single piece a few inches square. Along each side are two tabs as well as corresponding holes. You are able to take each piece and connect it to others creating a tapestry any size you may need. They displayed them with either three or four across and maybe 15 feet long. You could just as easily put them together to create a block and display them on a wall. I liked them hung from the ceiling to add visual interest in a tall space like their store or in a stairway with a long drop. They could be used as an impermanent room divider suspended from your ceiling. I could also see them being used as a privacy screen, attached to a window, which would still allow light to come into the room but would block others from seeing into your space. I really liked these and purchased a long length to come home with me. I'm still not sure how I will use them but knew I would always regret not buying them as they are so unique. To bring them home, I sat in my hotel room and took apart each row so that I could pack them flat in my suitcase.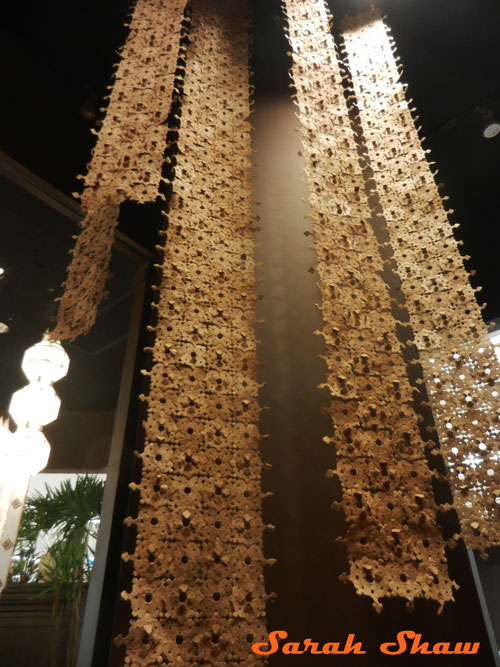 I've been very fortunate to shop at Fai Sor Kam during a few of my visits to Bangkok. I selected some special items to come home with me from this shopping expedition. Gathered together they are the brown brocade elephant, elephant incense holder, bird incense holders, a few different sets of incense, the reproduction teapot and about eight feet of the pressed fiber puzzle tapestry. Not a bad collection from one boutique! Have you enjoyed the images of Fai Sor Kam? Head over to WanderShopper's Facebook Fanpage and view some more in the Thailand album.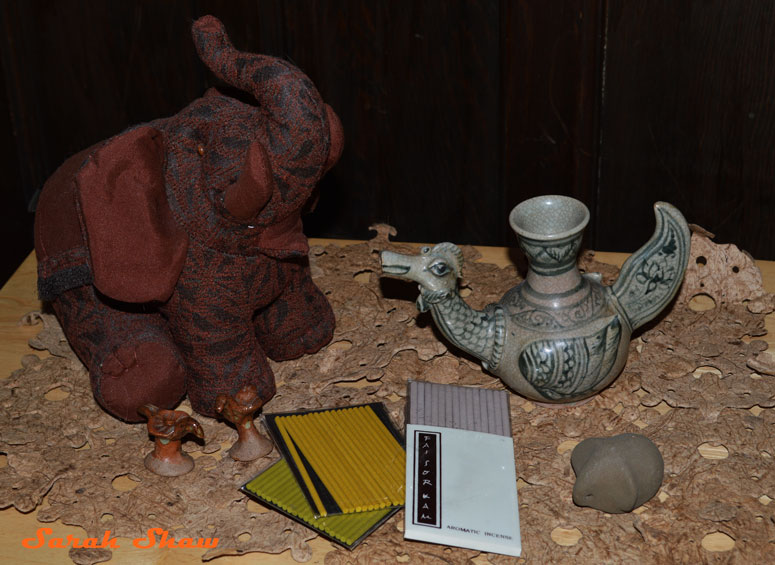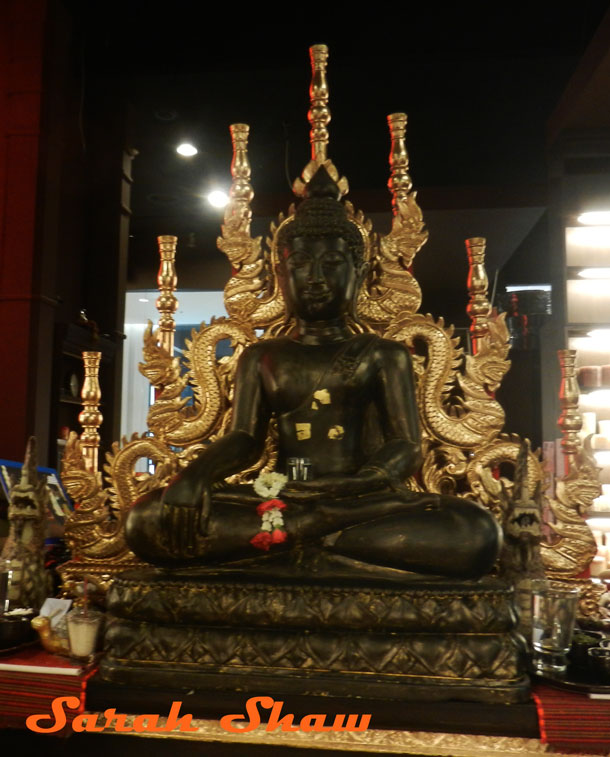 Fai Sor Kam Home Collection
Bangkok:
Siam Paragon and Siam Discovery Center
Phuket:
30 Yaowarat Road, Amphur Muang
Nice, France:
Hi&Be Co.
Les Portes de l'Arlenas