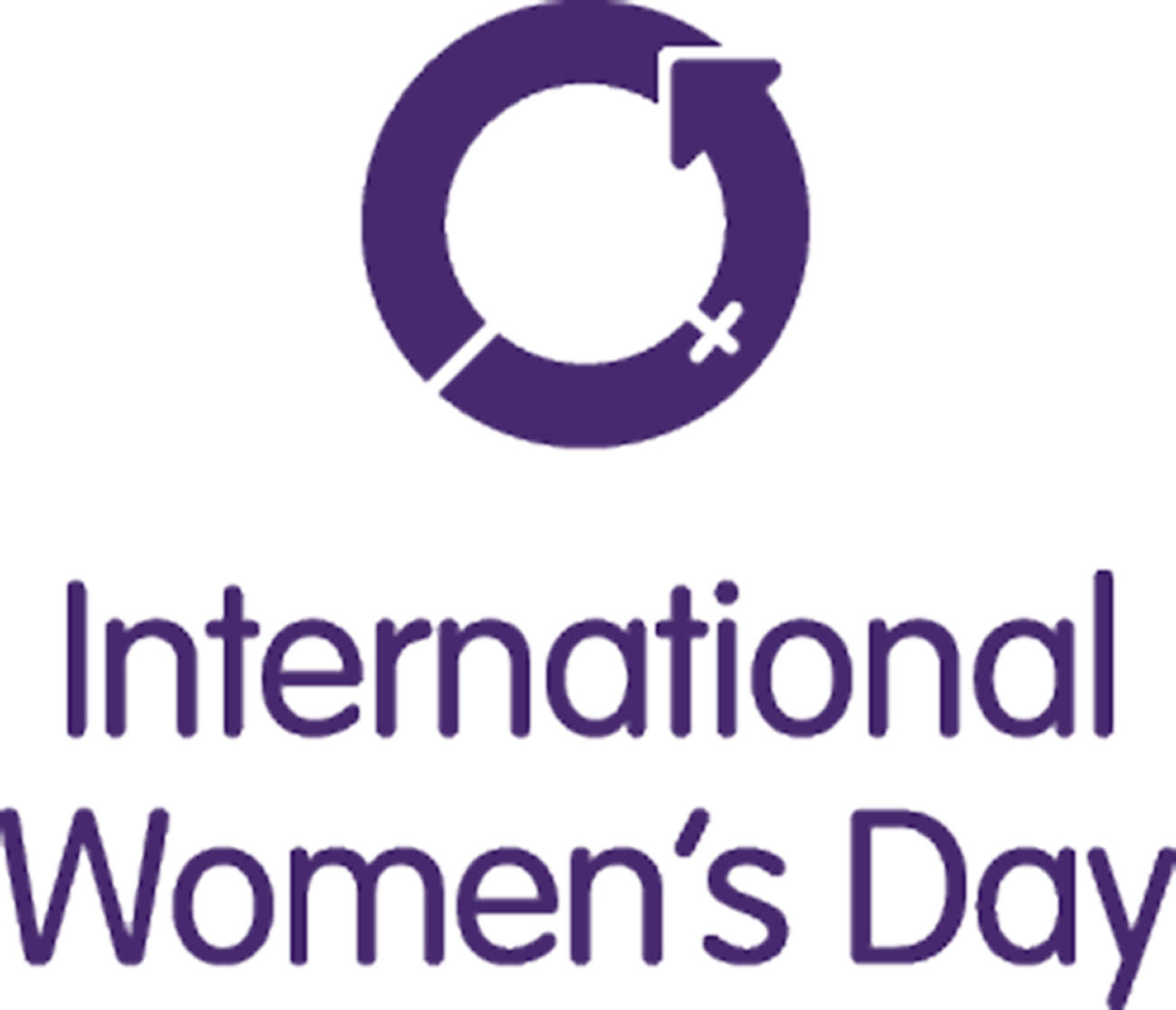 Around the world today, many cultures and countries are celebrating International Women's Day. Started in the United States in response to the oppression and inequality women were experiencing, a march of 15,000 women took place in New York City in 1908. The marchers were demanding better pay, shorter hours and the right to vote. Over the years, International Women's Day was celebrated less and less in the United States and now many American women have never even heard of it. That is not the case in much of the rest of the world. In many countries, it is a national holiday while in others it is widely celebrated in a number of ways. Join me in a walk through photos of women and girls I have encountered during my travels as you learn more about this popular world holiday.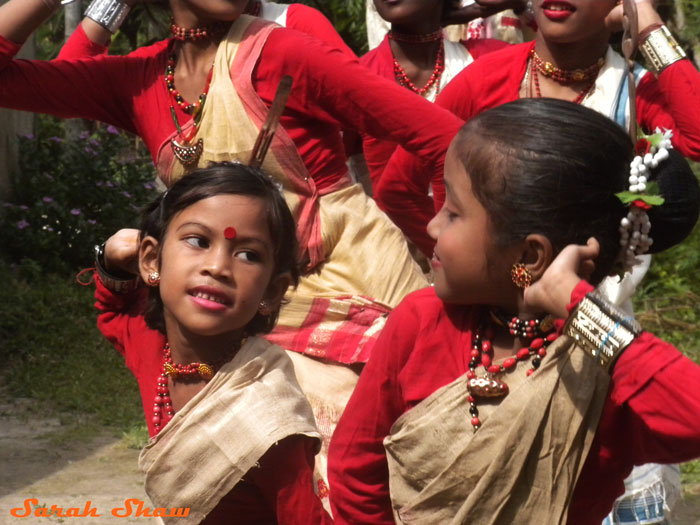 Girls perform traditional dances in a small village in Assam, India
In 1910, the National Women's Day events taking place were noticed and discussed at the second International Conference of Working Women which was held in Copenhagen. At that meeting, over 100 women from 17 different countries voted to declare a global day to celebrate women and to push for the changes women needed around the world. The result was International Women's Day.
Bhutan has recently become a democracy and needs to educate its citizens about voting. These posters are focused toward women voters and are in English on this side of the stand and in the national language of Dzongkha on the other. As seen in Trashigang, Bhutan.
International Women's Day was closely tied to socialist movements in many countries during its early years. The socialist values of equality meshed well with the need to establish basic rights for women. Many events in those years added to the popularity and urgency of the holiday. In 1911, the "Triangle Fire" in New York City killed over 140 working women and brought attention to the need for safe working conditions. In Russia in 1917, many women started the "Bread and Peace" strike to oppose the two million soldiers killed during World War I. The strike continued for 4 days, signaling the start of the Russian Revolution. Eventually the Czar abdicated and Russian women gained the right to vote by the new government.
Women in traditional dress gather after a wedding in Oaxaca, Mexico
Although a political and activist holiday in many countries, in others it is simply a holiday to recognize women. Some describe it as a mix between Mother's Day and Valentine's Day. On International Women's Day, men celebrate the women in their lives including wives, girlfriends, mothers, sisters, co-workers and friends with flowers and small gifts. Children also will give presents to their mothers and grandmothers. It is a day set aside each year to recognize the women around them. Last year I was in Siem Reap, Cambodia on International Women's Day and my local tour guide gave all the women in the WanderTour group a silk scarf as a special gift. For some of the women on the tour, this was the first they had heard of the holiday. I know it was the first time I had ever been celebrated for this day.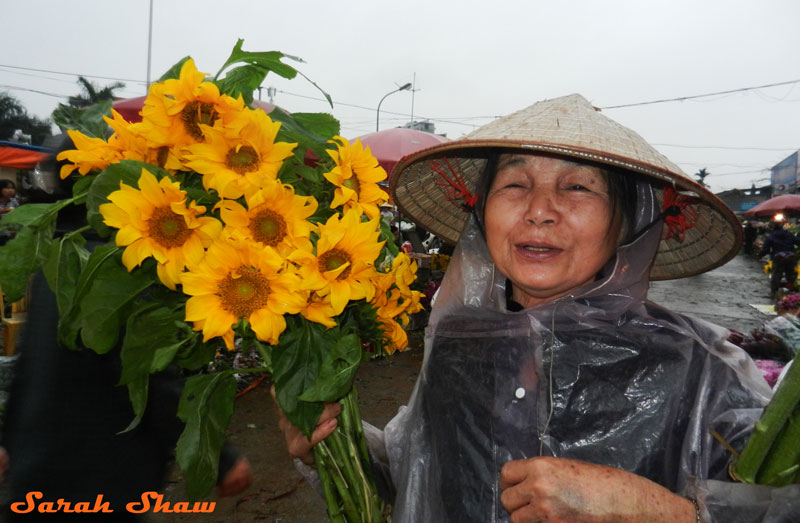 A woman carries a bouquet of sunflowers after an early morning trip to the flower market in Hanoi, Vietnam
As mentioned, many countries count International Women's Day among their national holidays. Those countries include Afghanistan, Armenia, Azerbaijan, Belarus, Burkina Faso, Cambodia, China, Cuba, Guinea-Bissau, Eritrea, Kazakhstan, Kyrgyzstan, Laos, Madagascar, Moldova, Mongolia, Montenegro, Nepal, Russia, Tajikistan, Turkmenistan, Uganda, Ukraine Uzbekistan, Vietnam and Zambia.
As women have for hundreds of years, this visitor gazes through a screened window of the Amber Fort in Jaipur, India
Although women in many countries have made significant progress since 1908, in other countries women are still fighting for basic rights. The holiday has evolved to not only continue the struggle but to also celebrate the achievements and progress women have made through the years. Events are staged locally including marches, rallies, business conferences, craft fairs, fashion shows and theater performances that connect to each other into a global event celebrating women. This year over 1,000 different events have already been scheduled around the world.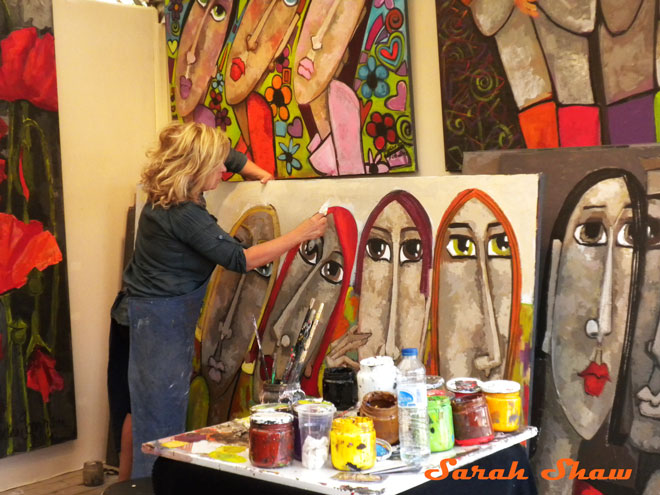 An artist in Paris, France works on her newest painting while exhibiting at an art fair near the Bastille
Different organizations have given themes to International Women's Day. A group by the same name has declared 2013 to be "The Gender Agenda: Gaining Momentum." The United Nations theme for  2013 is "A promise is a promise: Time for action to end violence against women." A big event is also being planned for 2017 which will be the 100 year anniversary of "Bread and Peace" strike and the start of the Russian Revolution. To honor that, another strike is planned this time requesting world participation.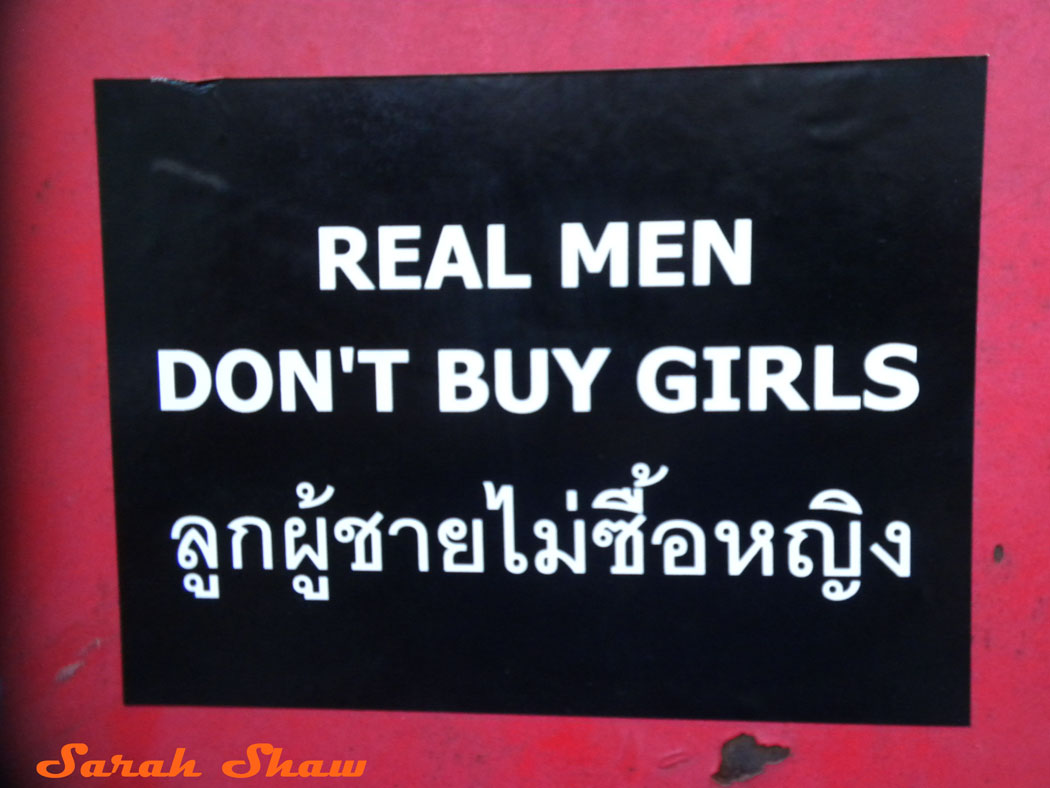 Child sex trafficking and prostitution is a serious problem in Thailand and this street sign in Chiang Mai is part of a campaign to educate locals and tourists
To learn more about International Women's Day, events taking place around the world and what you can do to celebrate, please visit the International Women's Day 2013 website. It is just packed with information and provided much of the history I have shared with you today as well as the logo at the start of this post.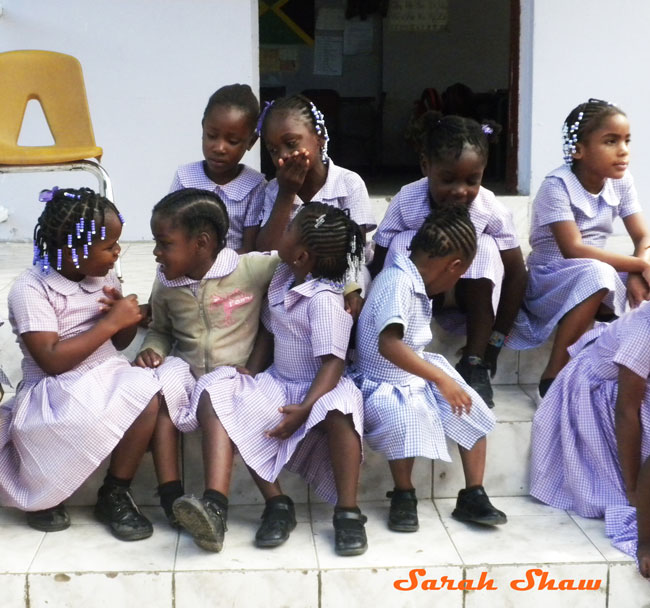 School girls gather outside their classroom in Johns Hall, Jamaica
I have many more photos to share with you on WanderShopper's Facebook Fanpage in the International Women's Day photo album. Please check it out to see more images of women and girls I have encountered during my travels.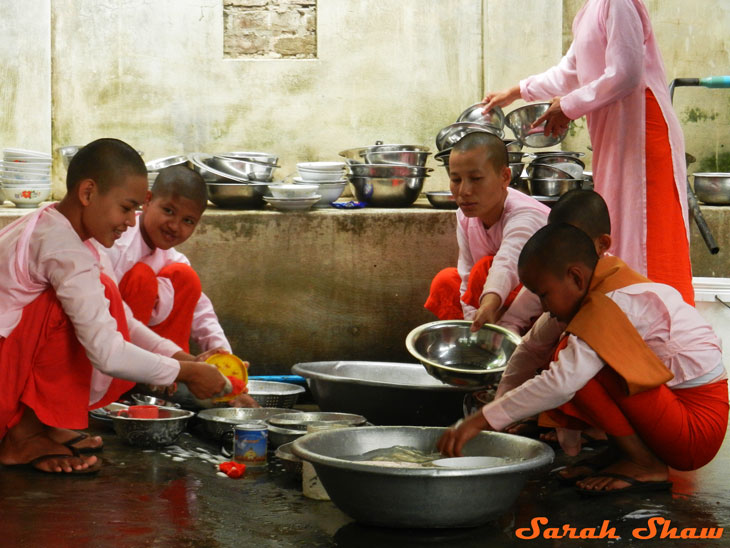 Just after lunch is served, Buddhist nuns near Mandalay, Myanmar begin to wash the dishes at their convent
What International Women's Day celebrations have you joined in the past? How do you plan to celebrate today?