As long as I can remember, I've had an Advent Calendar for the holidays. Even as an adult, I look forward to each morning in December searching for the little number revealing the door I get to peel open and delighting at the image inside. As a child, it gave me something to do as the anticipation grew for the arrival of Christmas and finally being able to open the accumulating pile of presents. Whether an advent calendar is an annual part of your Christmas celebrations or you are thinking of starting a new tradition, WanderShopper has many options for you to consider.
Before we get shopping, let's learn a little more about the tradition. Advent is from the Latin word aventus which means "coming." It refers to the season in advance of the birth of Christ. Advent begins on a Sunday and can start anywhere from November 27 to December 3. It ends, of course, on December 24. This year, advent begins on December 2. Today, most Advent Calendars begin with December 1.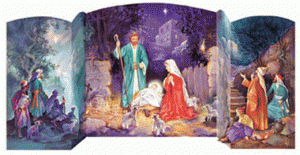 The custom of the Advent Calendar began with Lutherans in Germany. In the early 19th century, families would begin tracking the 24 days before Christmas. They may have done this by burning candles (what developed into the Advent Wreath tradition) or by simply tracking the days with chalk marks on the door of their home. The first known Advent Calendar was handmade in 1851. The first printed version appeared around 1902 in Hamburg. Many traditional calendars are religious in theme with the scene on the calendar, and the images revealed, telling the story of Christ's birth.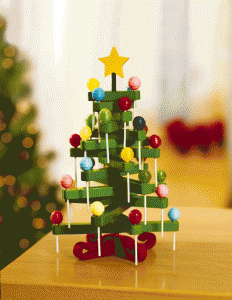 Modern Advent Calendars reflect many secular themes such as Santa Claus or Victorian scenes of Christmas markets. You can also find three-dimensional models that have chocolate or small toys behind each door. Garlands are also popular allowing for people to personalize them by including little notes and other treasures as prizes. Although usually thought of as a distraction for children, Advent Calendars can also be a fun practice for adults. Instead of candy and toys, fill each space with love notes, jewelry and other mementos personal to you.
This year I am going with a traditional paper Advent Calendar from Germany tacked up on my refrigerator. I purchased mine at Bronner's Christmas Wonderland during my visit this year. You can learn more about Bronner's in this earlier post. There are so many great options available this season that I want to share with you so you too can count down the days. Here are some great ones I have discovered: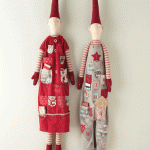 Garnet Hill offers these fun elves from Denmark. They are loaded with numbered pockets to fill with candy, toys, prizes or notes to surprise the kids each day. I purchased one of girl elves years ago before she had transformed into a calendar. She has made a fun addition to my holiday decorations as you can hang her on a wall or sit her on a bench. Scandinavian homes always have elves around for the holidays. Adopt an elf of your own at Garnet Hill.
Garnet Hill also offers this great Advent Calendar garland. It is a string of tiny hand-knit wool hats and mittens in a Fair Isle design. Each one is embroidered with a number to tell you the day in December. It would be great strung across a fire place although if you plan to fill it with chocolates, you might choose a cooler location. I think it would be nice above a child's bed on the headboard or maybe along the top of a doorway into the kitchen or mudroom. It could also be added to your Christmas tree. Ordering the garland is easy at Garnet Hill. They also offer a collection of 25 toy stuffers which would work great with this or the elves above.
Another take on the Advent Calendar garland is from Sundance Catalog. They are offering 25 little natural linen sacks each embroidered with their number to hide treasures and surprises. Each sack has a loop attached to make it easy to display in a window or up a stairway. It would be fun to open a sack each day and discover what treats are hidden inside. Interested in getting the Linen Advent Garland for your home? It can be found at Sundance.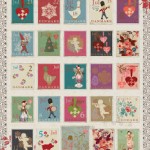 If you are looking for chocolate with your Advent Calendar, I suggest the one offered by Huset Shop. Behind each door your will find a delicious Lindt chocolate heart wrapped in gold foil. One of my favorite designs for an Advent Calendar, this one is from Danish brand Maileg and is a collection of their iconic prints. Visit Huset Shop to purchase this beautiful Chocolate Advent Calendar and many other fun Scandinavian holiday items.
For an extraordinarily beautiful cloth advent calendar, shop at Crate and Barrel. This year they are featuring one from Finnish Marimekko and it is a wonderful colorful collection of patterns from the mother-daughter team of Maija and Kristina Isola. 24 pockets are randomly placed across a blue batik patterned background. This one really took my breath away, as you can tell. It has been popular at Crate and Barrel too as it has already sold out on-line. Here are the details for the Marimekko Advent Calendar. If your heart is set on this one, head to your nearest Crate and Barrel right away before it is completely gone. And grab one for me too!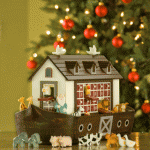 A really fun Advent Calendar is offered by one of my favorite businesses, the Gardeners Supply Company. They created Noah's Ark, 12 pairs of animals and Noah to be discovered behind the 25 doors on the Ark. Your menagerie will grow each day with sheep, elephants, giraffes, cows, roosters, monkeys, zebras, pigs, lions, tigers, geese, chickens and a pair of doves for the roof. Each door is held closed by a magnet so this is really well made. Displayed under the tree or as your table centerpiece, this Advent Calendar is sure to become an annual tradition. You can find Noah's Ark as well as the Lollipop Tree, pictured above, at Gardener's Supply Company.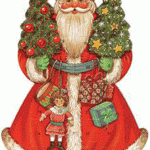 If you want to share an Advent Calendar with someone far away, this Santa card may be a good choice. It comes with its own envelope for mailing. A vintage Santa holding Christmas trees, a doll, a drum and some packages also stands up so it is three dimensional. And at $4.50, it is the lowest priced option on my list so maybe pick up a few to send to those near and dear. Ingebretsen's Scandinavian Gifts is offering  this 3D Santa Advent Calendar Card. Poke around the site while you are there and discover some of their other wonderful holiday decorations and foods.
The first two Advent Calendars pictured in this post are from the Vermont Christmas Store. They have an enormous collection of traditional paper Advent Calendars. currently numbering over 300. Among the choices I found both the Helping Santa Jumbo Advent Calendar and the Manger Scene Advent Calendar at their site.
Do you have memories of a favorite Advent Calendar? Share them with us.
Photo Credits: All pictures are the property of the sites offering the Advent Calendars for purchase.