Without question, one of a WanderShopper's best sources for Christmas Decorating items has to be Bronner's Christmas Wonderland. Founded in 1945, in Frankenmuth, Michigan, Bronner's is the world's largest Christmas store with a sales floor bigger than 1.7 football fields.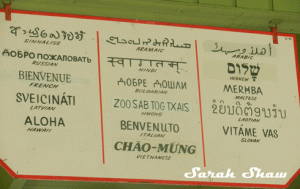 And it's open 361 days a year so you can satisfy that Christmas craving whenever it may arise. Bronner's welcomes over 2 million visitors a year from all over the world. You can see this reflected in the Welcome Signs in over 60 different languages.
A visit to Bronner's is truly a trip to a Christmas Wonderland. They offer over 500 different Nativities, 700 whimsical animated figures, 350 decorated trees and 50,000 trims and gifts. Christmas carols play as your eyes adjust to all the twinkling lights and magical displays throughout the store which give you endless inspirations of how to show your holiday spirit.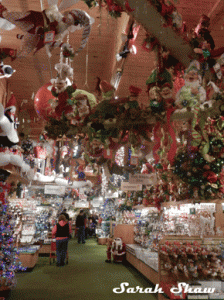 More than 3 million people receive the Bronner's catalog around the world each year. And over 3,000 of their items are also offered on their website. Bronner's really celebrates it's international appeal and proudly displays currency they have received from shoppers from all over the world.
Bronner's ornaments are displayed in groups by themes. They have a large international section with individual sections by country or region. Some ornaments reflect an artisanal tradition like Egyptian glass blowing. Others celebrate a symbol of the country like the Eiffel tower from Paris, France.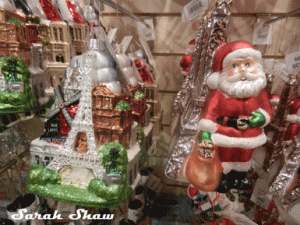 I also like some of the general travel themed ornaments like globes, luggage and passports and flags of the world. They would make a nice gift to any friends with Wanderlust! You can find the passport ornament by clicking here.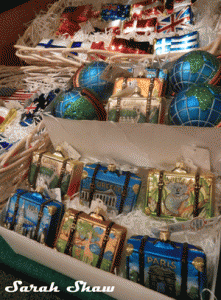 Many of the ornaments come with tags telling you more about Christmas traditions. For example, pickle ornaments are popular purchase at Bronner's. In Germany, it is a tradition to hang a pickle ornament last on the tree and to hide it deep among the branches. The next morning, all the children would search for the pickle ornament. The first one to discover it earned an extra present. This would make a fun gift for a neighbor or friend with young children. Get your own pickle ornament here.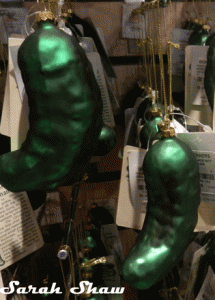 One of the popular activities during your visit to Bronner's is to have the ornaments of your choice personalized. Bronner's has artists available to customize your selections while you wait. This tradition began when founder Wally Bronner made custom ornaments for his employees' children. Here an artist adds a new baby's name and birthdate to a blue ornament to be given as a gift to the proud parents. Other popular choices are to celebrate a wedding or a new home. Shop Bronner's selection of personalized ornaments here.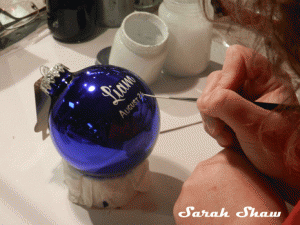 Another favorite attraction at Bronner's is to visit the Silent Night Memorial Chapel. A replica of the original in Oberndorf, near Salzburg, Austria was created in 1992. Surrounding the chapel are plaques in over 300 languages with the words to the popular Christmas hymn. Every Christmas eve at 3:00 pm, you will find the Bronner Family there leading everyone in singing "Silent Night."
Having recently visited Myanmar, I was excited to discover several of the languages spoken there represented among the Silent Night plaques. Here is one in the languages, Jingpaw.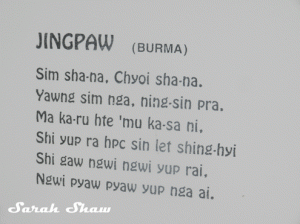 One of my favorite ornaments that Bronner's offers is the "Merry Christmas" ornament which is available in over 70 languages. Here is "Merry Christmas" in Arabic.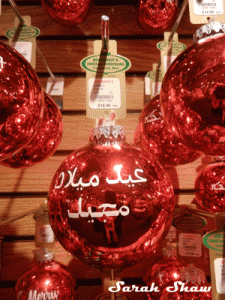 For many people, another important symbol of Christmas is the nutcracker. Here are just a few from the large selection Bronner's offers. They have both big and small nutcrackers.These are Christmas themed but they also offer traditional nutcrackers. Every aspiring Clara needs her own nutcracker!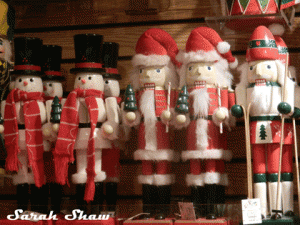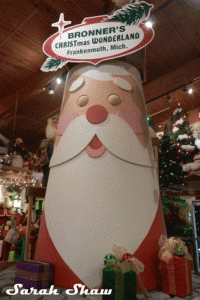 I have only been able to give you a small sampling of all the Christmas discoveries from Bronner's. They have a huge selection of trees, lights and other decorations. They also have a cafe' on site so you can keep up your energy as you explore all the options.Consider making Bronner's your Christmas decoration destination either in person or at their website.
WanderShopper Bits:
Bronner's Christmas Wonderland
25 Christmas Lane
Frankenmuth, MI 48734-0176
989-652-9931
Do you have a favorite Christmas ornament that makes your tree? What are your favorite tree trimming traditions?