I have a confession to make. I don't go shopping on Black Friday. I rarely ever go to a mall when I am at home. The idea of getting up early on my day off to circle the parking lot looking for a spot, fighting with other women to get access to a bin only to successfully purchase something I don't really want or need just for a discount just doesn't do it for me. For a WanderShopper to say that out loud seems like sacrilege somehow. But it's true. For my shopping efforts, I want good rewards. A shopping day that does get me really excited is heading to a local market when I am abroad. I had an excursion like that just earlier this month when I was visiting Inle Lake in Myanmar.
The days spent on Inle Lake were among my favorite of the tour. Found in Eastern Myanmar, Inle Lake is a tranquil escape where motorized canoes ferry passengers around the 13.5 x 7 mile lake and through the narrow canals and marshes at its edges. Favorite photo opportunities for tourists are watching the Intha tribesman fishing with their unique conical nets and rowing their skiffs using their leg and a wooden paddle while standing on the back. Nowhere else can this technique be found and it is fascinating to watch.
One of the main trading and shopping opportunities for the residents around Inle Lake is the 5 Day Market. Towns around the lake take turns hosting the market as it rotates around in a 5 day cycle. Ask a local to uncover where the market will be on the day you wish to visit. Many different tribes are represented at the market including the Intha, Shan, Pa-O, Taung Yo, Danu, Kayah and Danaw. Many travel down from the surrounding mountains to trade produce, livestock and to sell their handicrafts to tourists. Join me for my stroll through the market as I shopped for souvenirs and took pictures to capture its essence.
Most of the first tables and stalls I approached after disembarking from my boat were aimed at tourists. Right away I came across a variety of nativity sets for purchase. Some included carved wood boxes with holes hollowed out to size for storing each of the pieces. I also liked these which came with a lacquer box reflecting the importance of lacquer ware in Myanmar's culture.
Another popular souvenir offered to tourists was jewelry. There was a wide selection of silver coins and plugs made into necklaces and bracelets. There was a fair amount of other cheaper metals like tin and aluminum so take care to know what you are buying and spend accordingly. This booth had a nice selection of bangles.
Once you get a little deeper into the market, you will find the vendors who appeal to the locals. Here is a stall selling a variety of produce. While buzzing around the lake during my stay, I saw many gardens set up from reclaimed land and growing as one giant hydroponic project. All the food I ate was always brilliant in color and full of flavor.
Another stall sold dry goods like a variety of different beans, peas and ground flours. They were also different in that they took advantage of a second level of display space suspended below their tarp as well as the space low to the ground on a platform. The market was incredibly hot and shade was sought by both vendors and customers.
I was really interested to come across an herbalist as I wandered the market. She was selling a variety of herbs for both use in cooking  as well as for medicinal cures. She had an impressive selection.
For those looking for more modern medical treatments, you only needed to visit the stall of the traveling pharmacist. I was really surprised the the extensive variety of medications available for purchase and in such a casual setting compared to our sterile and secure pharmacies at home.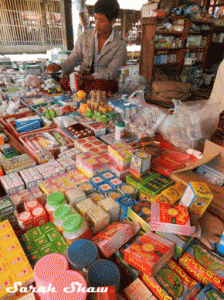 Maybe it's not medicine you require but just a good buzz. Well then you may be looking for this team selling betel nuts. These are one piece of a three part equation which also includes the leaves and lime to make the reaction take place once you pack it between your cheek and gum. Many people still prefer to buy their own ingredients and make the blend just so rather than buying it pre-made.
Looking for some entertainment for the weekend? Pop by the video store at the 5 Day Market. Here a wide selection of DVD's from all the popular movies are available. They even advertise the newest releases with movie posters tacked to the wall at the back and sides of the stall.
By now you are probably getting hungry. The 5 Day Market has a number of small cafe/restuarants as well as food stalls set up in one corner. Sit down and savor some coffee or fruit juice. Or maybe get an order of fresh fried bread dough. Other snack choices include the delicious look fried bundles.
If you are a kid coming to the market, you are surely excited about the opportunity to get some candy. When I was little, I loved going to the five-and-dime as they always had a fun selection of sweets. The Five Day Market does not disappoint. Many candy choices are on the table as well as servings of yogurt for sale on the shelves behind.
Some vendors were very interested in making a sale and would follow you around the market for awhile after you left their stall trying to find that perfect price for an item you had admired. That was not the case with these two. They had the most casual attitude of all the vendors I encountered. I guess everyone needs cooking oil and as the only stall, they could count on everyone making it there sooner or later. I believe they told me it was peanut oil. You would let them know how much you needed and they would pour it out for you.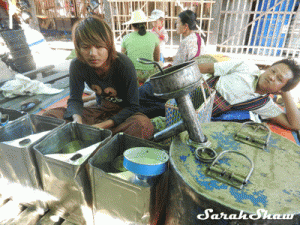 A blacksmith's stall is also something you would be unlikely to come across during you Black Friday crawl at home. Here these metal smiths supply all the tool heads, files and knives a family is likely to need. Make your selection and then a handle can be added if needed.
I had only an hour to shop at the 5 Day Market but I was able to see and experience a lot about commerce on Inle Lake. Like most markets in Asia, it is expected that you are going to bargain for the final price you pay. The souvenir vendors tended to be the most assertive and were anxious for make a deal with you. I found everyone extremely friendly and all had a smile to share. Right as I was leaving the market, I came across a stall selling different images of the Buddha, carved from sticks of wood. I ended up purchasing a standing Buddha but was also really taken with this bust. It was painted and burnished in gold.
Do you have favorite memories exploring a rural market? What treasures were you able to find?