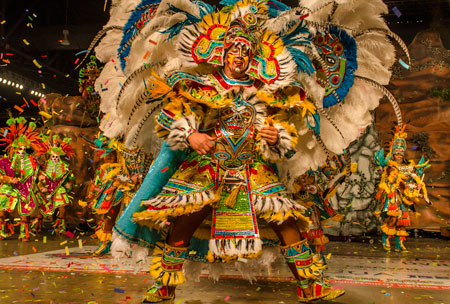 For many Americans, New Year's morning means one thing: the Tournament of Roses parade. Hundreds of thousands of people flock to Pasadena, California, to line the parade route, while millions more tune in to watch the spectacle on their TVs. But in Philadelphia, another New Year's Day parade holds sway, one filled with sequins and plumes instead of petals: the MUMMERS PARADE. This annual celebration, one of the longest-running traditions in the country, is a true Philadelphia institution, one full of costumes, ragtime music, and flamboyant pageantry as only the City of Brotherly Love can provide.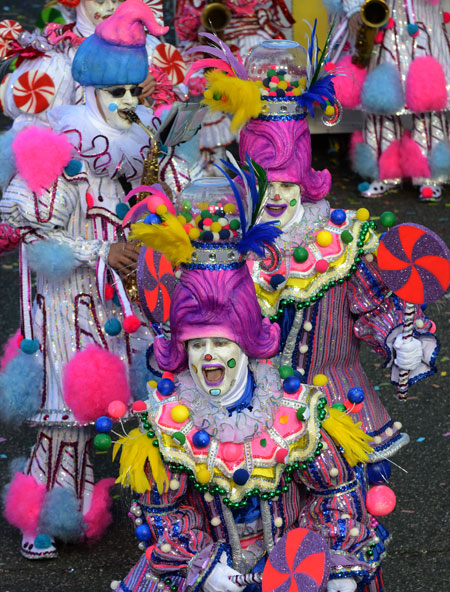 So what is a Mummer? Mummers are men and women of all ages who belong to one of the more than 40 social clubs that function mainly to stage colorful performances on New Year's Day. While Mummery dates back to ancient Rome, locally, Swedish settlers to Philadelphia dressed up to honor Christmas and entertained their neighbors in exchange for ale and cake. The tradition eventually moved to New Year's Day and evolved into a series of neighborhood parades. Over the years, immigrants from Ireland and Italy moved into the area, bringing with them their own form of Mummery. In 1901, the first recognized and judged Mummers Parade was organized by the City of Philadelphia. The term "Mummer" is German and means "to costume or masquerade."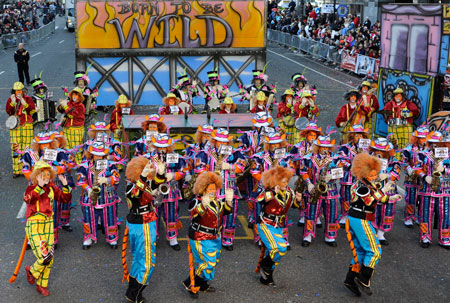 There are five divisions of Mummers.
Comics: These are the clowns who like to parody current events through political satire. They typically wear colorful costumes with multilevel umbrellas and strut up the street to "Oh, Dem Golden Slippers," which has become the theme for the parade.
Wench Brigades: No, this division isn't just women—it's men in dresses. An offshoot of the Comic Division, the Wench Brigades combine live bands with traditional Mummery and can be as large as 100 members. Each Wench Brigade portrays a centralized theme.
Fancies: The Fancy divisions are often considered the beauty highlight of the parade. They're known for their elaborate capes and framed suits that have to be pushed or pulled by another person.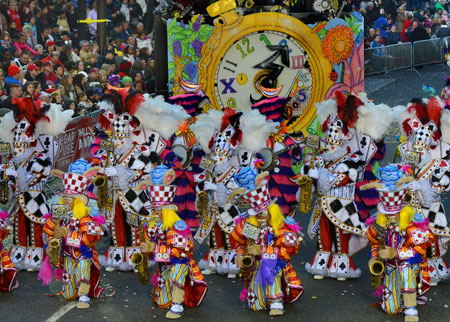 String Bands: The musical highlight of the parade. Bands usually perform period-style music, reminiscent of ragtime, and no brass is allowed. The combination of reed, string, and percussion instruments has defined the Mummers' sound for more than 100 years.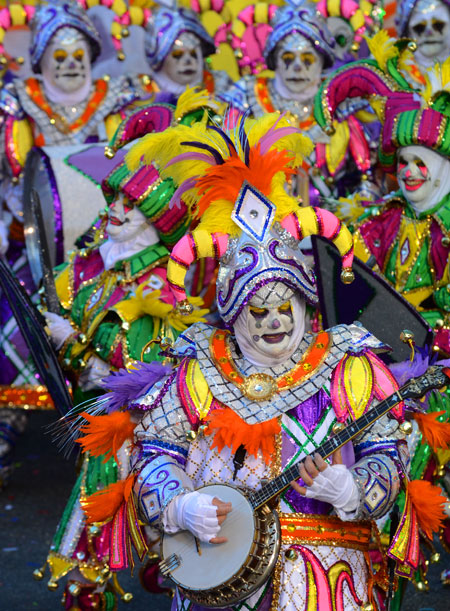 Fancy Brigades: The Fancy Brigades emerged in 1978. They're known for their elaborate props, precision drilling, and Broadway-style choreography. The Fancy Brigades also perform competitively in the Convention Center each New Year's Day.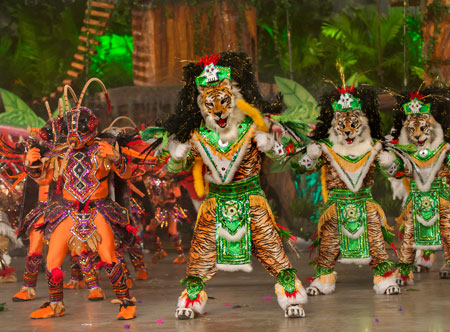 2015 marks the 115th annual Mummers Parade, and with this milestone comes some changes, including a new route that heads south on Broad Street instead of north.
The parade begins at 10 a.m. at City Hall, with judging taking place at 15th Street and John F. Kennedy Boulevard. Then, more than 10,000 men, women, and children will twirl, sashay, and strut down Broad Street to Washington Avenue, where parade-goers can view all of the action on Jumbo-trons. Finally, after the party winds down on Broad Street, it heads back to the South Philly neighborhoods, especially along 2nd Street (affectionately known as Two Street), where many of the Mummers clubhouses are located.
And this year (or, technically, next year), the Fancy Brigades will strut along the entire parade route before heading to the Philadelphia Convention Center for their spell-binding theatrical performance competitions. There are two ticketed competitions, one at noon and the finale at 5 p.m.
For more information on the Mummers Parade, including how to get tickets for the Fancy Brigade competitions, and general information on where to stay and what to do while in town, visit visitphilly.com and PhillyMummers.com.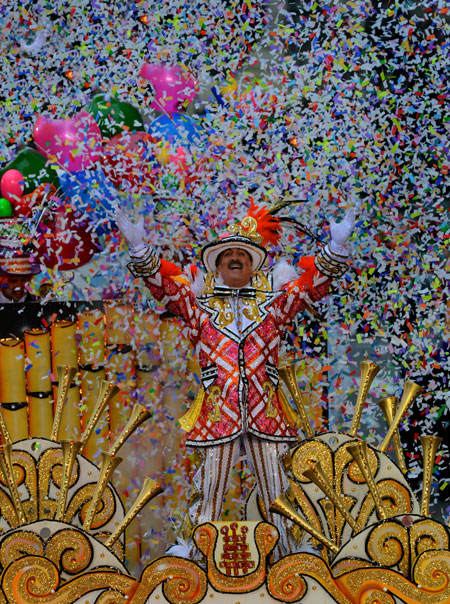 Looking for a place to keep warm during the parade? Most of the bars and restaurants along Broad Street will be open before, during, and after the parade. And at the end of the day, 2nd Street comes alive as the festivities take to the street and its bars with impromptu performances, drinking, and…well…more drinking until the early morning hours. It's like Mardi Gras meets South Philly. Here are just a few ideas of where to go for the ultimate Mummers experience.
KIMMEL CENTER FOR THE PERFORMING ARTS: Located directly along the parade route at Broad and Spruce Streets, the Kimmel Center will open its doors from 10 a.m. to 6 p.m. for parade viewers to warm up and grab a bite to eat. Its Peco Café will feature a tasty menu of Philly fare including cheesesteaks, hot dogs, soft pretzels, and an assortment of Philly-brewed beer.
300 South Broad Street, kimmelcenter.org
PERCH PUB: With floor-to-ceiling windows overlooking Broad Street at Locust, Perch Pub is the perfect spot for parade-viewing. And with 14 craft beers on tap, a bottle list of 104 selections, and a bar full of bourbons, whiskeys, and Scotches (included house-infusions), the festivities don't stop at the door.
1345 Locust Street, perchpub.com
DIRTY FRANKS: This South Philly institution opens its doors at 10 a.m. for its annual Mummers Parade Celebration, or as its website calls it, an "all-day hurdle event, which involves leaping over walls of parade-goers, Mummers, Fancies, and clowns in various states of revelry and disrepair."
347 South 13th Street, dirtyfranksbar.com
SUGARHOUSE CASINO: The parade's sponsor offers revelers both an escape from and easy access to the action. It all starts at 10 a.m. with the Mummers Brunch, featuring live music and Bloody Mary Shrimp Shooters. From 10 a.m. to 6 p.m., parade-goers can park for free in the casino's parking lot and take its free Mummers party bus to and from the parade.
1001 North Delaware Avenue, sugarhousecasino.com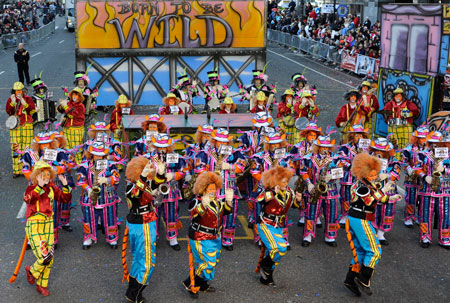 Veni, Vidi, Bibi!
—Rebecca
 All photos by R. Kennedy for Visit Philadelphia.