About five years ago, following a trip to Lithuania, I was at home relaxing on the couch and flipping through the TV channels when an image of a guy standing in the Town Hall Square of Lithuania's capital city, Vilnius, flashed on my screen. Just who was this crazy man who went on to arm-wrestle a local strongman and down beers with the colorful owner of a popular drinking hole in the city's Uzupis neighborhood? Of course, I had to watch! Turns out I had come across a travel show called Three Sheets, and unlike the wildly popular No Reservations and Bizarre Foods, this show dealt not with food but with its popular liquid complement: alcohol. The boozy subject matter, made even more interesting by its fun-loving, funny, and downright entertaining host Zane Lamprey, had me instantly hooked.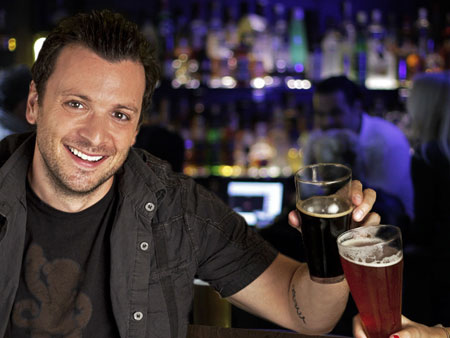 Three Sheets ran for four seasons, after which from 2010 to 2012, Lamprey hosted Drinking Made Easy, which focused on U.S. and Canadian drinking destinations. Now he's back as the host of a new drink-travel show, Chug, which premiered on the National Geographic Channel on November 24.
According to Chug's press kit, the show "takes viewers on a bar crawl around the world. Motivated by his thirst to try local customs, food, and alcohol, Lamprey travels by train to an array of exotic and boozy locations and along the way interacts with the local culture and befriends new drinking buddies." So far, Lamprey and Chug have visited Kuala Lumpur, Syndey, and Fiji, three amazing destinations.
What's even more amazing is the fact that Chug was funded through a Kickstarter campaign. Wanderlush Diary recently had the chance to interview Lamprey about this unique form of fan financing, Chug, and traveling the world in search of the perfect potable, as well as his newest Kickstarter project. Keep reading.
Wanderlush Diary: After success with Three Sheets and Drinking Made Easy, what made you decide to develop Chug?
Zane Lamprey: What else what I going to do? I have no other marketable skills! I filled out an application at Blockbuster, but they haven't returned my calls. Actually, I think the number is disconnected.
WD: Why did you raise funds through Kickstarter?
Lamprey: I pitched Chug as a TV show around Hollywood, and [all of the networks] passed. All of them! So, at the suggestion of my mother, I launched the Kickstarter campaign. She convinced me that if it could work for Veronica Mars (a cancelled television show that was made into a movie), it could work for me. She was right. We didn't have an easy campaign like Veronica Mars had, hitting its goal in the first day. We hit our goal on one of the last days. Just when others would have lost hope, we (the fans, my crew, and me) prevailed.
WD: How did it feel when the National Geographic Channel picked up the series?
Lamprey: Fantastic! I love National Geographic. We had a choice of several networks when the series was ready to sell. NatGeo convinced us that they were the most excited about airing it.
WD: What makes Chug different from your other series?
Lamprey: It's the natural evolution from my other TV endeavors. So, it's the same, but (hopefully) better! I'm not the wide-eyed neophyte that I was back then. As a rum company owner [Note: Lamprey is also the owner of Zane Lamprey's Monkey Rum], author, and host of many shows about drinking, I'm a veritable expert. But, that doesn't make it any less fun for the viewer.
WD: How did you become an expert?
Lamprey: Prior to Three Sheets, all I knew about alcohol was what it did to me. I knew nothing of what went into making it. But, as with anything that I love doing, I embrace it and learn as much as I can about it.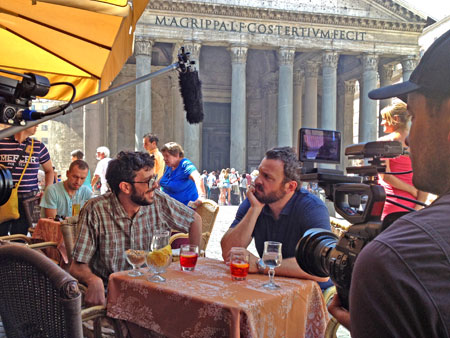 WD: Now that you've imbibed around the world, it is true that travelers can get a better feel for a destination by sampling the local libations?
Lamprey: Having a drink, or drinks in moderation, is an amazing way to learn about local cultures and customs as you're traveling. Alcohol is a social lubricant that warms people's hearts and gets them to open up and be more quick to welcome in strangers. I've made so many great friends while shooting the show. To me, that's what it's all about.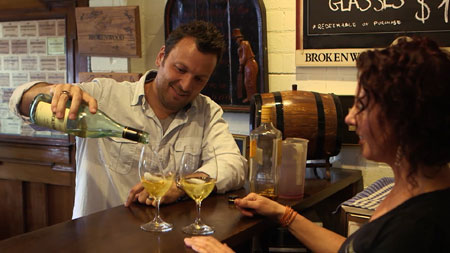 WD: Have you had any drinks or drink experiences that really amazed you?
Lamprey: I'm constantly amazed… although I'm consistently amazed when people put dead things in alcohol—with the intention of drinking it—like snakes, geckos, bugs, and an armadillo. Yeah, I know. Gross!
WD: What advice would you give to someone who is interested in learning more about local beverages while traveling?
Lamprey: Walk into a watering hole and start talking. It'll all happen from there. It just needs a small spark to get it started. People are so eager to talk about their country/city/region. You just need to give them a gentle nudge, and they'll tell you anything you want. And that gentle nudge, by the way, is a drink. Spend a few bucks to by someone a drink, and you'll have made a friend for life!
WD: In addition to Chug, you're also promoting The Drinking Jacking, which you're crowdfunding through Kickstarter. Tell me about that.
Lamprey: A few years ago, I wanted to see if I could make a bottle-opener zipper to add to the hoodies I was selling. Then I figured that it wouldn't be too much more effort to add a neoprene-lined beer koozie pocket. Then I added drinking mitts. Then a hidden flask pocket.  I then realized that it was no longer any ordinary hoodie—although I never wanted it to look like anything but a nice hoodie—so I needed to name it. It was no longer a hoodie for drinking. It became The Drinking Jacket.
Then a few months ago, I was wearing it while taking a tour of the Kickstarter headquarters in Brooklyn. The people there were admiring it and asked where they could buy one. I told them I didn't have any more. So they asked if I would Kickstart it so they could get jackets for themselves. The rest is history.
For the version I have on Kickstarter, I made a bunch of enhancements, like deeper pockets, bigger sizes, and a sunglass holder. I've lost so many sunglasses when day drinking turned into night drinking, and outside drinking turned into inside drinking!
WD: So far, the campaign, which ends on December 22, been a great success. Are you surprised at the reaction of your fans?
Lamprey: I'm never surprised with the generosity of the fans. I am incredibly pleased and touched, but not surprised. They've been there for me, and the shows, from day one. I am very lucky.
WD: Any last thoughts?
Lamprey: You never asked the cliché "What's your favorite drink question"! Well done! But, I actually have an answer for that. I'd love everyone to try my rum: Monkey Rum. It's my favorite drink!
Are you thirsty for more? Well, if you haven't yet seen Chug, there's still time. Three more episodes remain. On December 15, Lamprey visits Vienna. On December 22, he takes on Rome, and on December 29, he drinks his way through Budapest. Don't miss it!
Chug airs Monday nights at 7:30 p.m. EST on the National Geographic Channel.
Veni, Vidi, Bibi!
—Rebecca