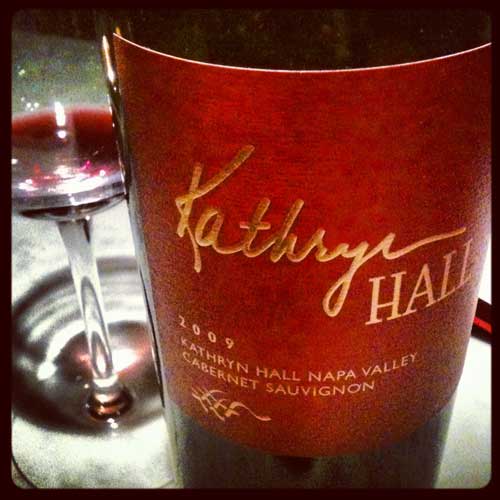 Finally, with much anticipation, the 2009 HALL "Kathryn Hall" Cabernet Sauvignon has arrived. HALL Wines, a Napa Valley winery, hosted a lively affair to welcome this nectar of the Napa Valley gods, at West Hollywood's Mercato di Vetro. My friend, Lindsay, also a wanderlusher like myself, and I were thrilled to be at the members-only celebration.
Why all the fuss about a release? Well, based on last year's acclaim of the 2008 vintage, this one is expected just as fine. The 2008 HALL "Kathryn Hall" Cabernet Sauvignon was ranked #2 on Wine Spectator's Top 100 List where they rank wines from around the world. Robert Parker himself, the wine make-it-or-break-it critic, gave it 93+ Points and described it in The Wine Advocate as 'full-bodied, showing notes of minerality and more dusty, loamy scents intermixed with crushed rock, black currants and herbs, it is a deep, full-bodied wine.' With all the praise via 90+ point rankings, it sold out to thirsty, quality-seeking wine collectors.
This is why the release of the 2009 HALL "Kathryn Hall" Cabernet Sauvignon, named after the owner, was such a big deal. Six wines were sampled during the night of launch. Here they are as follows:
2011 HALL Napa Valley Sauvignon Blanc
2009 Craig's Cuvee
2008 HALL "Napa River Ranch" Merlot
2009 HALL Napa Valley Cabernet Sauvignon
2009 HALL "Kathryn Hall" Cabernet Sauvignon
2010 WALT "La Brisa" Sonoma County Chardonnay
2010 WALT "La Brisa" Sonoma County Pinot Noir
Guests in attendance snacked on artfully presented appetizers while working their way through the flight of HALL wines. I started with 2011 HALL Napa Valley Sauvignon Blanc, like most others, and simply wanted to stay there. It was very reminiscent of a French unfiltered Viognier or a German Riesling with its crisp, tart, sparkling flavor notes. Another of my favorites, as I am a Pinot Noir gal, through and through, was the 2010 WALT Pinot Noir from Sonoma County.
I am always intrigued by wine club members and the story of how they became one, what influenced their choice for that particular winery, especially in Napa as it's the mecca of California wine.
As I was swirling, sniffing and sipping my wine, I asked a young couple in their late 20s why they decided to join HALL Wines' wine club.
"We found HALL Wines on our honeymoon and had such a great time at their tasting room and really fell in love with their wines, we just had to take a piece of that happy memory home with us," the wife said.
The husband, with a nice wine glow about him, chimed in, "Tonight we could only buy one bottle of the 2009 Kathyrn Hall Cabernet Sauvignon because it is a little expensive for us ($93.50 for members), but we can't wait to crack it open on a special occasion."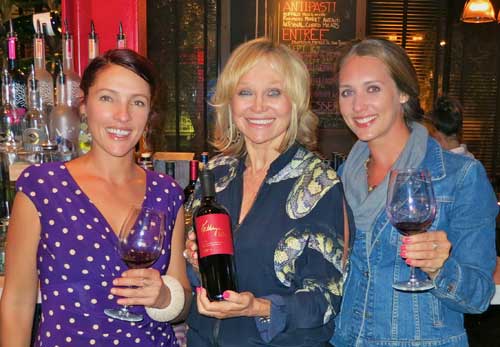 After meeting the lovely Kathyrn Hall and talking with other guests about their experience at the HALL Wines tasting room, Lindsay and I are making plans for a little vine of the Napa Valley vacation. Stay tuned for the report.
In the meantime, if you are planning to go to Napa, Wine Spectator has a nifty app, Guide to Napa Valley, that gives you the insider scoop on where to stay, wine and dine.
HALL Wines St. Helena tasting room is open 10 am – 5:30 pm in St. Helena or take a by-appointment-only private Artisan Wine Tasting tour of Craig and Kathryn Hall's vineyard in Rutherford.